Tech Tip: Encrypting Briefcases in Laserfiche 8.3
Laserfiche 8.3 introduces the ability to encrypt briefcases exported from a repository, allowing you to add another layer of security to your information while it is in transit from one repository or location to another.
For example, to send a collection of sensitive files to another organization to import into their repository, you can create a briefcase of the information and encrypt it on export. You might put the encrypted briefcase on a flash drive and mail it to the organization. If the drive is intercepted, the information will be protected, because it will only be accessible to someone with the correct password.
To encrypt a briefcase on export
Select the entries you want to include in a briefcase.
From the File menu, hover over Export, and select Briefcase.
In the Export Briefcase dialog box, select the Encrypt checkbox.
Type a password in the Password box and re-type it in the Verify Password box.
Navigate to where you want to save the encrypted briefcase and click Save.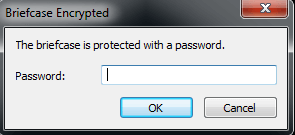 Note: Encrypted briefcases can only be imported into version 8.2 and later. If you need to import a briefcase into an earlier version, do not encrypt the briefcase when you export it. You may see a dialog box telling you this. Click Yes to continue.
When you import the briefcase, the Briefcase Encrypted dialog will be displayed asking for the password. Type the password and click OK to import the briefcase.