Tech Tip: Laserfiche Quick Fields 8.3 Annotation Enhancements
Laserfiche Quick Fields 8.3 offers new enhancements to processes involving annotations. These enhancements give you more functionality and security when working with annotations.
New Fixed Annotations
The Fixed Annotation process adds an annotation to the same place on every document.
Previously, you could add redactions, highlights, stamps or sticky notes to documents. In Quick Fields 8.3, stamps have been split into public image stamps and text stamps.
Public image stamps enable you to choose a pre-created image to add to the document as a public stamp (available to all users), while a text stamp enables you to create a stamp out of any string of text and/or tokens.
You can also now add a text box as a fixed annotation to a document. Text boxes are useful if you want to see text without having to open an annotation (e.g., opening a sticky note).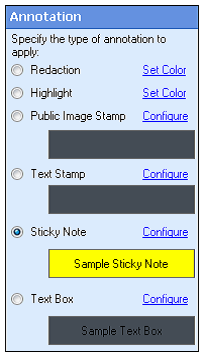 Fixed Annotation Linking
In Quick Fields 8.3, redactions and highlights placed on a document will automatically be linked to the document's associated text (if it has any).
Annotation Protection
You can add annotations to your documents using either the Auto-Annotation or Fixed Annotation process. With either of these processes, you can now choose to make the annotations applied to documents public, protected or private.
Public annotations are visible to and can be modified by everyone.
Private annotations are only visible to their creators.
Protected annotations can only be modified by their creator or the document owner.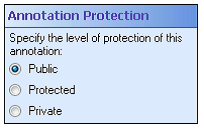 For more information, see the Fixed Annotation and Auto-Annotation sections of the Quick Fields online help files.