Tech Tip: Laserfiche Social BPM Preview
By: Sarah Seene
Technical Writer
Laserfiche Rio 9.2 includes a new Laserfiche product: Laserfiche Social BPM Preview. If you're familiar with the Laserfiche Answers site, on which the Laserfiche community can ask questions and share solutions, then you've already interacted with Laserfiche Social BPM. The Laserfiche Answers site is so popular we've made the application available to our Rio customers so they can create a fully customizable internal "Answers" site for their own company.
Note: This product is a preview; licensing is subject to change.
Laserfiche Social BPM lets organizations centralize discussions, announcements, and knowledge all in an internal website. It also includes many features common to social networking sites, such as the ability to:
Easily post questions, announcements, or start a discussion
Reply directly to specific comments
Collaborate with the right audience with public, private, or hidden groups
Subscribe to interesting topics and posts
Upvote and downvote posts
Earn points for positively contributing to discussions on the site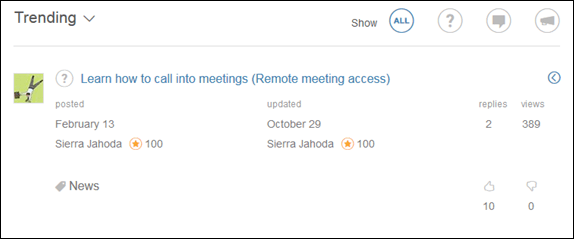 Example: In the screenshot above, Sierra posted information about how to call into meetings. Two people replied to her post, adding more details about remote meetings. Ten people showed their appreciation for her help by "liking" her post, and almost 400 people have viewed the information. Since Bob often attends meetings remotely, he subscribes to this post (in the screenshot below) so that he'll get an email notification any time someone responds to this post. Bob knows that Jill might be interested in the information here, so he clicks "Share this question" to send an email to Jill with a link to the post.

Besides acting as a stand-alone website, Laserfiche Social BPM can be configured to work with other products in the Laserfiche Suite. You can store posts to your Laserfiche repository, get users from the Laserfiche Directory Service, and display FAQ questions next to forms in Laserfiche Forms 9.2.
Learn more about Laserfiche Social BPM in the help files.