Tech Tip: Copying Entry Links in Laserfiche Web Access
In Laserfiche Web Access, users can navigate to an entry, copy and paste its URL in the address bar, and send the link to another user. Users can right-click a specific entry and select Copy Link to have the URL automatically saved to the clipboard for them. In addition, multiple entries can be selected and their URL links can be copied and saved to the clipboard at once. This saves time navigating to and copying all the URLs for these entries one-by-one.
For example, Chris needs to send his colleague, Blair, direct links to a handful of invoices to be processed. Chris can navigate to the folder containing the invoices, select one or more invoices he wants to collect URLs for, right-click and select Copy Link. The links will be automatically copied to his clipboard and he can paste these links into an instant message to send to Blair. In addition, if Chris wants to send a link to a specific page of one of the invoices, he can right-click on the thumbnail of that page to copy its link and send it to Blair.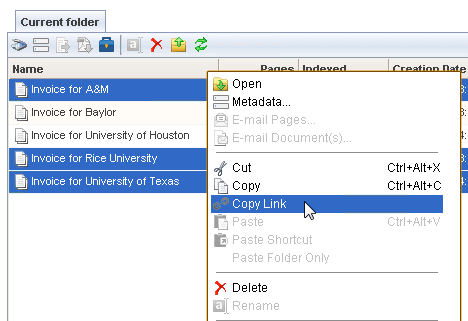 This is especially useful for electronic documents. In previous versions, users had to find the electronic document's entry ID number and manually construct the URL using that ID. Now, users can right-click an electronic document and automatically copy its link, removing the extra steps it takes to customize the URL.
Note: If you are viewing Web Access in Internet Explorer, the link will be automatically copied to the clipboard. In other browsers (e.g., Chrome, Firefox) the Copy Link dialog box will appear. Select the link and copy it, either by pressing CTRL + C or by right-clicking and selecting Copy.
For more information on Web Access URLs, see the Web Access help files.
Have you visited the all new Laserfiche Answers support community? On Laserfiche Answers you can ask questions about Laserfiche, learn more, and interact with other Laserfiche users, resellers, and Laserfiche employees.