Tech Tip: Preview: Import Tokens in Laserfiche 9.2
By: Connie Anderson
Technical Writer
A token is a placeholder for a value to be inserted. Laserfiche can take advantage of tokens in a variety of ways, such as adding values to metadata fields, naming new documents, and creating dynamic paths.
The upcoming release of the Laserfiche Client 9.2 includes support for several new tokens for use during document import. These import tokens allow you to capture information from a file's properties in Windows and use that information to populate fields or name the document. For example, you could capture the file's creation date in Windows and save that in a field, allowing you to determine when the document was originally created rather than just when it was first stored in Laserfiche.
The new import tokens will allow you to capture the file's name, its path in Windows, its creation or last modified date, and its extension. They are only available during document import, and only with the Laserfiche Client.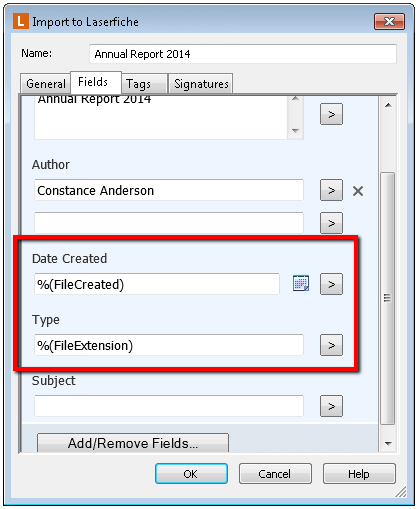 For token syntax, and more information on tokens, see Tokens in the Laserfiche User Guide.