Tech Tip: Preview of E-mailing Folders as Links in Laserfiche 9.0
The Laserfiche e-mail plug-in allows users to send documents in e-mail. As of Laserfiche 8.1, you could also send links to documents as e-mails, allowing you to direct other users at your site to a particular document without actually attaching it. In addition to being faster and more efficient (since the document does not need to be exported and attached), this process is more secure, as users can only open the document if they have the rights to it in Laserfiche. In the Laserfiche Client 9.0, the ability to send entries as links in an e-mail will be expanded to folders as well.
Like a link to a document, a link to a folder is sent as an .lfe file. When launched, this file will open the Laserfiche Client and prompt users to log in to the appropriate repository. Once they have done so, the Client will open automatically to the specified folder.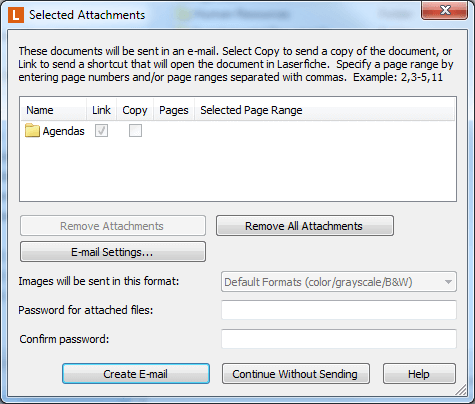 This allows you to quickly point people to a folder that they should look at. For instance, you could send your colleagues a link to a folder with documents that require their approval. Alternately, if a user wants to review documents of a particular type (such as agendas from the year's meetings), you could point him directly to the folder that contains those documents. Since the link opens in the Laserfiche Client, this does not bypass any of Laserfiche security. In addition, because they are not exported copies of the documents, you can still take advantage of all of Laserfiche's features when reviewing the documents, such as annotations, metadata and searching.