Tech Tip: Preview of New Features in Laserfiche Mobile for iPad
Laserfiche Mobile is an application that enables you to capture, upload, securely access and work with documents inside your Laserfiche repository while on the go.
With the release of Laserfiche Mobile 8.2.2 comes Laserfiche Mobile for iPad, which includes not only a complete user interface overhaul, but also introduces useful features like the ability to group related documents together into libraries and the multi-selection of entries so you can work with them in a batch.
Note: Since this is a preview, the details and appearances of certain elements may change between now and the final release.
Multi-Selecting Entries
You can select multiple entries at once and perform batch operations on them instead of having to repeatedly select and work with entries individually. For example, you can copy, cut, paste, send e-mail links to, delete and add the selected entries to a library all at once.
To select multiple entries:
On the Top Toolbar of the Entry Pane, tap Action to open the Action Toolbar.
Tap the gray checkbox next to an entry to select it, or tap the gray checkbox in the Action Toolbar to select all entries.
In the Action Toolbar, select the action you want performed on the entries you selected.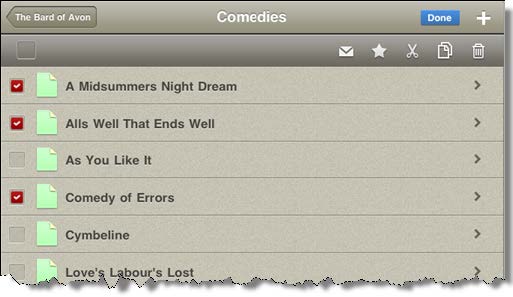 Libraries
Using libraries is an excellent way to group related entries together so that, even though the entries are located in different areas in the repository, they can be quickly viewed together. For example, you can add an entry to a "To Do" library to remind yourself that it needs to be processed in some way. You can create different libraries for different purposes. Before you can add entries to a library, you must first create the library.
To create a library:
Tap the star (Libraries) to open the Libraries Pane.
In the Libraries Pane, tap Action.
Tap Add New Library…
In the New Library Dialog, enter a name for the Library. When you are finished, tap OK in the dialog or Done on the keyboard.
To add entries to a library:
Browse to the location in the repository where there are items to be added to a library.
In the Entry Pane, tap Action.
Select the desired entries. When finished, tap the star (Libraries) in the Action Toolbar.
In the Add to Library dialog, tap the library you want to add the entries to.