Tech Tip: Rename and Move Documents With Laserfiche Workflow
By: Sarah Seene
Technical Writer
Are you struggling to keep your repository organized? Use a simple workflow to automatically name and file incoming documents.
Besides automating business processes, Laserfiche Workflow also plays a vital role in routine repository maintenance and organization. The three-activity workflow shown in this article retrieves field values from new documents and uses that information to enforce a standard naming and filing convention.
This workflow can be adapted to fit any number of folder structures or document types, but this article will use incoming job applications as an example.
Prospective employees submit applications as email attachments. An administrative assistant saves the attachments to Laserfiche with the Laserfiche Office Outlook Integration. She applies the Application template and fills out fields with the applicant's first name, last name, and the department they are applying to.
Since the attached application is named by the prospective employee, the applications end up with a variety of different names. For example, they might be named "My Application," "App for John Doe," or "Smith, Susan Application." However, the administrative assistant doesn't need to worry about renaming the application properly. At this point, the workflow below runs: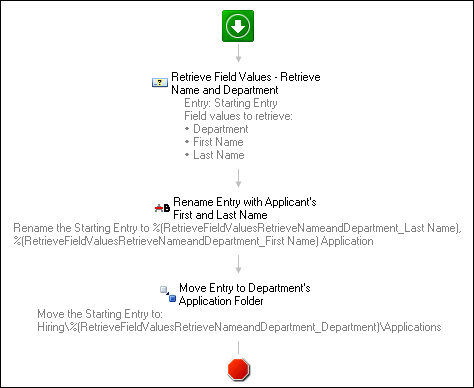 The Retrieve Field Values activity gets the field values from the application so they can be used by the next two activities.
Tip: You can use a Query Data activity to get information from databases, or a Retrieve PDF Form Content activity to extract data from a PDF form, and use that data in the next two activities instead of the field values.
The Rename Entry activity uses field values (in the form of tokens) to rename the application according to this format: "Last Name, First Name Application."
The Move Entry activity uses the Department field value to move the application to the department's application folder: HiringDepartment NameApplication.
To learn more about simple workflows watch the Simple Workflows video series, and sign up to take the Workflow Beginner's Case Study class (BMP 108) at Empower 2014!