Tech Tip: Sneak Peek of the Workflow Notification System
Workflow 9.0 offers increased transparency and a new notification system that will ensure your employees are aware of pending work and approaching due dates. The new Workflow Notification System allows you to automatically send e-mails to users or groups participating in your business process.
Note: Since this is a preview, the details and appearances of certain elements may change between now and the final release.
[section-header] How it works[/section-header]
The Workflow Notification System sends periodic e-mails to business process participants when they have pending tasks. If a user or group has multiple responsibilities, Workflow will condense the tasks into one e-mail that will display each item on the participant's to do list, even if those items are in multiple business processes.
Information contained in the e-mails sent via the Workflow Notification System is customizable, and can contain information specific to each task, such as:
The name of the activity that contains the e-mail recipient's task.
The e-mail recipient's role in the business process.
The task's due date and its "time until due."
The status of the business process when the e-mail was sent.
Instructions specific to that stage of the business process.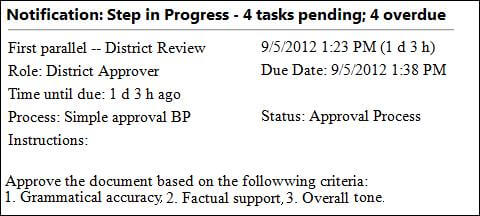 Note: This screenshot is a cropped version of a notification e-mail. The full e-mail will include information for each pending or overdue task listed in the header.
Workflow notification e-mails are sent based on the user or group's role, as specified in the Workflow Designer, and can be sent on any of these three occasions:
The e-mail recipient has pending tasks.
The e-mail recipient's tasks are nearing their due date.
The e-mail recipient's tasks are overdue.