Tech Tip: Speed Up Your Tasks with Customized Controls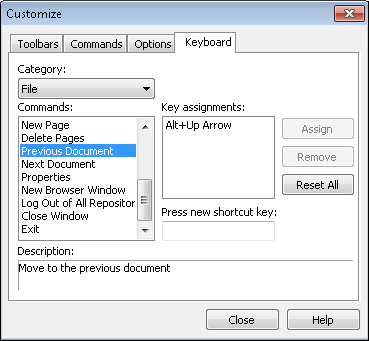 Using keyboard shortcuts lets you complete daily tasks, such as creating documents, renaming folders, generating text, or emailing entries, more efficiently. In Laserfiche, many tasks come with default keyboard shortcuts you can memorize. However, if a certain keystroke combination fits your needs better, you can customize the shortcut.
To view keyboard shortcuts, open the Keyboard tab of the Customize dialog box. From the Category drop-down menu, choose the type of command you want to view the shortcut for. Then, choose the specific command.
You will see the current keyboard shortcut for the selected command under Key assignments. If the Key assignments area is blank, no keyboard shortcut is set for that command.
To customize keyboard shortcuts in the Laserfiche Client, see Custom Keyboard Shortcuts in the Laserfiche online User Guide.
Learn more about keyboard shortcuts by visiting Keyboard Shortcuts in the Laserfiche online help.
Have you visited the all new Laserfiche Answers support community? On Laserfiche Answers you can ask questions about Laserfiche, learn more, and interact with other Laserfiche users, resellers, and Laserfiche employees.