Tech Tip: Tailor Your Recycle Bin to Suit Your Needs
By: Misty Blair
Technical Writer
The Laserfiche recycle bin offers administrators great flexibility, with many options to protect against accidentally deleting documents and folders in the Laserfiche repository. The recycle bin can be disabled entirely or customized to provide varying ranges of access and capabilities for Laserfiche users. Administrators can determine which users can see, purge, and restore items and how the recycle bin will be cleaned out.
Who can see and purge deleted items?
By default, users can only see the items they send to the recycle bin. Unless you specify otherwise, users cannot permanently delete (i.e., purge) recycle bin items.
To enable a user to purge items they originally sent to the recycle bin, grant them the Purge Entries privilege.
To enable users to see, purge, or restore all items, regardless of who originally sent them to the recycle bin, grant the user the Manage Entry Access privilege.
Note: The Manage Entry Access privilege also grants users the ability to grant/deny entry access rights to all documents and folders in a repository.
Cleaning out the recycle bin
There are two methods to cleaning out the recycle bin.
Configure Laserfiche to automatically purge items after they have been in the recycle bin for a certain number of days. To use this method, open your repository in the Administration Console, expand the Recycle Bin node, right-click on Settings, select Properties, and define an Age limit. In a new repository, an age limit of 7 days is set as the default.
Rely on your administrators to manually clean out the recycle bin. This option is best if you want an administrator to manually review each item sent to the recycle bin before it is purged. To use this method, make sure the Age limit option in the Administration Console is cleared.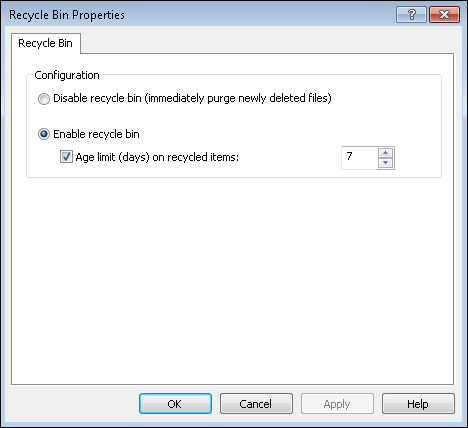 For more information, see the Recycle Bin section in the Laserfiche Administration Console help files.