Tech Tip: Using Bookmarks in Laserfiche Quick Fields
By: Misty Kalousek
Technical Writer
Laserfiche Quick Fields is an automated batch capture software that identifies, extracts information from, and stores documents in a repository.
When reviewing processed documents in Quick Fields, scanner operators can use bookmarks to indicate pages that need further review.
Example: Maggie's Veterinary Clinic has two scanner operators: Kevin, who has been with the clinic for years and knows its systems and procedures well, and Caleb, who started two weeks ago and is still in training. Caleb scans documents into Quick Fields and begins reviewing them. When he is not sure what to do with a document, he adds a bookmark. Later, when Kevin isn't busy, Caleb and Kevin go over all the bookmarked documents together. This way, Caleb gets all his questions answered and documents are processed correctly without interrupting Kevin's work.
Bookmarks can be added to the first page of a document when the document is selected in the Document Revision Pane, or to any page of a document when that page is selected in the Thumbnails Pane. When a page is bookmarked, an asterisk will appear next to the page's name in the Thumbnails Pane. When a document contains a bookmark, a blue border will appear around that document in the Document Revision Pane.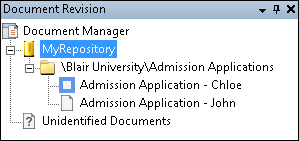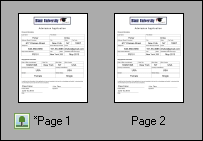 Note: The blue border will not appear if the document has an error icon. However, it will still be bookmarked.
Bookmark toolbar buttons can be added to the Navigation Toolbar so they will be easily accessible to scanner operators who are reviewing and revising documents.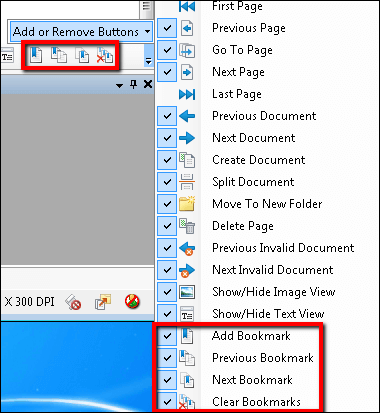 For more information, see the Bookmarks help topic in the Quick Fields help files.