Tech Tip: Using Intermediate Timer Events in Laserfiche Forms
If you've created approval processes in Laserfiche Forms, you've probably thought about how to reassign tasks if the original participant is unavailable. When users go on vacation or are otherwise absent, it's important that processes continue without them.
Laserfiche Forms 9.1 has several new, time-based events in the Process Modeler, including intermediate timer events you can attach to user tasks. These events have their own outflow paths for when a task hasn't been completed in a specified length of time. For this reason, intermediate timer events are useful in common situations like reassigning tasks when an approver is on vacation.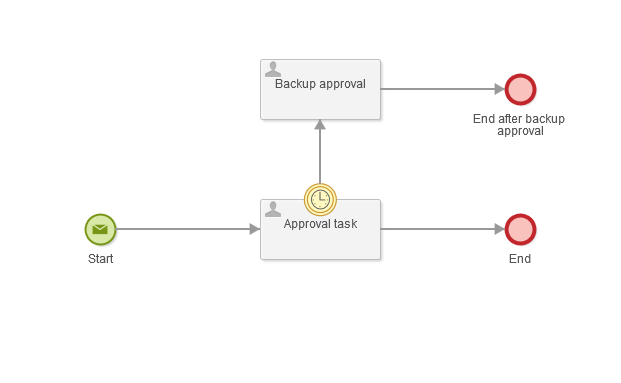 In the above screenshot, the Approval task is interrupted after two days. Then the process proceeds down the intermediate timer's outflow path to the Backup approval task.
Did you know?
Intermediate timer events can interrupt tasks. If participants should not continue to work on a task after a specified length of time, use an interrupting timer.
You can attach multiple intermediate timer events to the same user task. This is useful if the process's routing changes over time. For example, if an approval task must be completed promptly, you could attach two intermediate timer events to it: one to remind the task participant after one day and another to email the participant's manager after several days of inactivity.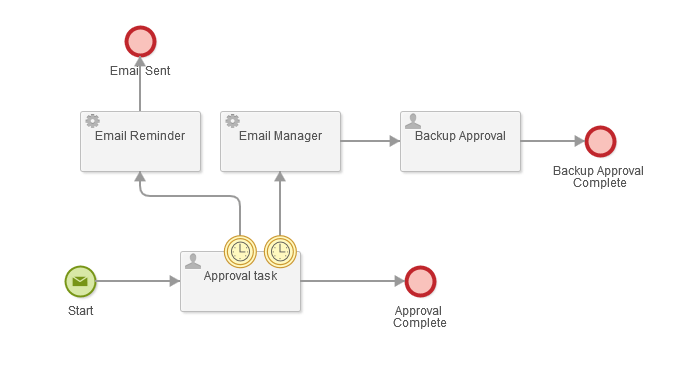 Using an intermediate timer event with a user task is easy: just right-click the task and select Attach timer event. A timer will appear on the user task that you can configure to wait until a specified date, for a specified duration, or for a certain number of days before or after another date in your process. For more information about creating intermediate timer events, see the Laserfiche Forms online help.
Have you visited the all new Laserfiche Answers support community? On Laserfiche Answers you can ask questions about Laserfiche, learn more, and interact with other Laserfiche users, resellers, and Laserfiche employees.