Tech Tip: Using Template Colors to Easily Identify Entries
Users can customize the colors of templates in the repository. The template assigned to a document or folder will determine the color of the document's icon in the Laserfiche Client or Laserfiche Web Access. This allows users to specify that documents of particular types should have particular colors.
For instance, a user might choose to make the Invoices template green and the Client Information template purple. This allows users determine at a glance which documents are invoices when viewing a collection of search results that include multiple entries with a particular company's name.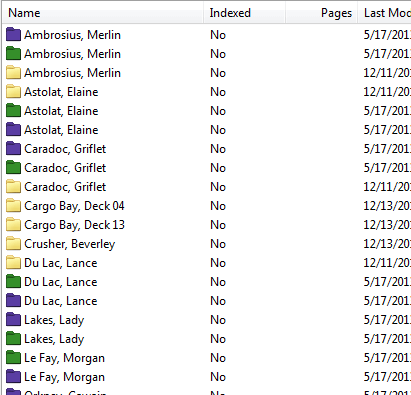 Since the Invoices template has been color-coded green and the Client Information template has been color-coded purple, it is easy to find the folders containing invoices (which have been assigned the Invoices template) even in a long list of search results.
Administrators can set template colors in the Laserfiche Administration Console, and that color will be immediately displayed for all users accessing that repository, whether in the Laserfiche Client, Web Access or the Administration Console itself. If a color is not specified for documents, one will be chosen at random. Folders will always be yellow unless a color was specified for their template.
Note: If a user has chosen to display the application icon for electronic documents, the color will not be changed.