Tech Tip: Web Access Metadata Viewer
Web Access 8.3 introduces an updated Metadata Viewer that allows you to view and edit metadata more efficiently due to its full-page view.
The Web Access Metadata Pane in the Document Viewer enables you to view and edit a document's fields, tags, linked groups, versions and digital signatures, but you may want to do more with the metadata or view it in more space. Clicking the pop out button in the top right corner of the Metadata Pane (or right-clicking a document in the Folder Browser and selecting Metadata) opens the Metadata Viewer in the main portion of the screen.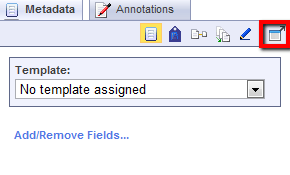 The Metadata Viewer gives you all the options available in the Metadata Pane, plus the ability to compare version changes, view additional details or revert to specific versions and remove digital signatures. You can also choose how many columns you want fields displayed in, customize the toolbar (for fields, tags and links), and hide or display the Fields, Tags, Links, Version and Digital Signatures sections as needed. The Metadata Viewer opens in a new tab which allows you to navigate from the viewer to other panes quickly and more efficiently.