Tech Tip: Finding and Using Information about Users in a Group
By: Sarah Seene
Technical Writer
Laserfiche Workflow provides an easy way to send personalized e-mails or documents to each member of a group. The new Find Group and For Each User activities retrieve information about members of a group and make that information available to other activities.
The Find Group activity retrieves information about a group, such as the number of members in the group, the e-mail address of each member in the group, the working and default folders for the group, and the e-mail addresses of any managers in the group. You can retrieve even more information, when you combine the Find Group activity with the For Each User activity. This activity combination reveals the ID, name, working folder, and default folder of each user in the group, as well as each the e-mail address of each user's manager.
The For Each User activity also lets you perform a sequence of activities that will be repeated for each user in a group.
Example: Every month, each person in the Sales Group needs to fill out a form to register for that month's corporate sales event. On a monthly schedule, Laserfiche Workflow creates a copy of that month's form for each user in the Sales Group, fills out part of the form with their individual information, and e-mails them a personalized copy of the form for them to complete.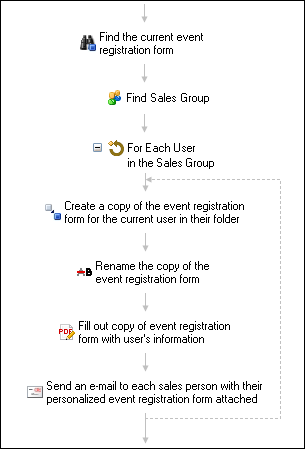 Example: For every project completed by the Marketing Team at the Acme Company, a Project Summary document is created. At the end of the month, each employee is e-mailed a compilation of the Project Summaries from all the projects they were advisors on that month.
The workflow below automates this process. The workflow has a schedule starting rule so that it runs once a month. It starts by finding the Marketing group, and, for each user in the Marketing Group, it searches the repository for the Project Summaries of the projects they were advisors on that month. Next, it creates a Monthly Summaries document in the employees Default Folder and uses a For Each Entry activity to compile all the found project summaries into the Monthly Summaries document which is then e-mailed to the employee.