How TN Americas Completely Revamped Records Management
Laserfiche Solution Contributed By: Gloria St. Denis, Records Management Consultant, and Mark Stone, Technical Architect, TN Americas
TN Americas, a division of AREVA Inc., is a leader in the American nuclear dry storage market, manufacturing solutions for interim dry storage of used fuel, radioactive waste, and other radioactive materials. Sixty percent of American nuclear plant operators use TN Americas' fuel solutions.
The company has used Laserfiche for years to archive documents, such as design specifications, but had a very complex records management process.
Documents were hard to find as a result of inconsistent metadata entry.  Multiple copies and versions were stored in different folders within the repository, resulting in confusion.
Gloria St. Denis, Records Management Consultant, performed a thorough analysis of current records management practices and discovered the following:
332,000 documents in the repository
200 Laserfiche users in 24 Active Directory groups
560 records submitted each week
Naming standards and use of templates was not enforced
No strict records management controls
"Laserfiche was not the problem, the problem was the way it was configured," said St. Denis. "You need good governance."
Plan of Action
Before the company could overhaul records management, they had to get executive support for the project. St. Denis surveyed a select group of employees to determine their pain points and then presented these to the executives to make a case for change.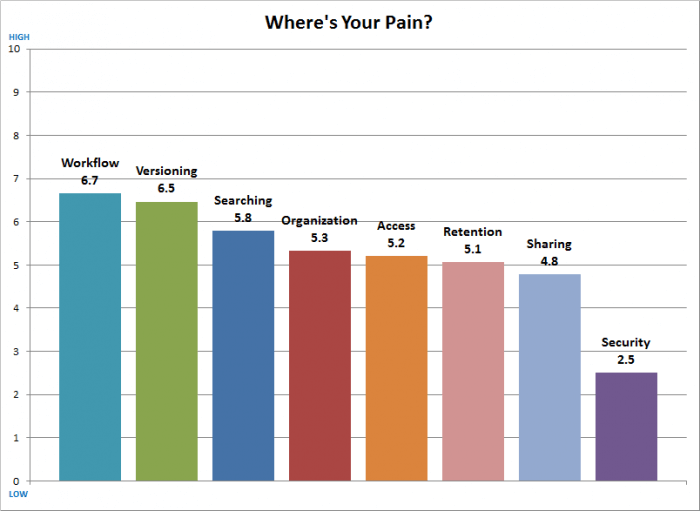 After gaining executive support, TN Americas overhauled records management by implementing a five-step plan of action:
Documentation
Design
Plan
Build and Test
Roll Out and Evaluate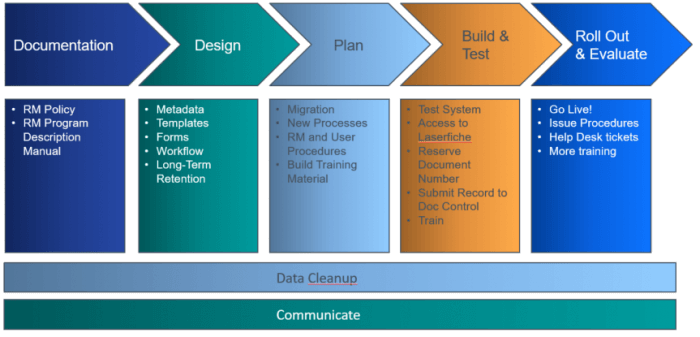 Step 1 – Documentation
During this step of the process, St. Denis worked with other stakeholders to draft a new records management policy. This policy was documented in a records management manual that is made available to every user. The manual:
Lays out the records retention plan
Defines what constitutes a record
Describes clear procedures and workflows to process and approve records
Standardizes the information that is needed to properly index a record
Step 2 – Design
Once the records management policy was clearly defined, St. Denis evaluated the current folder structure and metadata to see how it could be improved.  As part of this analysis, the number of fields was reduced from 121 to 29 and the folder structure was reconfigured.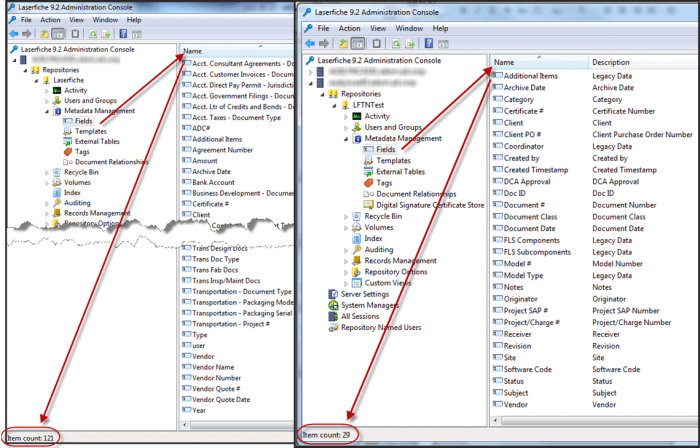 TN Americas created two processes in Laserfiche Forms to ensure that only finalized documents are stored in Laserfiche. In order to make documents such as design specifications easier to identify, each one is assigned a unique document number. This number is generated using a Laserfiche form.
Once a user reserves a document number, he submits the new document into the system through a Document Control Review form. This document is reviewed by document control before Laserfiche Forms saves it automatically in the appropriate Laserfiche location.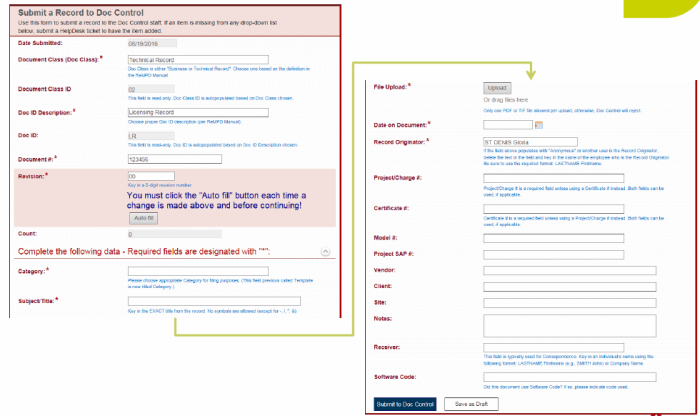 Step 3 – Plan
Once the framework and processes for managing new content were put in place, TN Americas worked with its VAR to migrate all existing repository content to the new folder structure and metadata templates. During this stage, the team also developed training material for users. "Training material is vital to achieving successful user adoption," said Mark Stone, Technical Architect.
Step 4 – Build and Test
During this stage, it was time to test the system and implement the appropriate security controls. Previously, security was assigned by departmental groups. The company decided to grant security by access function rather than by department, reducing the number of Active Directory groups from 24 down to six. At this point, the two Laserfiche Forms processes described above were tested and users were trained.
Step 5 – Roll Out and Evaluate
Finally, it was time to roll out the system to the whole company. TN Americas uses the Agile approach – as soon as they rolled out the new records management system and Forms processes, they were ready to receive feedback and tweak as necessary.
Throughout all the stages, the team members were cleaning up data and communicating with each other through daily "schedule" meetings with project management, the IT department and occasionally, the VAR. Team members also held weekly "project status" meetings with the executive sponsor to keep him updated on the progress.
The whole project was tracked in Microsoft Project and a spreadsheet with separate pages for open and closed tasks was used to manage detailed project tasks or issues that arose.


The whole records management implementation project was tracked in Microsoft Project and a spreadsheet
TN Americas also implemented an Information Systems Request form used to get approval for any changes to Laserfiche – including adding/deleting metadata fields. This provides a standardized method of submitting and tracking these requests. Eventually, this form will be linked to a SQL stored procedure that will make the requested changes without IT intervention. According to Stone, TN Americas' goal is to eventually "Automate it and let the business handle their own records."
Benefits of Laserfiche
Revamping the records management process with Laserfiche has resulted in the following benefits for TN Americas:
Only final versions of documents are stored in Laserfiche, reducing confusion when searching for a specific record.
All records are indexed properly so that they can be retrieved quickly.
Security has been standardized, making it much easier to manage.
All new content submitted into Laserfiche is thoroughly reviewed, so that users can be confident that they are always accessing the correct version.