Use Laserfiche to Work from Home – FAQ
Working from home requires employees to perform certain tasks differently. Laserfiche makes it much easier to prevent business process interruptions. With the appropriate setup, employees should still be able to access all of their documents from the Laserfiche repository while away from the office. They should also be able to fill out new forms and perform various tasks in the Laserfiche Forms inbox. This guide should help address the most common questions to provide a seamless working experience out of the office.
Configuring Laserfiche for Remote Work
Q: What's the best way of setting up the desktop and web clients so that employees can access documents from home? How do I set up Laserfiche Forms so my employees can access Forms tasks from home?
We recommend to set up a virtual public network (VPN). This will allow employees to connect into the company's network from home, so that they can access all of their applications, including Laserfiche, as they would if they were still at work.
The alternative, if you cannot set up VPN, is to use the web client and Forms from the DMZ. This requires a bit more setup and may or may not be as secure. These white papers provide more information about setting up Laserfiche in the DMZ:
Working with Laserfiche Remotely
Q: How can I access the documents in the repository using the Windows client while working remotely? How about the web client?
Your organization should have set up a virtual private network (VPN). Once you log in to this network you'll be able to access Laserfiche as you would normally at work, be it through the Windows or web client, from your work computer.
Q: How can I interact with Forms tasks from home?
You should be able to access all Forms tasks in your inbox after logging in to your organization's network using VPN. For processes that have direct approval set up, you can also respond to Forms tasks by replying to the email notifying you of the task. You can also access Forms through the Laserfiche app on your smartphone or tablet.
Q: How do I scan in documents remotely?
You can take photos of documents using the Laserfiche app on your smartphone or tablet and upload them to the repository that way. This is great for individual documents. Simply select Document Mode when you take the picture and the app will automatically recognize the document's edges so that when the photo is taken, there will be no extra space around the document. More information about uploading documents through the Laserfiche app can be found in the Android and iOS product documentation.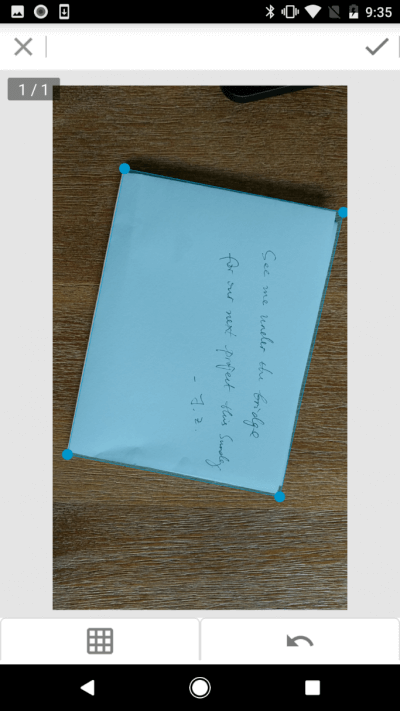 If you have a scanner at home then you can also use it to scan documents into Laserfiche using Laserfiche Scanning through Laserfiche Windows client or web client. You can also scan documents on to your computer and import them into Laserfiche using drag and drop. More information about using Laserfiche Scanning can be found in the product documentation.
Q: How can I interact with Laserfiche from a smartphone or tablet?
Install the Laserfiche app! It's available for iOS, Windows or Android. This app lets you work with Laserfiche documents and forms directly from your mobile device. Some things that you can do with the app include:
Upload new photos or documents.
View and edit documents.
Fill out forms, even without internet access. Forms can be submitted when internet access becomes available.
Work with tasks in the Forms Inbox.
Information on how to install and configure the app server for mobile access can be found in this documentation. Information on using the Laserfiche app can be found in the Getting Started with the Laserfiche App Guide.
Q: My company uses Laserfiche on the Cloud, will I still be able to access the repository and tasks while out of the office?
If your organization is on Laserfiche Cloud, you should be able to log in to Laserfiche as usual without having to sign in to a virtual private network first.
Collaborating with Others Using Laserfiche
Q: How can I collaborate with others on documents using Laserfiche tools?
You can collaborate on Microsoft Office documents directly within the web client using the Microsoft Office integration. Different users can perform actions on one document at the same time, and each user can see what the others are doing. This is called simultaneous co-authoring. This integration is available for Microsoft Office 365 or if your organization has a Microsoft Office Online Server implementation.

In addition to the Microsoft Office integration, you can leave notes on Laserfiche imaged documents for others using annotations. You can also implement versioning on all documents to track the changes made by others.
Q: How can I collaborate with others on processes?
Laserfiche Forms can help facilitate collaboration. You can route the form to other people in your organization and submit comments, which are then tracked. You can even upload a document to a form and send it around for review that way.
Q: How can I collaborate with people outside of my organization?
Instead of employees coming into the office in person to submit requests, you can have them fill out an electronic form instead. They can even upload documents to the form. If your company has the Laserfiche public portal, then it can use it to share documents with the public and other employees outside of the organization.
If your organization is on Laserfiche Cloud, then you can also share content from your Laserfiche repository with external users in a manner that is tracked and secured within Laserfiche. This is called direct share. When you send documents through direct share, the recipient will receive a URL through which they can access the files. You can specify the number of days until the URL link expires. More information about direct share can be found in the product documentation.