Volume Consistency Checker
Two major components of the Laserfiche architecture are the volumes and the repository database.
Stored in the volumes
Images
Text
Text locations
Thumbnails
Electronic files
Stored in the Laserfiche database
Metadata
Security
Options
Folder structure
The volumes and the database must always be in sync; otherwise, one component may recognize data that is not recognized by another component. For example, you may find documents listed in the Laserfiche Client that cannot be opened because, although the folder structure exists in the database, the actual document is not present in the volume. The Volume Consistency Checker utility helps you identify any inconsistencies between the Laserfiche database and the volumes, so that you can successfully resolve such problems if they occur.
Why would you use this utility?
Inconsistencies between your volumes and the Laserfiche database can occur for many different reasons, including:
Modifying something in the database incorrectly.
Accidentally deleting something from the Windows file system.
Not backing up your file server and database simultaneously.
You can use the Volume Consistency Checker to:
Troubleshoot your system in order to pinpoint the inconsistencies you've encountered.
Validate an existing backup.
Confirm that your volumes and database are in sync.
What does this utility do?
This utility compares the database and volumes and lets you know of any inconsistencies between the two. The process works as follows:
After running the Volume Consistency Checker and agreeing to the license click Choose and select the appropriate repository:
Choose which volume you want to check and then click Validate.
Select a file path to store the output log.
Once the HTML report is generated, it will open automatically in a new browser window.
Click on the View links to see where the volumes and databases are out of sync. The screenshot below was taken after clicking on the View – Extra Texts link. Important Note:
Do not delete the ".LFT" files from the volumes, even if the utility reports that there are Extra Non-Laserfiche Documents, as in the screenshot below. This utility does not properly detect the ".LFT" files (thumbnails).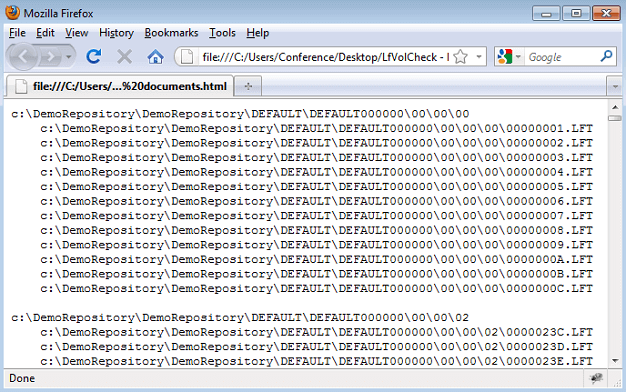 What should I know before installing this utility?
The Volume Consistency Checker is compatible with Laserfiche Server 8.0 or higher.
Make sure that the user running this utility has been granted the following:

Administrator rights on the Laserfiche server computer.
Access to the SQL server hosting the repository database.
Access to the volume locations.
Where do I install this utility?
Download the zip file from here.
Click on the folder and run VolCon8.exe.
Follow the prompts.
*A Support Site Account is required to download the zip file.*