What You Need to Know about Laserfiche Connector
At the 2015 Laserfiche Empower Conference, Laserfiche announced the release of Laserfiche Connector—a tool that provides simple, code-free ways to integrate other applications with Laserfiche. Laserfiche Connector helps anyone working in a primary application such as Salesforce or Microsoft Dynamics find relevant information in Laserfiche with just one click.
Laserfiche Connector is a game changer for Laserfiche users. For IT, it means less custom code and third party integrations. For end users, it means less clicking between windows and programs. For organizations, it means faster decision-making and better insight.
Here is everything you need to know about Laserfiche Connector—including what it does, how it works and how it improves organizational productivity.
What does Laserfiche Connector do?
At a basic level, Laserfiche Connector allows you to:
Search the repository based on fields from primary applications such as CRM and ERP systems
Scan a page, automatically populate metadata and store it in Laserfiche—directly from your primary application
Connect two applications by allowing one of them to start the other (including the ability to pass parameters between them)
Choose whether the actions above are triggered from a keyboard shortcut, a button embedded in the application or both
Laserfiche Connector uses tokens to perform searches and populate metadata. This means that once you set up a search, you don't have to manually type any search terms. Instead, the tokens will tell Laserfiche Connector what information to pull and locate.
Laserfiche Connector can also save information from a page in Laserfiche. It will automatically launch Laserfiche Scanning, populate metadata based on the page you're viewing and store the new document in the right folder.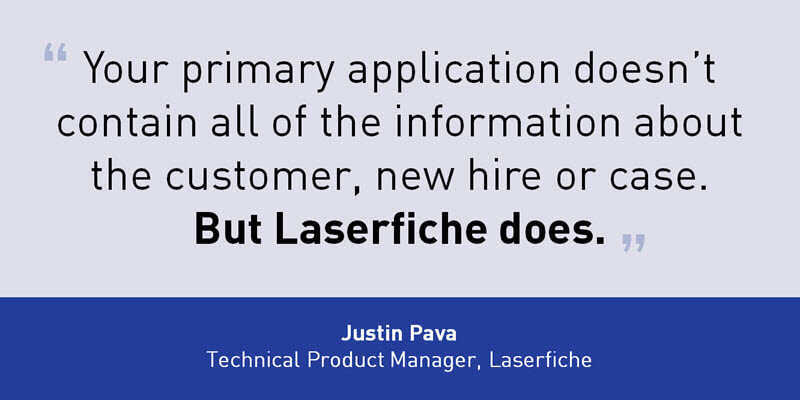 Why is Laserfiche Connector useful?
Let's say a Laserfiche user is viewing a client's profile in a CRM window and wants to search for related client documents in Laserfiche. Without an integration between the CRM and Laserfiche, the user would have to launch Laserfiche, type or paste in a search term and then run the search. It seems simple, but when this activity is performed multiple times per day, it consumes valuable time that can be spent analyzing information rather than searching for it.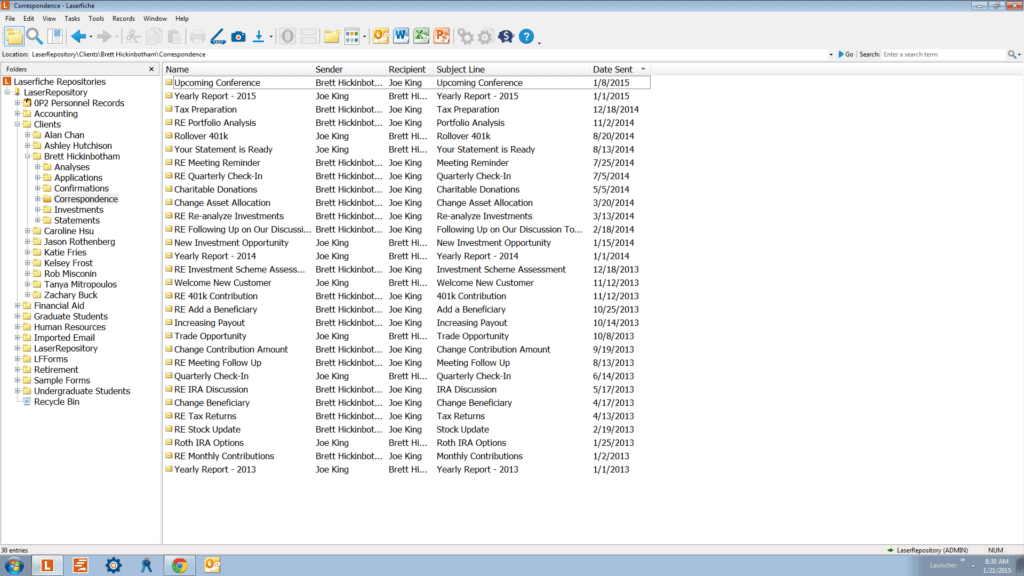 By saving time and linking relevant data, Laserfiche Connector allows users to see and analyze connections that weren't readily available before. In the words of Laserfiche's Technical Product Manager Justin Pava, "It's getting easier to think of Laserfiche as a hub, connecting you to any combination of systems and information stores. Once you have all those connections, you can see the full picture. You can use your data for reporting and big picture decision-making."
What applications integrate with Laserfiche Connector?
Laserfiche Connector can work with any third-party application that displays readable text. Examples include:
Gmail
Salesforce
Microsoft Dynamics
Junxure
It doesn't matter whether you're accessing Salesforce through Internet Explorer, Chrome or Firefox—Laserfiche Connector works with all three browsers. You can also use Laserfiche Connector with Windows desktop applications. The goal is to give you a quick and easy way to access Laserfiche from whichever application you need to do your job.
Laserfiche Connector allows you to pull up all Laserfiche information in another app with one click. Perfect for CRM integration #Empower15

— Joel Bruckenstein (@FinTechie) January 14, 2015
What kind of information can Laserfiche Connector use to perform a search?
Any readable element can be used by Laserfiche Connector to perform a search. Common examples include:
Account ID
Contact name
Phone number
Date
Reference number
The list could go on and on—the point is that whatever information you have in your primary application can be used to find related documents or create new documents in Laserfiche. This eliminates the need to re-type or copy and paste text from one program into another.
How easy is Laserfiche Connector to set up?
Laserfiche Connector uses a simple wizard to create searching and scanning parameters. During set up, you can tell Laserfiche Connector which elements you want it to find on the page simply by dragging your cursor over them. A red box will appear around the element and a token will be created.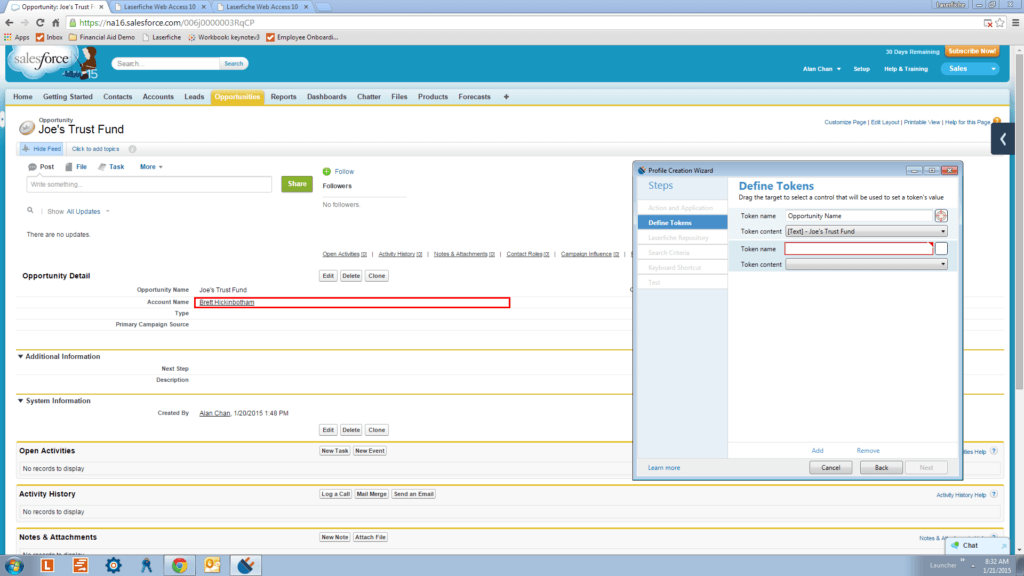 Does everyone in the organization have to set up profiles themselves?
No, that would be terribly inefficient! Once you complete the steps in the setup wizard, Laserfiche Connector stores this information as an XML "profile." The XML files can be pushed out to individual workstations either manually or in an automated fashion. Profiles can also be loaded from a specified custom location like a network folder. In this way, individual workstations can be set up to pull from that location allowing profiles to be edited in a centralized location.
So, if several employees need the ability to search for related client documents based on an account ID, they don't have to each go through the setup wizard. Popular searching or scanning profiles can be saved and distributed to everyone who needs them!
You can see Justin demonstrate use cases for Laserfiche Connector by clicking this link or watching the video below (demonstration starts at 39:26).