What's the Difference Between Laserfiche Mobile and the Laserfiche Client?
Laserfiche Mobile and the Laserfiche Client are two powerful platforms that increase organizational productivity in distinct, yet complementary ways. Here is an overview of the unique features each product has to offer.
Laserfiche Client
Designed for on-premises users, the Laserfiche Client allows organizations to:
Capture information from multiple sources such as electronic forms, automatic filing tools or a built-in scanning interface
Optimize business processes by routing tasks between multiple users and generating reports to monitor their progress
Configure information security by setting user access rights to documents or folders throughout the repository
Simplify records management by assigning and automatically enforcing document retention schedules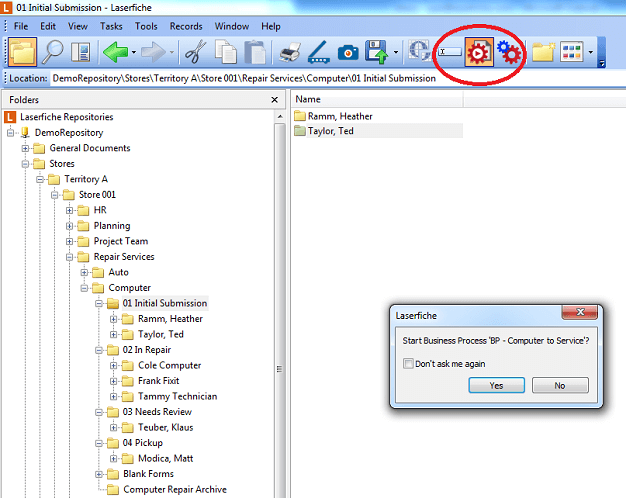 The Laserfiche Client combines the essential components of ECM into a powerful framework that improves information access and productivity across the enterprise.
Laserfiche Mobile
Laserfiche Mobile lets organizations access the features of the Laserfiche Client anywhere their work takes them. Using a smartphone or tablet, organizations can:
Remotely capture documents, images and other content and upload it to the repository with appropriate metadata applied
Edit mobile-captured images with cropping, rotation and color enhancement tools before they are uploaded to the repository
Search for documents throughout the repository by annotation text, metadata, folder name and more
Start and participate in multi-user business processes using electronic forms and document routing tools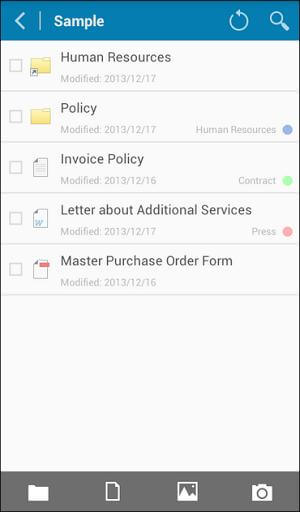 Laserfiche Mobile is an ideal tool for users seeking to leverage Laserfiche's core capture, document retrieval and process participation features outside the office.
For example, David is a case worker visiting a client in the field. He receives a request on his smartphone from his boss Joanna to squeeze in an additional house call that day. Pressed for time with a full plate of work, he uses the Laserfiche Mobile app on his phone to route the task to his coworker Renee to see if she can help.
Renee receives the request on her tablet and agrees to pick up the extra work. Once complete, the task is automatically saved to the appropriate folder of the repository so it can be found at a later date. Joanna, curious about David's progress, generates a report about the process on her smartphone and is pleased to learn of Renee's cooperation.
How Do the Two Work Together?
Now that you know some of the key features that set Laserfiche Mobile and Laserfiche Client apart, it is also important to understand how the two work together.
While the Laserfiche Client is the linchpin that holds together many information storage, process automation and compliance modules, Laserfiche Mobile complements the client by expanding core ECM efficiencies beyond an organization's walls.
Rather than thinking of the Laserfiche Client and Laserfiche Mobile as two separate systems, organizations should view them as logical extensions of one another to take full advantage of their capabilities.
To see real-life examples of how Laserfiche Mobile and the Laserfiche Client work together, get your complimentary copy of Quicker Better Safer: Laserfiche Mobile.