Women In Tech: Pursuing Her Creative Passion as an Interface Designer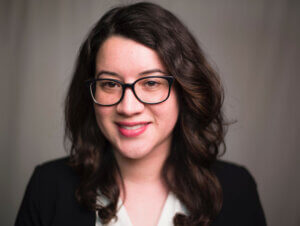 Laserfiche was founded by Nien-Ling Wacker, a woman who began her career building custom solutions out of her home in the 1970s. She grew her business into the world's leading ECM software company, which works to enable the digital workplace of the future. Today, she is recognized as a visionary leader and a pioneer in her field.
Wacker, along with countless other women, have made huge contributions to technology—yet women are still fighting for equality in the tech industry. As an ongoing initiative, we will highlight talented women who have excelled in the technology field. 
Adriana Clark is a user interface designer at Laserfiche. In her role, Adriana works closely with developers and user experience designers to ensure product style consistency by creating the design language across the suite. Read on to learn more about Adriana and what inspired her to work in the tech industry.
How did you become interested in a career in technology? Have you always worked in tech, or did you transfer from another industry?
My interest has always gravitated toward tech, even back when screens were black and green. As a youngster, I thought working in the tech industry was very intimidating so I stuck with the tried and true medium…print. However, I've been working in tech for the past four years. As I've been diving deeper into the industry, I'm seeing the impact that good tech can achieve, and it encourages me to be more focused and continue to ask questions.
During your time at Laserfiche, what are some of your projects or achievements that you are most proud of?
So far, my greatest achievement at Laserfiche was designing presentation decks to communicate executive and product keynotes to an audience of over 3000 attendees at Empower. Seeing my work on the big screen was a huge rush! I've also reached out to #LaserficheCares to get involved with the company's corporate social responsibility program, and I'm very excited to see what we can do.
What advice would you give to other women who are interested in joining the tech industry? What about if they have no experience or formal education in technology?
If you're interested in joining the industry, go for it! Network with professionals in the field, ask how they got to where they are, analyze your own interests and see if you can find a happy medium. Whether you're just starting out or have been in the industry for decades, attending webinars and staying informed is a continuous effort that every professional should make time for.
A formal education is not always required to get you in the door—it's your willingness to learn, explore and ask questions that makes you valuable.
What is the best career advice you have ever received?
Work smart, ask questions, be accountable and have a positive attitude.
If you could spend a day with any woman in history, who would it be and why?
Considering how much of my time revolves around the internet, I'd love to spend a day with Hedy Lamarr who invented spread spectrum that led to Wi-Fi. Though most may recognize her as an actress from the silver screen, she was an avid inventor during an era where most women were not recognized for their actions or creations. I admire her tenacity to pursue contrasting interests with such passion.
Looking for a great career move in tech? Become a part of the Laserfiche Team! Learn about opportunities here.