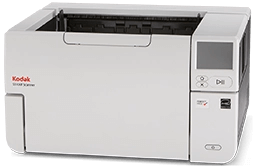 The KODAK S3100F is Laserfiche Certified featuring an integrated A4 flatbed scanner for exception document handling, and built-in image processing to slash demands on your PCs. The reliable handling and a straight-through paper path option can minimize document damage that improves the speed, accuracy, and efficiency of your process, and improve profitability. Our industry-leading enhancement technology can optimize OCR accuracy while reducing file size, which means the S3100F can help you capture the best image quality and deliver data to exactly the place you need it.
With a straight-through paper path, adjustable feeders, and a built-in A4 book-edge flatbed for exception documents, you can be ensured smooth and sage document handling. Mix weights and sizes in any batch without a hiccup from the big 300-sheet-feeder with controlled exit stacking for mixed-batch handling accuracy. Safeguard originals with Intelligent Document Protection (IDP) that alerts you to issues before they become jams, as do our superb multi-feed detection sensors.
You will get the best image quality capable from within the scanner, without any impact on the rated speed of the scanner of impact on the bandwidth of the PC. The built-in Image Processing takes away the dependence on a high-powered PC, with a powerful embedded processor that handles image processing at the scanner rather than the PC. And intelligent Barcode Reading procedures the most accurate data extraction results and makes document prep easier.
This scanner offers a large, intuitive color touchscreen and the ability to quickly configure personalized buttons for multiple users. Plus the simplicity of the bundled Smart Touch Technology, which allows you to get data where it is needed from the push of a button, improving scanning, speeds and minimizing post-scan steps.
The network compatibility of the scanner means that the scanner is visible to any PC on the network. This allows the scanner to be shared without any moving of laptops or wires, or the need for purchasing of extra IT equipment – saving time and money. The scanner allows for easy import of information into TWAIN, ISIS, and Linux based scanning applications. For further connectivity, out RESTful (Web) API offers easy integration into LOB applications, web-based scanning applications, or mobile devices.
| Format | BMP, DOCX, JPEG, PDF, searchable PDF, PNG, RTF, TIFF, XLSX |
| --- | --- |
| Scanning area | 2.5 in. x 12 in. |
| Optical Resolution | 100 – 1200 DPI |
| Sensor Type | CIS |
| Multifeed Detection | Standard |
| Connectivity | USB 3.2, 10/100/1000BaseTX Ethernet |
| Sheets per minute | 100 |
| Images per minute | 200 |
| Daily Duty Cycle | 45,000 |
| Feed Roller Replacement | 250,000 |
| ADF Size | 300 |
| Document Thickness | 0.05 |
| Long Document | 160 in. |
| Dimensions | 18 in. x 14.6 in. x 10 in. |
| Weight | 37.1 lb |
| Bundles Software | Kodak Capture Pro Software Limited Edition, Kodak Smart Touch |
| Driver | ISIS, SANE, TWAIN, WIA |
| Manual | S3100F Manual |
| Brochure | S3100F Brochures |
Browse All Our Certified Scanners
Laserfiche integrates seamlessly with the most popular and reliable high-volume scanners on the market. Check the compatibility of your scanners or learn more about the Laserfiche Scanner Certification process.