New Courses for Laserfiche Cloud and 11
Our newer Certification Series, based on Laserfiche Cloud and 11, contain courses with optional content that you can take at a flexible pace, followed by a cost-associated interactive assessment to validate your skills on the topic. Completing these Certification Series will contribute toward your overall Laserfiche Certification.
LEARNER STORIES
What Our Customers Say
Find out why industry leaders choose to invest in the Laserfiche Certification program to grow their usage of the system and transform their workplace experience.
Laserfiche Certification Paths
Expand your Laserfiche knowledge and validate your skills by completing a Laserfiche Certification.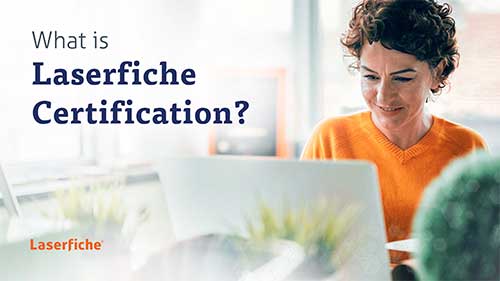 Get the Laserfiche Certification Datasheet
Curious about adding process automation to your business but don't know where to start? Download our complimentary guide to learn what you need and what you should consider when choosing a platform.
Laserfiche 10 Certification Paths