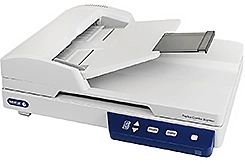 The Xerox Duplex Combo Scanner is Laserfiche Certified, and the lowest-priced product in its category, yet features current-state technology and doesn't skimp on performance. With winning scan speeds of 30 pages per minute (60 images per minute), this space-saving scanner will save you time and money. Retail, banking, government, financial, healthcare and similar small office environments will benefit from this scanner's ability to capture, share and securely process a variety of routine business and special documents including plastic cards, photos, passports, damaged documents and even thick publications. Its 1,500 page per day duty cycle is more than enough for offices with infrequent daily scanning needs.
Many office are equipped with printer-only inkjet or laser output technology. The usual solution is adding a new MFP that costs more than the original printer and includes scan and copy functions. But they're not built with the robust speed, paper handling and software flexibility of a dedicated scanner. The Xerox Combo Scanner is both a flatbed scanner and a multi-page ADF scanner all in one, so any small office will gain flexibility. With its advanced paper handling technology and OCR solution software you will be able to securely scan, store, and manage all that digital searchable information. 9 preset scan jobs – including scan-to-print – on the Duplex Combo Scanner's intuitive control panel complete your printer without the need to replace it. And the small footprint keeps the scanner out of the way when it's not needed.
Browse All Our Certified Scanners
Laserfiche integrates seamlessly with the most popular and reliable high-volume scanners on the market. Check the compatibility of your scanners or learn more about the Laserfiche Scanner Certification process.