Can Generative AI and Content Services Increase Productivity and Transform Processes? Here's How We're Thinking About It.
Advancements in machine learning and artificial intelligence (AI) have led to the emergence of revolutionary technologies, such as generative AI. At Laserfiche, we believe that generative AI has the potential to fundamentally alter how people use technology and to change our lives — in our homes, in our classrooms and especially in our workplaces.
Laserfiche's vision for how AI will transform the workplace focuses on empowering individuals to transform their work, take control of their processes, and supercharge their productivity — all without losing sight of increasingly important and ever-evolving data privacy and security standards.
Use cases for AI are diverse and ever-expanding, however, to achieve enterprise-wide transformation, organizations will need to deploy AI at scale.
What is AI at Scale?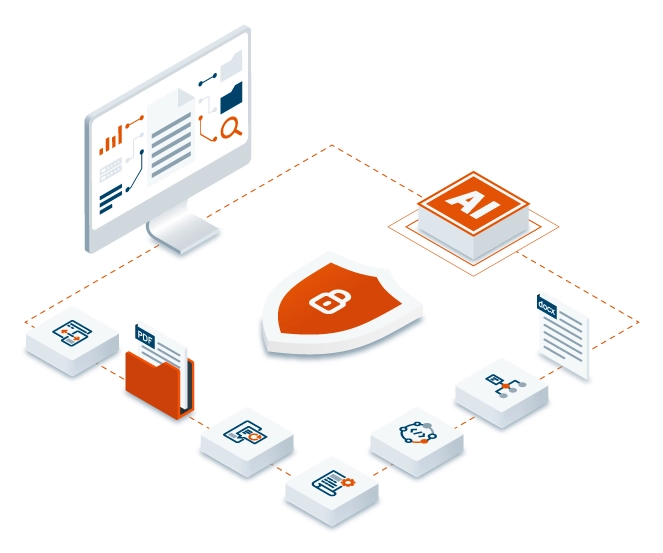 Implementing AI at scale will require the use of AI across the enterprise to streamline operations, improve decision-making, and react faster to changes. Here are a few examples of business-critical processes that can be made more efficient and agile using AI technology:
Customer acquisition, service and strategy
Product development and service delivery
Financial analysis and capital management
Some of the challenges of deploying AI at scale include the creation of sophisticated data management frameworks that cover all components of a data lifecycle, and efficiently deploying AI solutions across platforms.
A content services platform is already foundational to an organization's business-critical content and processes, managing data lifecycles including capture, storage, integration and disposition. These platforms are also often integrated with other core technologies to support the flow of information enterprise-wide, making it the ideal context in which to use AI and deploy it at scale.
Using AI within content services has the potential to uncover new ways to deliver business value, by accelerating the speed of business; improving monitoring and analysis of process data; creating new business capabilities and innovations; reducing error; and enabling the organization to keep up with rapidly evolving markets.
Considerations for Using AI at Scale
Doing anything at an enterprise scale comes with a set of considerations that should be thoughtfully evaluated, but AI tools pose some new and unique challenges. AI technology processes vast amounts of data, creating increased risk of the intentional or unintentional exposure of sensitive and proprietary enterprise data. AI tools can also produce biased or incorrect responses to prompts, potentially leading to biased or unethical decision making. Therefore with AI, security, privacy and ethical considerations come first and foremost.
Data Transparency: At Laserfiche, data transparency is a cornerstone of our development and operational approach. We are approaching AI in the same way we have always approached Laserfiche features and tools, which are trusted by organizations in the most highly regulated industries, such as government, healthcare, financial services and manufacturing. To facilitate the responsible deployment of AI, Laserfiche is employing a risk-and-benefits framework rooted in leading industry practices for assessing risk and protecting sensitive information to assess the benefits and risks of AI. In conjunction with Laserfiche's existing data privacy and security initiatives and code of ethics, this framework will guide Laserfiche's development and use of AI technologies in its products in a responsible manner.
Security: Laserfiche believes that enterprises and technology vendors must implement multiple technical safeguards to minimize the risk that inappropriate use of AI may pose to sensitive data. Additionally, centralized security policies that limit access to data as privacy and security policies permit will be essential to giving administrators fine-grained control over their data.
Adoption: Another important consideration — and possibly the most challenging — is how teams will adopt AI across the organization. AI at scale will require organizations to break down the silos that are currently separating data as well as people and processes to adopt new ways of working and create a company culture that embraces change and innovation. Using AI to transform the enterprise will require new skills, restructured business processes and new ways of communicating so that everyone knows what is changing, why it is changing, and what expectations are across teams and departments.
The Future of AI and Laserfiche
Laserfiche is embracing a new era of computing and productivity — and this is just the beginning of it. We're excited to explore AI and introduce you to new AI-powered capabilities and innovations with Laserfiche in the coming months. Check out our general session from Empower 2023, and be sure to stay tuned for more news here on laserfiche.com.