How to Expand Laserfiche Beyond Your Organization
Whether it is to access documents from your repository using the Windows or web client, or to submit and review various electronic forms, you've gotten used to using Laserfiche internally. Yet, nearly all organizations, whether private and public, have to interact with customers and citizens on a regular basis. That may involve fielding phone calls and emails, providing requested information, accepting forms to process permits or enrollment, or meeting face to face just to obtain information to get a process started. With tools such as Laserfiche Forms, the WebLink public portal and direct file share, Laserfiche can help you provide a better customer experience, reduce time spent on routine interactions and enable you to spend more time building meaningful customer and citizen relationships.
Laserfiche Forms
Instead of customers coming in person to submit requests or mailing in paper forms, you can have them fill out an electronic form instead. They can even upload documents or photos to the form to save time and build a complete application package.
Information submitted through these forms can be pushed to an external line-of-business application without employees having to decipher paper forms to re-enter information.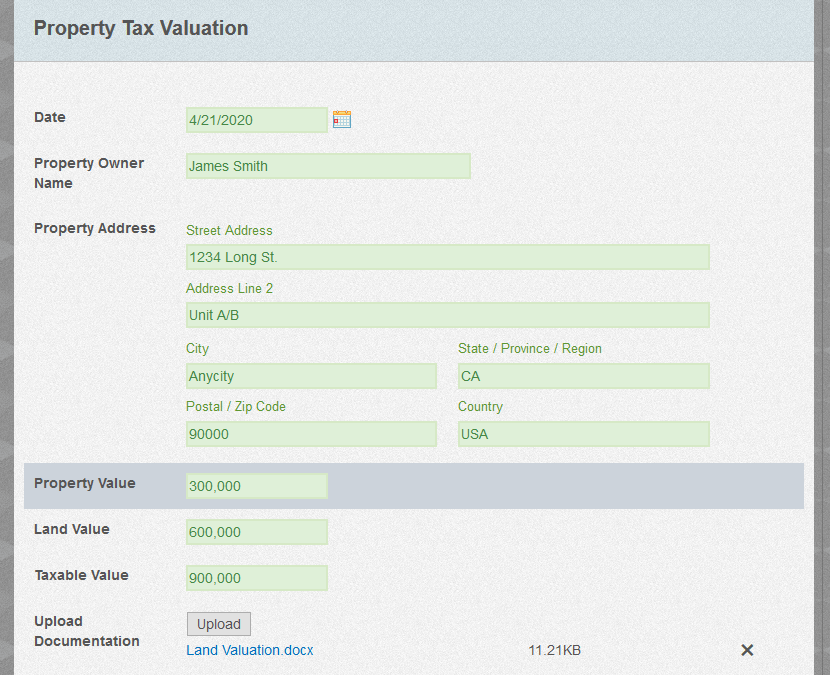 If you work for a college, university or school district, you can convert a lot of common paper forms usually filled out by students and parents into electronic forms. You can host these forms on your organization's website or within your app, if you have one.
Some examples of organizations that have extended Laserfiche Forms usage to external users include:
WebLink Public Portal
If your company has the Laserfiche WebLink public portal, then it can use it to share documents with the public and other employees outside of the organization. For example, a city can host meeting agendas and other public records in the public portal so that citizens can find the documents they need without having to contact the office or department. The city of Ithaca, NY transformed the permitting process by letting the public view permit information from the city's website through WebLink.

Other examples of documents that can be shared with the public via WebLink include meeting agendas, historical documents, company financial statements, fund prospectuses and other public records.
If you don't use the WebLink public portal but frequently deal with public records requests, you can use Forms and Workflow to streamline fulfillment of these requests. See how Bonneville Joint School District No. 93 used Forms and Workflow to make the public records request process completely electronic,
Direct File Share
You can also share content from your Laserfiche repository with external users in a manner that is tracked and secured within Laserfiche. This is called direct share. When you send documents through direct share, the recipient will receive a URL through which they can access the files. You can specify the number of days until the URL link expires.
Using direct share helps reduce the risk of sending important data to the wrong person, and limits the access they may have to the document. It is also useful for sharing files that would otherwise be too large to attach to an email.
Direct share can be a component of these business processes:
Contract management
New account opening
Benefits enrollment
Legal document requests
More information about using direct share can be found in the product documentation.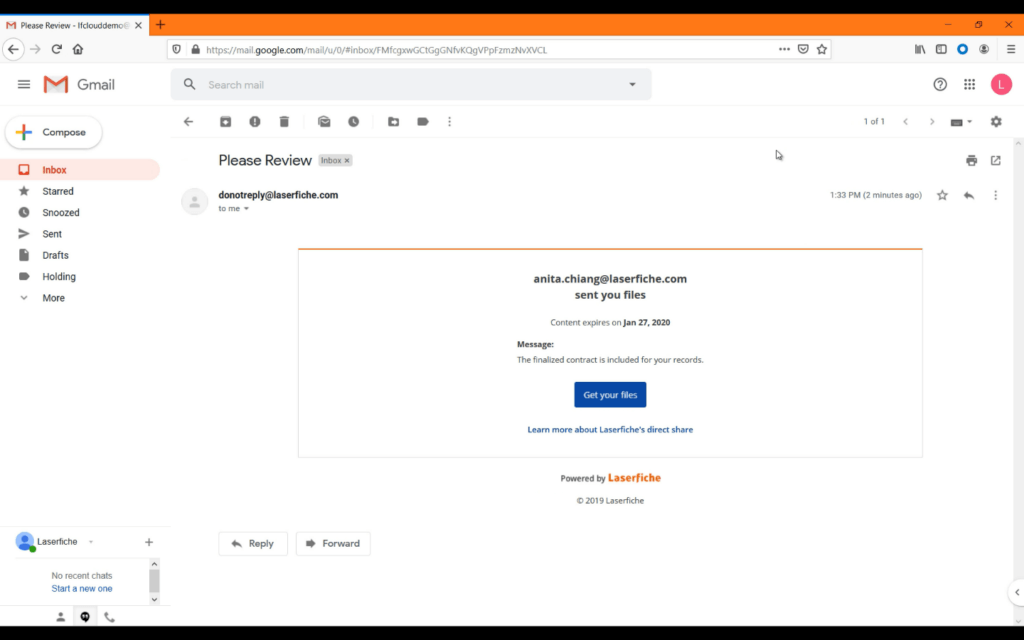 Embed Laserfiche in Other Applications
Laserfiche Forms and WebLink can be easily embedded in websites and external facing applications. For example, the city of Newport Beach, CA embedded WebLink into the city's website, which allows the public to search for permits without even realizing that they are searching in Laserfiche.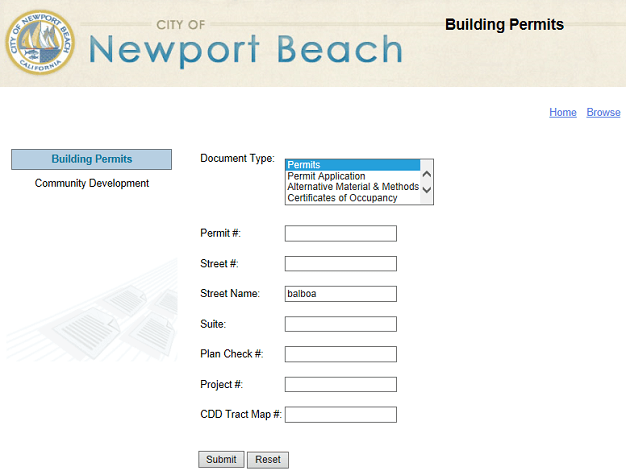 Furniture store chain Steinhafels Inc. links to the company's employment application, a Laserfiche form, from job postings posted on external websites.
You can also integrate Laserfiche with your geographic information system (GIS). In this way, clicking on a parcel or building on a map on your website, can open any related documents in Laserfiche. See how the city of Aspen/Pitkin County, CO integrated Laserfiche with ESRI ArcGIS.