How to Securely Email Documents with ECM
What does your organization do to prevent its emails from being hacked?
With massive email security breaches fresh in mind, many organizations share concerns that confidential email attachments can fall into the wrong hands. Here are three tips for using enterprise content management (ECM) software to securely email documents.
Emailing Documents Inside Your Organization
Email attachments can be vulnerable to theft or eavesdropping. If you need to share information with someone inside your organization, emailing a link to the document or folder in Laserfiche is a safe alternative to emailing a physical attachment. This ensures that the information being sent in the email can only be viewed by users with access to the repository.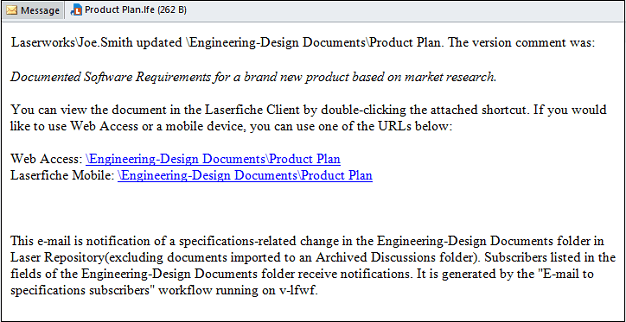 For example, if an HR department needs to share six different employee onboarding documents with a new staff member, it could email the recipient a link to a repository folder that contains all of the required documents. This method is faster and more secure than sending all of the attachments in a single email.
Emailing Documents Outside Your Organization
If you're sharing sensitive information with someone outside of your organization, you can rest assured of its confidentiality by emailing the recipient a read-only document link.
With a password-protected public portal, organizations can protect their core ECM repositories by sharing a link to a non-editable version of a document. This method ensures that the recipient is able to view only the information in the repository that he is authorized to see.
For example, if a financial advisory firm needs to share nine different new account opening documents with a client, it can:
Publish read-only versions of the documents to a secure public portal
Create a password-protected login to the portal that allows the client to only view those nine documents
Email the client a link to the public portal, and provide the login credentials in a separate form of correspondence
Emailing Documents that Need to Be Signed
For organizations that need to securely email and collect a signature for a document, integrating ECM with digital signature software can be a reliable method.
Many digital signature tools use screening methods to verify the identity of the person signing the document. For example, Laserfiche integrates with ARX—a digital signature tool that:
Validates the integrity of documents by using a digital certificate to verify who is signing the document, what organization the signer is from and when the document was signed
Verifies that the recipient has the authority to sign the document by integrating with user directories—such as Microsoft Active Directory—to access a list of approved signers
Protects against unauthorized document tampering by storing the digital signature in a centralized and secure hardware device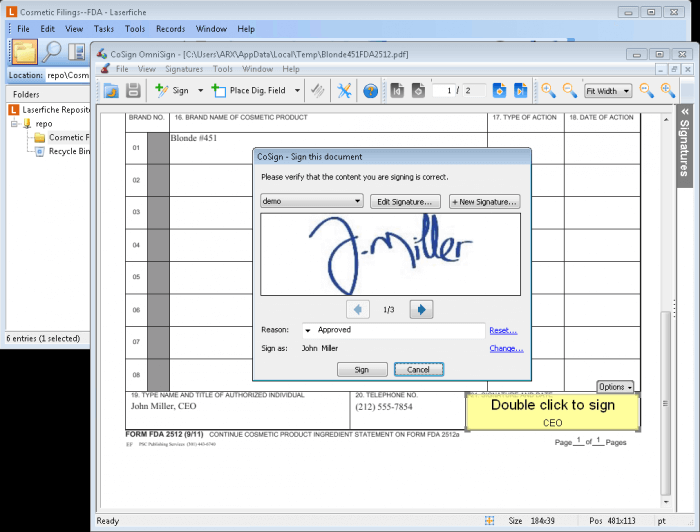 By combining ECM with these digital signature authentication features, organizations can protect sensitive documents and verify that the signing party is the person he claims to be.
To learn more about how ECM can help you automate key processes, save time spent locating documents and be better prepared to meet compliance requirements, check out our ECM software buyer's guide.