Hyperautomation Is The Future, But It Starts With This First Step
By Grace Nam, Laserfiche strategic solutions manager for manufacturing and healthcare.
Hyperautomation started as a tech buzz word but is now influencing leaders as a top strategic technology trend, with many seeing the potential value in leveraging RPA (robotic process automation) and AI (artificial intelligence)/ML (machine learning) to transform legacy processes. According to Gartner®, " hyperautomation is a business driven, disciplined approach that organizations use to rapidly identify, vet and automate as many businesses and IT processes as possible"1 It is increasingly becoming a vital part of organizations' digital transformation roadmaps as a means to achieving digital resilience and agility.
As you dive headlong into hyperautomation at your manufacturing organizations, it is critical for leaders to plan strategies to accelerate processes and deliver value without getting lost in the current technology weeds. After several years of planning and implementing digital transformation and smart manufacturing initiatives, how far do the benefits currently extend at your organizations? Even with recent events and disruptions like COVID-19, supply chain issues, and staffing shortages, 60% of executives say digital transformation is their most critical growth driver.2 Though digital transformation can be difficult as it requires organizations to change culture and traditional structures, digitalization is crucial to the industry's ability to increase efficiency in production and drive further growth of the enterprise.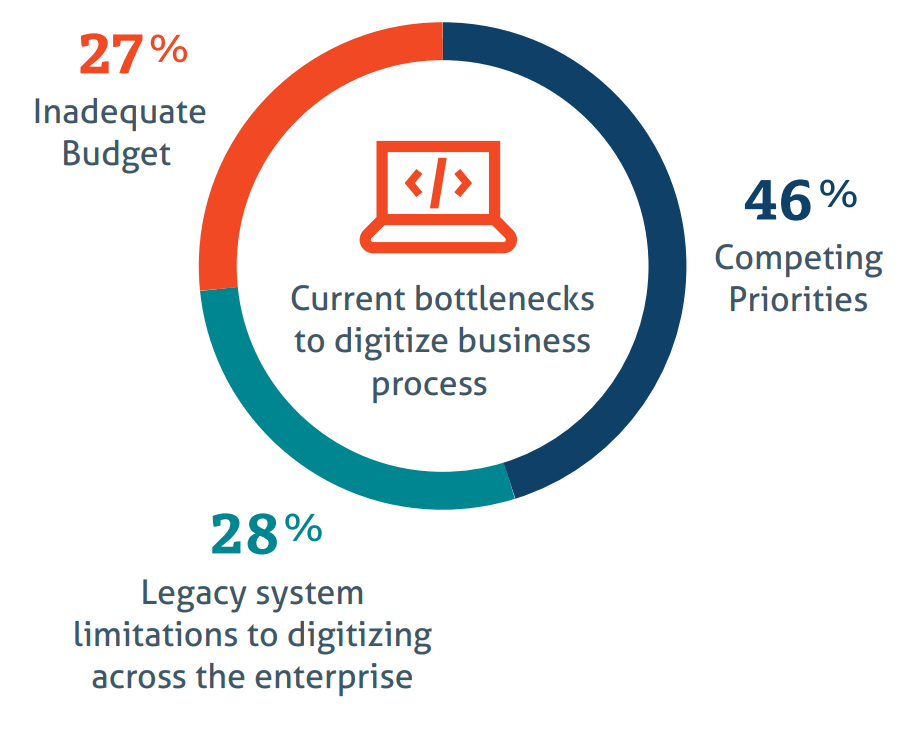 While disruptions and challenges have stalled out, major challenges with the supply chain and increased operational costs can persist through digital transformation initiatives. Of course, it's not realistic to expect to eliminate longstanding challenges in such a short span of time. Currently, many leaders share common challenges in justifying ROI for smart manufacturing investment using end results.3 While having access to data is now certainly realistic for most organizations, building visibility into real-time data across multiple databases at the organization remains as a huge roadblock. Siloed data and unstructured data sets, multiple versions of pieces of digital content without the ability to track them — such as sales contracts and datasheets — and the inability to streamline business processes across different applications and departments are just some of the unimproved roadblocks that are still managed manually. When envisioning the end-results of our digital transformation efforts, it may not be what leaders were expecting: It is a common reality that employees are still spending hours on repetitive manual tasks.
Want to learn more?
Download the eBook, "Making Automation Accessible, Connectability Universal & Workforces Eager To Contribute".
1Gartner IT Glossary, "Hyperautomation," as of 16 January 2023. https://www.gartner.com/en/information-technology/glossary/hyperautomation. GARTNER is a registered trademark and service mark of Gartner, Inc. and/or its affiliates in the U.S. and internationally and is used herein with permission. All rights reserved.
2PWC Pulse Survey: Executive views on business in 2022.
3SME, 2022 Smart Manufacturing Market Survey.