Laserfiche Partners with the YMCA of Greater Long Beach
Laserfiche has partnered with the YMCA of Greater Long Beach to support YMCA Camp Oakes, a summer camp experience that gives children the opportunity to develop their wilderness and leadership skills. The company challenged employees with an internal dollar-for-dollar matching program that resulted in the ability to send 16 kids to camp this summer.
The YMCA is an organization that is especially important to the Laserfiche family, as it held a special place in the heart of Laserfiche founder Nien-Ling Wacker.
The organization, which employs over 600 staff members and more than 500 volunteers, services nearly 20,000 members within the Greater Long Beach area. For over 15 years, Laserfiche has supported the local Y branches through donations and volunteerism to help further its mission of providing community programs that build a healthy spirit, mind and body for all.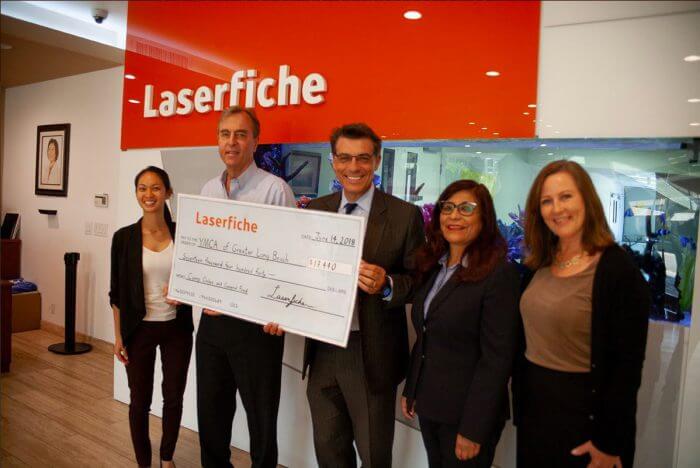 In addition to sponsoring kids' Camp Oakes experiences, this year Laserfiche donated 40 computer monitors to meet the organization's growing technology needs and $10,000 to the YMCA of Greater Long Beach general fund.
Laserfiche also supports a local Y branch, the Fairfield Family YMCA, by providing funds and essentials for the location's programming and facilities. Laserfiche associates recently concluded a company-wide book drive resulting in more than 200 books for YMCA youth—including a new, complete set of the "Harry Potter" series in Spanish! The drive culminated in a visit to the Y to present the books and read to the kids. Later this year, employees will continue to support the Fairfield branch by conducting a school supply drive, volunteering at the organization's annual summer day camp carnival, and more.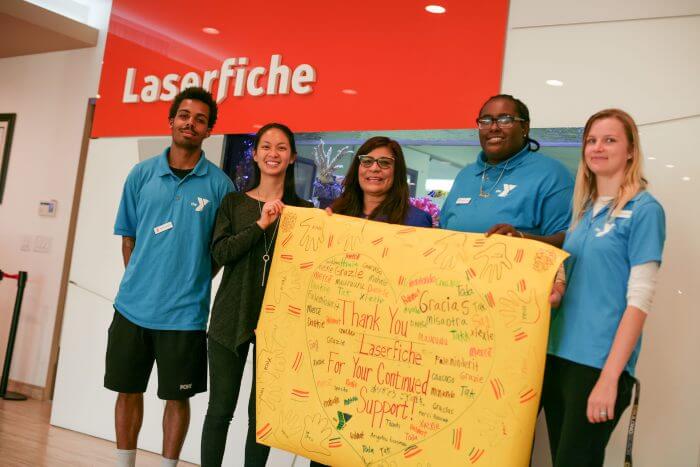 Our company is honored to partner with our local YMCA locations and work toward a common goal of empowering people, organizations and communities. To learn more about the YMCA of Greater Long Beach, visit the organization's website.