How Nature Coast Women's Care and Family Medicine Clinic Manages a Paperless New Patient Intake Process
Contributed By: Tamearia Williams, Practice Administrator, Nature Coast Women's Care and Family Medicine
Based out of Tallahassee, Florida, Nature Coast Women's Care and Family Medicine Clinic has a goal of being the first medical practice to go completely paperless across the board. In order to help achieve this goal, the clinic decided to implement Laserfiche Cloud.
The first process tackled by the clinic, with the help of their Laserfiche Solution Provider Business Automation Pros, was the new patient intake process.
"The transition to Laserfiche Cloud was very easy for staff. The system is user friendly and benefits were immediate," says practice administrator Tamearia Williams.
Prior to this new process, new patients were instructed to come to the office 15 minutes early to fill out paperwork. Once they filled it out, they'd bring it to the front desk employee who would check it for accuracy and scan it into the patient's chart in the eClinicalWorks healthcare records management system. The downside of this process was that patients would need to spend more time in the lobby, which is not desirable, especially during the time of the COVID-19 pandemic. Also, patients would occasionally skip questions on the paperwork, or had indecipherable handwriting.
Patients Can Fill out Intake Forms from Home
If a person wants to become a new patient at the clinic, they click the "Become a New Patient" button on the clinic's website. This launches a Laserfiche Forms new patient intake process. To make the form easier to fill out, it is divided into nine pages. A button from inside the form links to the appointment scheduling system to make scheduling the first appointment easy.
As part of the process, the new patient is asked to upload a copy of a state issued identification card. He or she is also promoted to agree to and electronically sign numerous disclosures and policies.
Once the form is submitted, it is assigned to a front desk staff member for review. The staff member reviews the form for accuracy. Once the form is reviewed and the staff member clicks the Approve button, the information is pushed to eClinicalWorks, from where a new appointment can be created for the patient.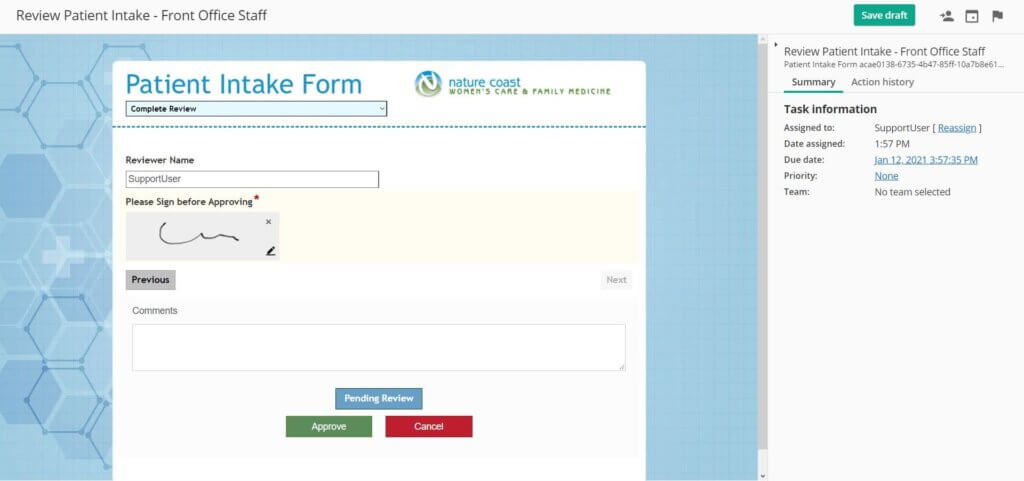 The process diagram is shown below.

Wait Time for New Patients Has Decreased by 75%
The new patient intake process has reduced the time patients have to spend waiting in the lobby before appointments by 75%. In the time of the COVID-19 pandemic, this has reduced potential disease exposure for both patients and staff.
Other benefits of the new process include less errors when capturing data such as insurance information. Required fields in the form ensure that no questions are skipped. The front desk staff member doesn't have to decipher handwriting or spelling errors, and can process new patients much faster.
Interested in seeing how Laserfiche can provide a way to automate your business processes? Schedule a demo to learn more.