How Southwestern College Uses Laserfiche Forms for Academic Planning and Scheduling
Laserfiche Solution Contributed By: Donna Harrington, CTO, Southwestern College
Located in Santa Fe, NM Southwestern College is a small, private graduate school offering degrees in Counseling, Art Therapy/Counseling and Art Therapy for Clinical Professionals as well as specialty certificates for ongoing professional development. A non-profit school that is one hundred percent dependent on tuition, the college accommodates an average of 200 students each term and graduates around 60 students a year.
Southwestern College is open for classes five days a week all year and rarely closes for holidays, and with only three classrooms, the college registrar faced challenges of needing to maximize facility use while meeting the needs of the students to fulfill all of the classes needed for their degree.
According to CTO, Donna Harrington, "Getting students to their graduation date is like a juggling act of epic proportions. We don't want a student close to the end of the program find that a class that they need for graduation won't be available for two years. For very specialized schools like ours, a solution like Laserfiche was the only way to do this accurately with less human capital."
The college's former academic planning and scheduling process, which was done using pen and paper and the occasional spreadsheet, was extremely manual and time-consuming. Looking to improve the efficiency and accuracy of the process, the college implemented Laserfiche Forms.
Laserfiche Forms is the Solution
Laserfiche Forms has become the one-stop-shop for managing student course loads and course planning. All of the tasks are performed from a central Menu page.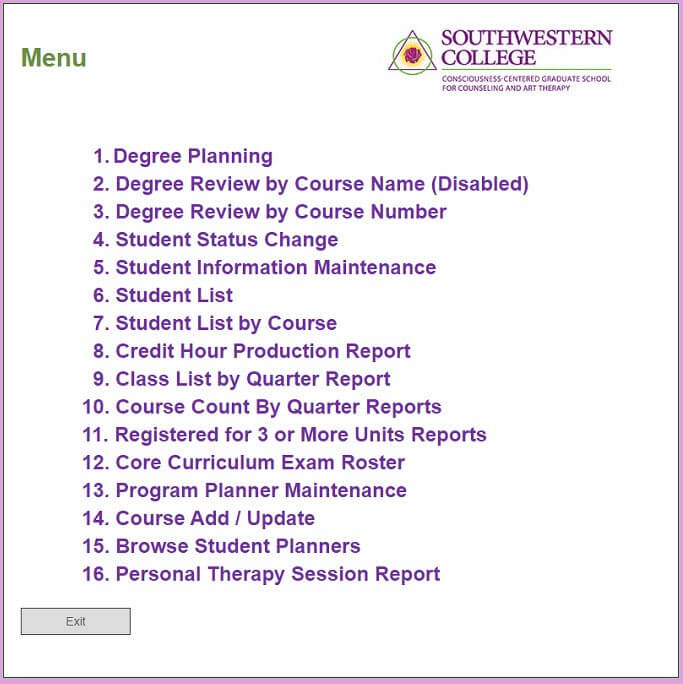 Each option launches a separate Forms process. Some of the options are tasks such as degree planning or student status change while others are reports such as student list by course and class list by quarter.
The Degree Review by Course Number form works as follows:
The director of student services enters the student's ID number and plan type.
The rest of the form is populated with information about the student's courses with each year having a different tab in the form.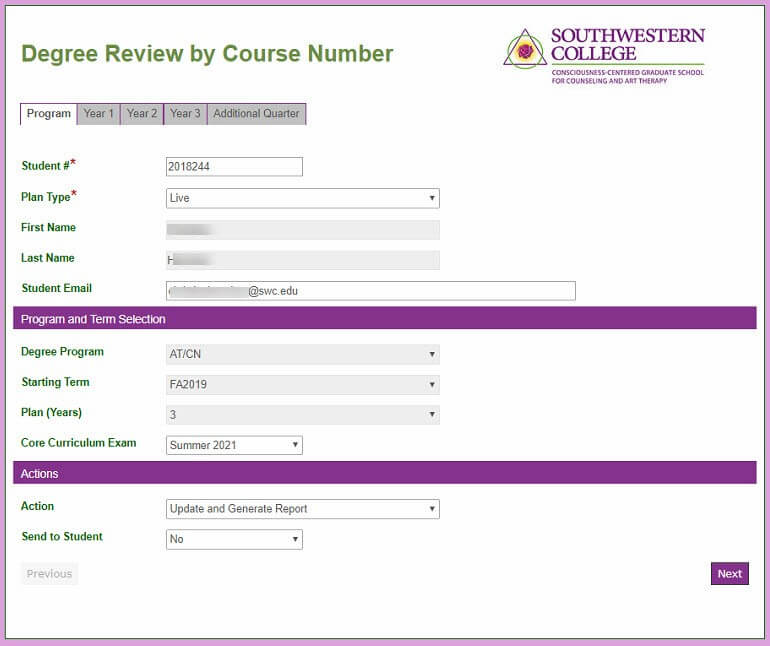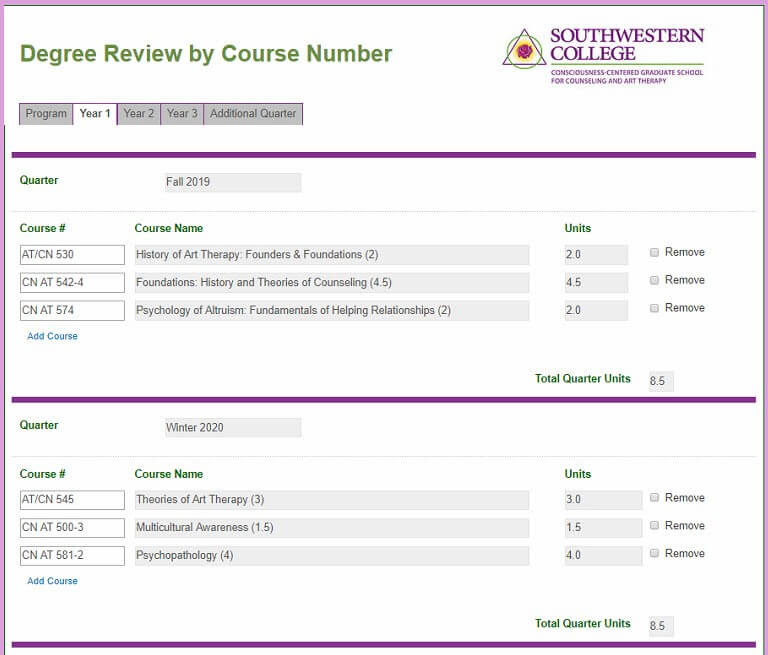 When a student is planning their courses, he or she meets with the director of student services who walks the student through the proposed plan. If the student decides that their course load is too intense during one quarter, then classes are easily removed or added. Sometimes, the student's plan has to be modified midway through their degree for reasons such as an unexpected leave of absence. This form allows these changes to be made easily.
Reports are generated by looking information up in the Populi student information system. Reports can be filtered by information such as course numbers. Each report can be either saved to Laserfiche or emailed. These reports created allow the director of student services to predict course load for the next academic year. For example, it is possible to see the number of students in part one of a particular course, therefore it's easier to predict the number of students in part two of that same class next quarter.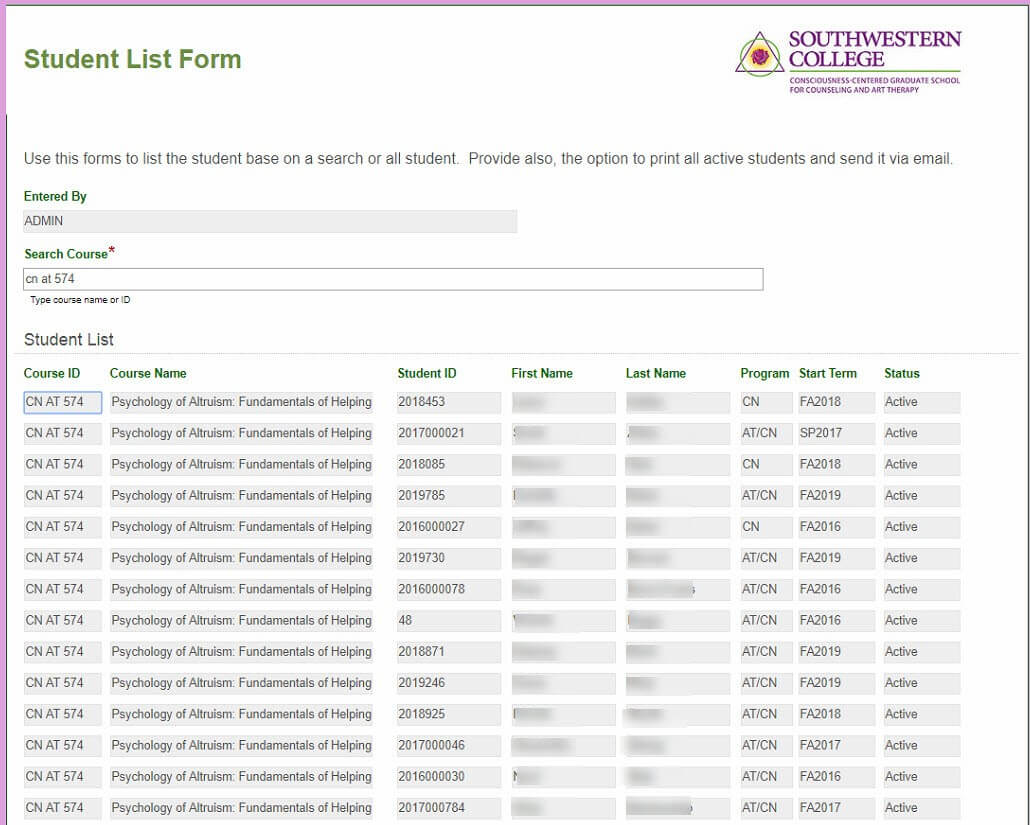 Simplified Planning for Student Success
The Laserfiche Forms solution has transformed the way the college handles planning for the next academic year. In addition to time savings for staff, the college has achieved better support for students and more flexibility to accommodate their needs.
"We can actually predict our course counts for the upcoming academic year based on the planner information that is in the Laserfiche solution. My CFO about fell out of her chair when she could click a button and see with a level of accuracy how much revenue we could expect over the next year so that we can budget. This has changed our lives," says Harrington.