What Is Business Process Automation?
What does business process automation mean?
Business process automation (BPA) is the use of technology to automate repeatable, day-to-day tasks. It accelerates how work gets done by routing information to the right person at the right time through user-defined rules and actions. BPA helps organizations streamline processes such as employee onboarding, accounts payable, contract management and more.
Why is business process automation important?
It isn't just about replacing paper with PDFs—business process automation aims to make processes more cost-efficient, streamlined, error-proof and transparent. With automated processes in place, organizations save time and ensure best practices are implemented to improve overall operational efficiency.
What business processes should you automate?
Almost any buisness process you can think of can be enhanced in some way by automation. When assesssing candidates for process automation, here are a few key characteristics the process should have:
The process requires consistency across the organization
The process is repeatable
The process has little room for error
You may also want to check if your process automation platform of choice offers process templates, which can speed up the deployment of your soutions. One example is the Laserfiche Solution Marketplace, which has pre-built workflows for many of your everyday processes, including contract management, onboarding, front desk sign-ins and help desk requests.
Also be sure to check out the below infographic "Laserfiche 4 Steps to Innovation" to see how Laserfiche users can not only deploy solutions quickly, but get involved with a larger community of innovators.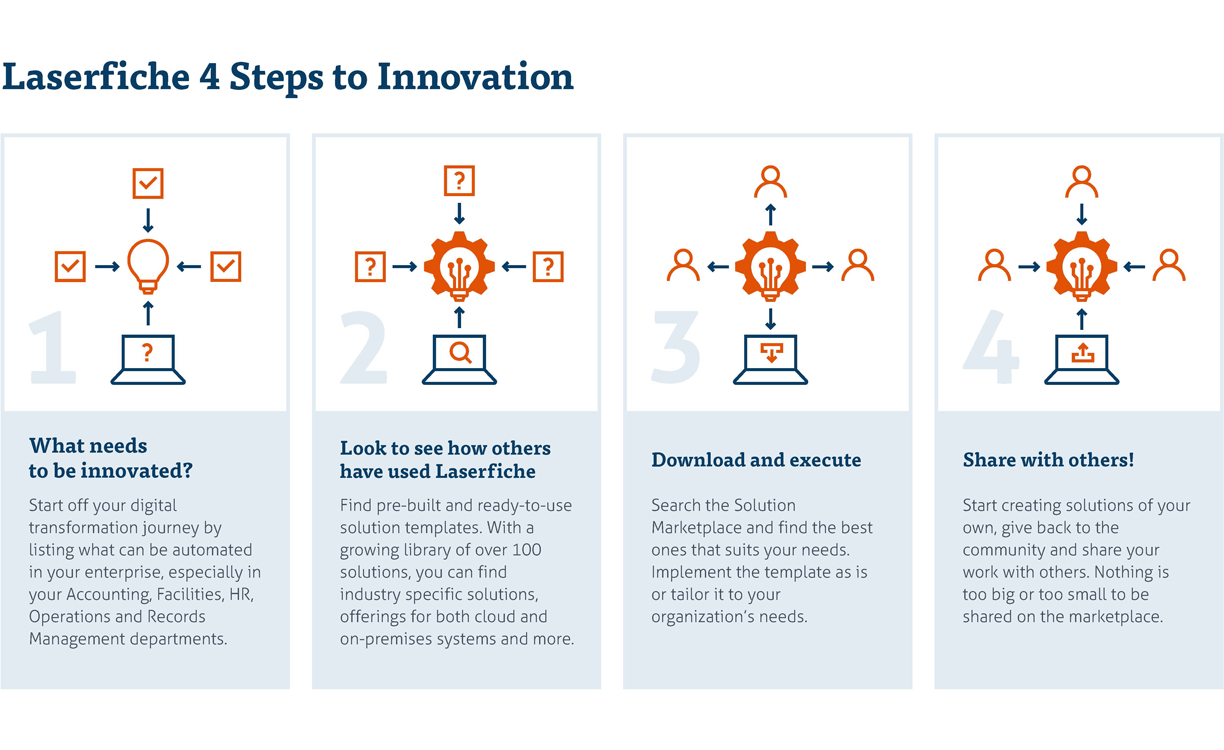 What are some examples of business process automation?
Below are three common business processes and how organizations drove positive change through automation:
HR Onboarding
Example: Texas A&M University's College of Engineering
Process challenge: The college committed to an initiative that would increase enrollment by more than 65 percent by 2025. This meant the college needed to hire new employees to manage the influx of students while keeping costs down. The legacy HR onboarding process, however, was paper-driven and time-intensive. If the college was going to meet its goal, it needed to eliminate inefficiencies and streamline employee onboarding.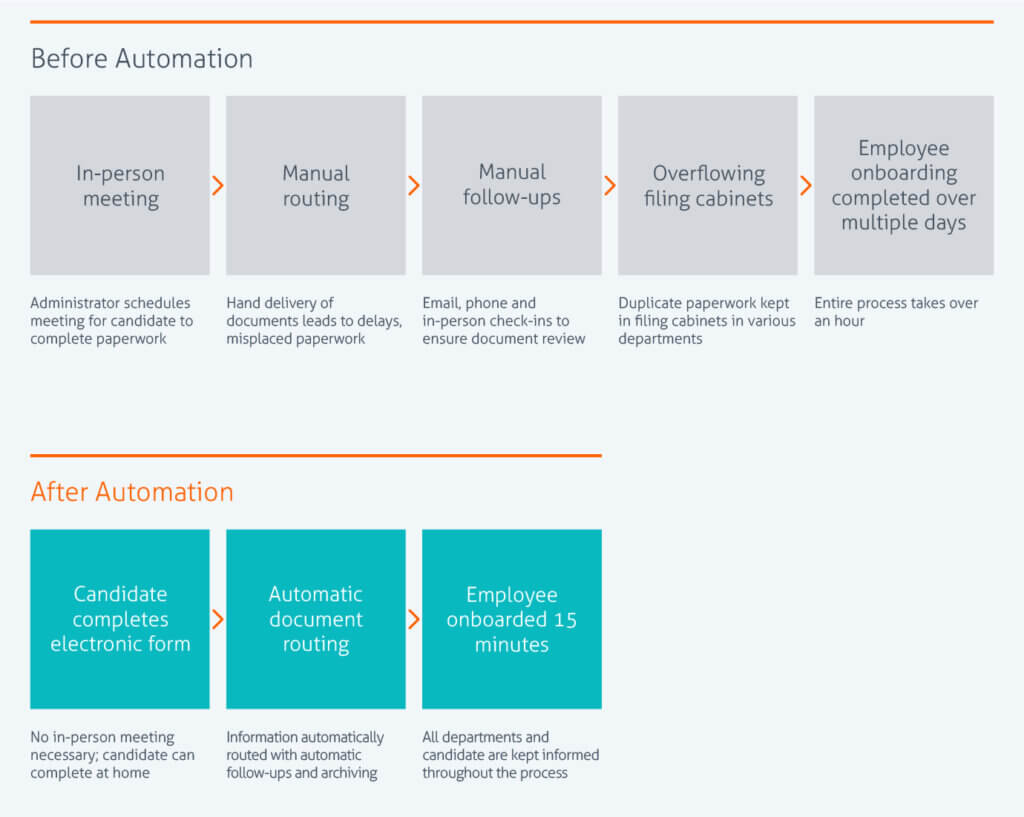 Automating HR onboarding with Laserfiche enabled the College of Engineering to hire more than 3,400 employees in a little over one year. Other departments have also begun reengineering their own processes and sharing successes campus-wide. The new system has created a new culture of collaboration and innovation for the most efficient processes possible.
Click here to get the complete guide to HR automation.
Accounts Payable
Example: City of Boca Raton
Process challenge: The City of Boca Raton's accounts payable process relied heavily on paper invoices and copies being manually routed. Sometimes paper copies would be misplaced or delayed on someone's desk, leading to unpaid invoices and upset vendors. Chasing down paperwork and answering phone calls from vendors was taking up employee time that could be better spent elsewhere.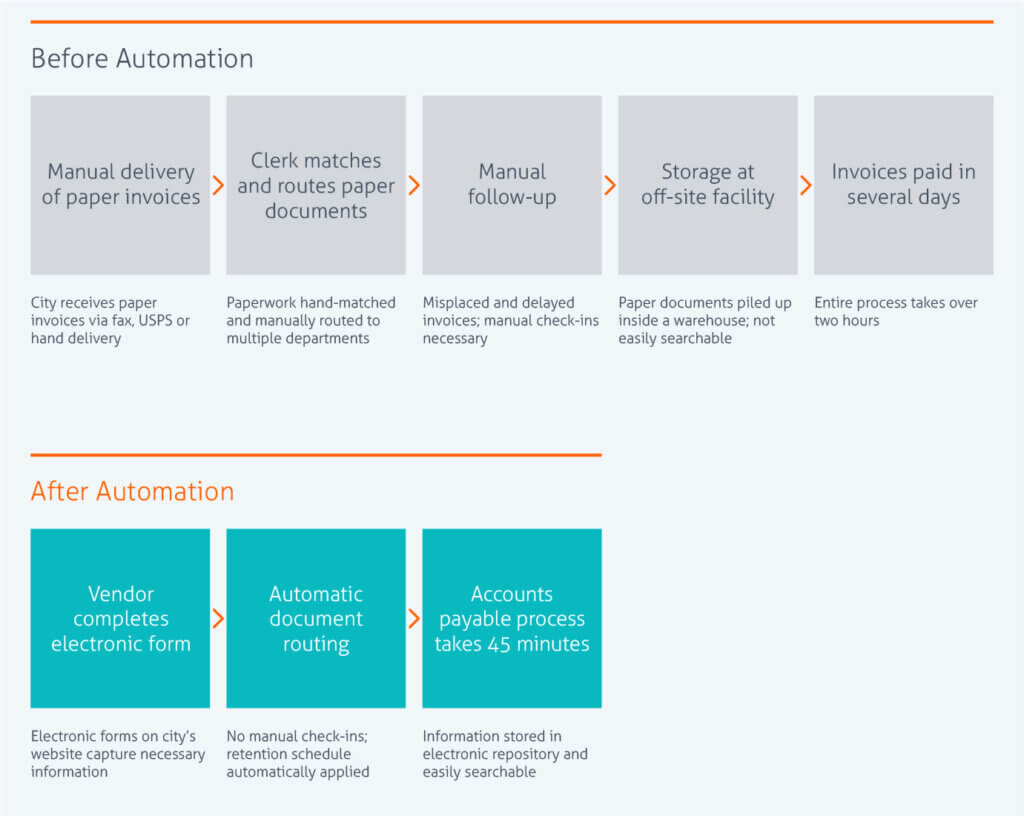 With its automation, the city tracks all invoices from the moment they are received through the final payment. The city significantly reduced processing errors while boosting customer satisfaction as a result of a faster and more efficient process.
Click here to get the complete guide to accounts payable automation.
Contract Management
Example: Heifer International
Process challenge: Heifer International aims to lift 4 million families out of poverty by 2020. To do so, the nonprofit organization needed to increase efficiency and facilitate easier collaboration across its teams and partners worldwide. With documents built up from 70 years of work and hundreds of contracts requiring review per project, Heifer needed to centralize information and streamline contract management processes to help more people, faster.
Heifer team members worldwide can now collaborate on projects that help families—whether they are in Arkansas or Nepal. Legal contract reviews are streamlined, expediting the execution of projects including delivery of food and supplies. Heifer continues to identify more back-office operations that can be made more efficient and free up resources for program initiatives.
Learn more about business process automation
Laserfiche has plenty of resources to help you find the right process automation platform and learn how to get the most out of the one you choose.
Download Forrester's Best Practice report, Design A Future-Proof Process Automation Technology Fabric to discover how to navigate the process automation landscape and build a foundation for agility and cost savings in your organization.
You can also download our free resource, The Process Automation Buyer's Guide for more background on what to look for in a process automation platform and how to procure the right solution:



You can also check out the G2 Grid® for Digital Process Automation (DPA) to compare top vendors on the market. G2 is a website that collects and offers millions of business software reviews.