What You Need to Know About the Laserfiche Solution Marketplace
With its easy-to-use, no-code workflows, forms and content management offerings for both cloud and on-premises deployments, Laserfiche makes it easy for all types of teams and individuals to streamline their day-to-day processes.
Since early 2022, customers now have a faster way to innovate on everyday workplace processes with the Laserfiche Solution Marketplace, a hub for Laserfiche community members to explore solution templates from Laserfiche, its industry partners, third-party vendors and even citizen developers.
What is the Laserfiche Solution Marketplace?
The Laserfiche Solution Marketplace is a place for users to download solution templates that include pre-built forms, workflows and other resources for the Laserfiche platform. It's also a community hub where Laserfiche users can share their owns solutions with each other. (Want to contribute? You can submit your solutions here.)
Watch the video below for a quick overview of the Laserfiche Solution Marketplace, and read on to take a deep dive into how the marketplace can help you deploy solutions faster.
While the ability to create many of these solutions exists for most Laserfiche users, it can be much easier and faster — especially for resource-strapped individuals and organizations — to use or build upon what other platform experts have already created.
What kinds of solutions are available on the Laserfiche Solution Marketplace?
Here are a few examples of the types of resources you can find on the Laserfiche Solution Marketplace:
What are the benefits of using the Laserfiche Solution Marketplace?
While the time-savings are readily apparent in the use of pre-built solutions, there are also additional benefits one can get from using the Laserfiche Solution Marketplace:
Put your ROI in overdrive: A faster start from pre-built solutions means less lead-up time to enjoy the efficiency and productivity benefits of the Laserfiche platform.
Enjoy solutions with built-in expertise: Many pre-built solutions are created by industry leaders and already have best practices baked into them.
Democratize big ideas: Enable employees across departments and disciplines to take the role of citizen developers, combining and building on solutions to foster innovation.
How do I get started with the Laserfiche Solution Marketplace?
Visit the Laserfiche Solution Marketplace site to explore a growing library of 100+ solution templates for Laserfiche self-hosted deployments and Laserfiche Cloud.
Also be sure to check out the below infographic "Laserfiche 4 Steps to Innovation" for a step-by-step guide on how to get started deploying solutions and sharing your innovations with the larger Laserfiche community.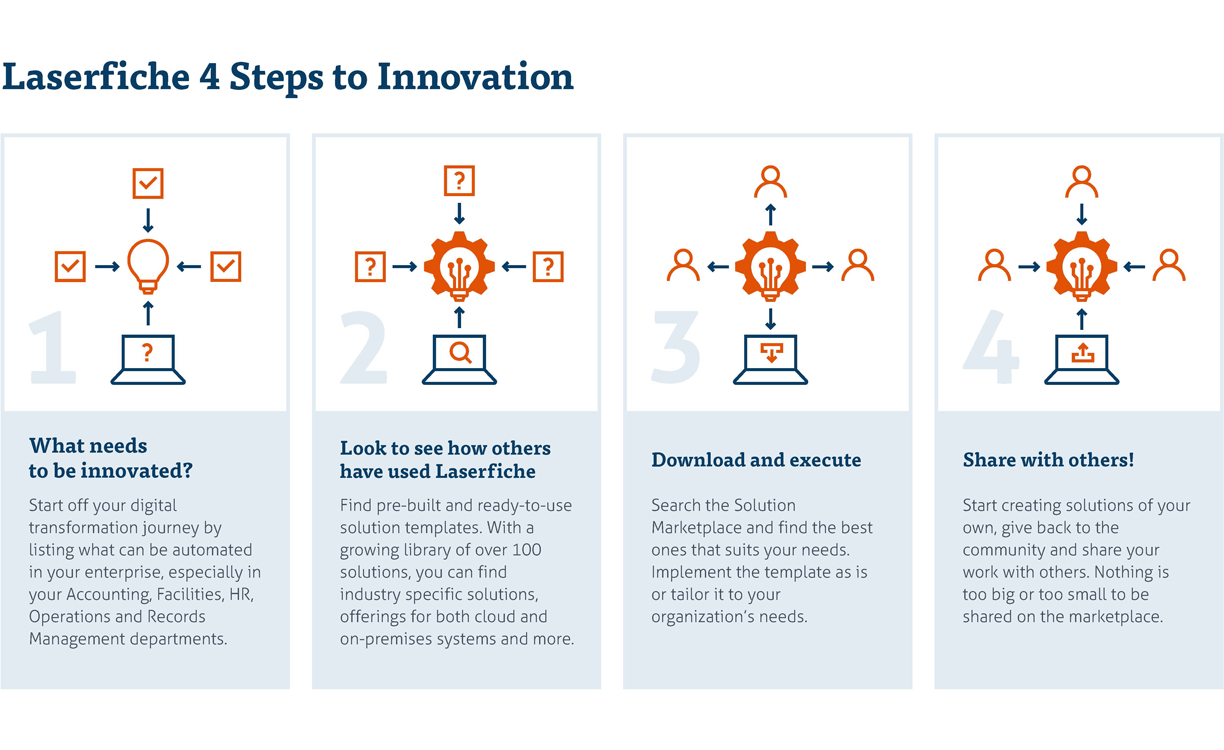 Calling all innovators! Stake your claim as a digital transformation pioneer by being one of the first to have their innovative ideas on the Laserfiche Solution Marketplace. Community members looking to submit their own templates can do so here.