Public Records and Process Automation Power the County of Newell's Digital Business Strategy
5 min read
Located in Alberta, Canada, the County of Newell is known for its central location and dynamic and diverse economy. Recent years have brought growth to the region, including Amazon's first renewable energy investment in the country — a 80MW solar project expected to produce enough energy to power more than 18,000 Canadian homes for a year. The Newell County government is committed to the area's progress, continuously improving processes with an eye toward its vision statement: "to encourage and support sustainable growth and quality of life."
This commitment recently drove a number of transformative efforts at the county, including the digitization and automation of business processes that employees and residents use on a daily basis. The county, a Laserfiche customer since 2004, has been going through processes strategically, optimizing steps using a lean project management methodology.
"We strategically approach everything that we do," said Roberta Fernell, director of information technology at the County of Newell. "Every process or system we introduce, we want to understand how it fits, and where we may need to adjust to make some improvements. That's why we did an organization-wide implementation of Laserfiche."
Reimagining Records Management
Working with Laserfiche solution provider Inspiris, the County of Newell achieved a strategic priority by digitizing and centralizing information in Laserfiche. The Laserfiche platform became the foundation on which departments could build automated processes and integrate with other systems to streamline information flow throughout the organization.
"Digital transformation is a journey, an evolution in how our organization works, operates and moves forward to better serve the public," said Joanne Wells, records management technician at the county. Departments that now use Laserfiche include:
Administration
Agricultural Services
Corporate Safety
Enforcement
Engineering Services
Finance
Fire Services
Fleet Services
Human Resources
Information Technology
Municipal Services
Planning and Development
The centralization and digitization of records has also supported the county's commitment to open government, and compliance with Alberta's Freedom of Information and Protection of Privacy Act (FOIP), as well as the federal Access to Information Act and Privacy Act. The county website's public portal removes the burden from county staff who previously had to manually pull records, which could cause delays.
"I receive a lot of internal requests for information," said Ariana Nielsen, executive assistant at the county. "And the search capabilities of Laserfiche allow the public to find information on their own without having to wait for a response."
Plus, Fernell added, the visibility into what documents are being downloaded enable county staff to gage what the public is interested in: "This information gives us insights into the hot topics — we might find, for instance, that we should do an educational campaign on social media because we see high interest on something particular. We're leveraging our information in a connected way that can inform other areas of the organization."
Reclaiming Time in Accounts Payable
As the county assessed the potential for further improvements, accounts payable came up as one process that touched multiple departments but heavily relied on manual tasks. The county re-engineered the AP process, capturing invoices digitally in the Laserfiche repository and using a Laserfiche workflow to automate the routing of information to various departments for reviews and approvals.
This transformation increased visibility of invoices across the organization, enabling the county to accelerate payments and more accurately determine cash flow. Laserfiche integrates with the county's financial management software, Diamond, as well as its CentralSquare asset management system to create a seamless experience for employees who interact with the AP process.
"The AP process in Laserfiche is efficient and great time saver," said Emerson Pankratz, the county's accounting clerk. "It is very easy to enter new invoices into the system and get them to the appropriate person for coding and approvals quickly. Also, Laserfiche's ability to recognize duplicate invoices helps stop duplicate payments and duplication of efforts."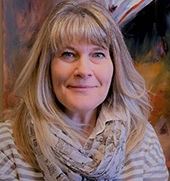 "We not only reduced our inaccuracy and our opportunity time — or the time that should be reduced to improve process performance — but we increased our value-added time, or the tasks we do that actually add value to the process, by 27%."
— Roberta Fernell, director of information technology at the County of Newell
Simplifying the COR Audit Process and Enhancing Employee Experience
As the county's success with digitization and automation projects spread, the county's IT team began leveraging a lean methodology to prioritize projects that would have the highest impact.
The organization undergoes a Certificate of Recognition (COR) audit each year to maintain its recognition for developing health and safety programs that meet the standards established by the Alberta government. A previously arduous audit process led the county to reassess its health and safety training documentation, a critical process for the county, which requires all employees to be educated on occupational hazards, preventative measures and best practices.
"For the COR audit, we have to be able to deliver on-demand what they need," Fernell said. "They need to know that people have received the training required to be competent in their roles, and that we as a county government are keeping them safe by providing that training."
The IT team built a Laserfiche Form and set up document templates that enable employees to get certificates into the Laserfiche records repository with minimal data entry. The transformation resulted in a reduction of information inaccuracy — from a 58% inaccuracy rate down to below 10%. The county also built notifications into the workflow so that HR employees had visibility into the process — and Laserfiche reporting tools enable managers to view the time it takes to complete the progress, opening up further opportunity for optimization.
While the county used to see about 100 documents related to health and safety training recorded in Laserfiche per year, it now sees about 100 per quarter, thanks to the team's optimization efforts. The end-to-end process time was also reduced from 135 days to 5.2.
"Staff members want to be recognized for the training they've taken," Fernell said. "And managers need to know what training their staff has taken, or what training they need to take — to help support health and safety in the workplace, and to resource plan."
County-wide Digital Transformation Continues
The County of Newell continues to strategically optimize processes and integrate systems with Laserfiche with the aim of providing the best possible employee and citizen experience. Major business processes that have already been automated include:
Accounts payable approvals
Corporate safety
Training documentation
County of Newell Water Project registration
Pre/post trip process
Performance reviews
IT change requests
Gravel haul cards
Inspections
Fire permits
The IT team also has significant Laserfiche projects on the horizon, including HR onboarding and offboarding, equipment rentals, expense claims and development permits.
"What impresses the County of Newell is the versatility of Laserfiche. Not only does it effectively manage county documents, applying records management, but it also offers efficiencies in the processing of documents, ways to transfer/share data between systems and methods to electronically capture data to be used for reporting and analytics."
—Roberta Fernell, director of information technology at the County of Newell
"Laserfiche has totally changed how we operate, and how we think about operating," said Matt Fenske, chief administrative officer at the county.
To learn more about how Laserfiche drives public sector digital transformation, schedule a demo today.