Scaling a Global Nonprofit as It Strives to End World Hunger
4 min read
The rapid pace of technology innovation is transforming how organizations manage contracts and collaborate with customers, vendors and partners to drive business results. Heifer International, a global nonprofit organization, is finding ways to use technology tools alongside farm animals and crops to help fight hunger and poverty. Heifer specializes in providing sustainable agriculture and commerce to impoverished communities around the world—and its operations depend on being able to quickly review, approve and access legal contracts. "Helping just one family could take dozens of vendors, several government organizations, hundreds of legal contracts and extensive collaboration," says Bob Bloom, Heifer International Chief Financial Officer. "This is where technology intervenes to save lives. The vision is to streamline Heifer's processes and use Laserfiche to manage contracts and track documents for projects that impact millions of families throughout the world."
Today, more than 1 billion people live in poverty, as defined by the World Bank's international benchmark of living under $1.90 per day. For over 70 years, Heifer has worked to lift people above that threshold, building thriving, self-sustaining communities with an innovative model that has grown to encompass 30 countries worldwide. It has helped more than 25 million families while attracting high-profile partners including major, multi-national corporations. Projects include an East Africa Dairy Development initiative that affects Kenya, Uganda and Tanzania. In Nepal, Heifer empowers women farmers. And, closer to home, Heifer helped launch the Grass Roots Farmers' Cooperative and Foodshed Farms, which support small-scale, sustainable Arkansas farmers by connecting them to profitable markets.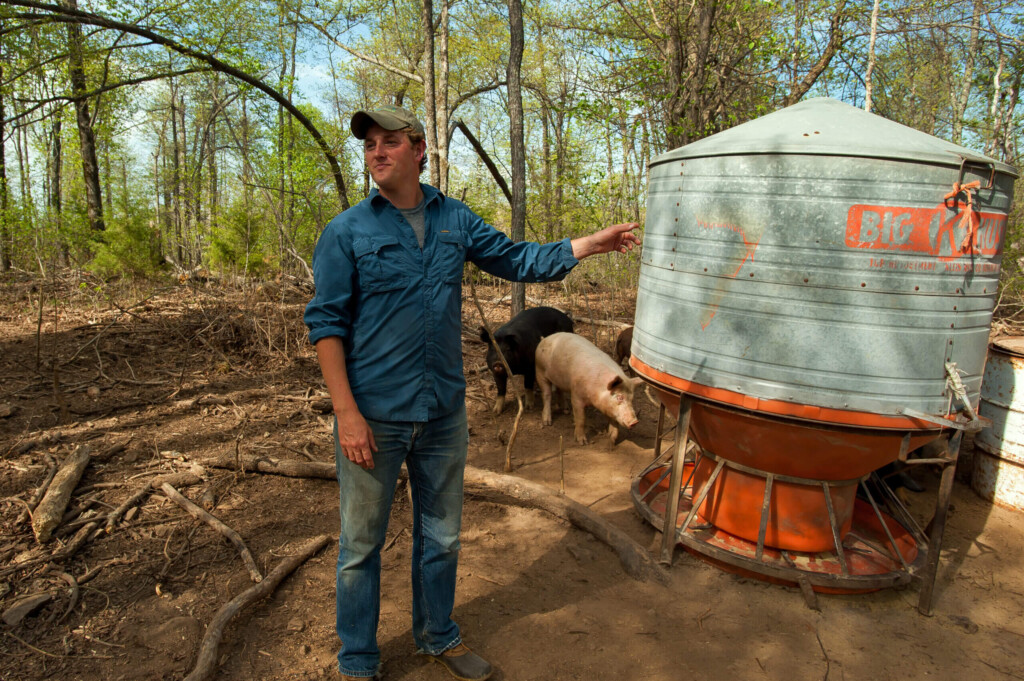 While its achievements have been no small feat, Heifer is committed not only to alleviating world hunger—but to eradicating it completely. "Our goal is to take 4 million families out of poverty by 2020," says Bob Bloom, Chief Financial Officer. In order to achieve this, Heifer's leadership team decided to scale up the organization's work and diversify revenue streams. Before they could do that, however, the organization had to increase efficiency through technology such as enterprise content management (ECM) software. "We needed to manage our content better. It's a key component to our global platform strategy."
A Tech Transformation
In 2010, Heifer began to reassess its core systems including document management. "We have a much different scope today, one that requires a lot more capability in terms of how we manage and report on these projects," says Bloom, who oversees all financial, treasury, information technology and human resource activities for the organization. "We developed a strategy to increase our scale, diversify our revenue and build a supporting technology platform to enable us to track, report and provide transparency." Scaling up requires a new level of reporting and accountability as donors target large-scale projects in specific communities. Some projects require multiple corporate sponsors. Dedicated to remaining steadfast in its transparency and compliance, Heifer must be vigilant in monitoring projects that often involve hundreds of contracts, memorandums of understanding, teaming agreements and other project-related documents. Combined with additional marketing materials, field stories and videos, Heifer faced a content overload. The organization's new strategy included selecting Laserfiche ECM software in 2014 to address issues that Bloom and his team identified, including:
Thousands of contracts pending review, with no automated system to track varying versions or the status of reviews and approvals
Content spread across offices and project locations, which perpetuated silos and hindered growth
Heifer needed to leverage content and knowledge across projects. Staff in remote locations who worked with families in the developing world needed the ability to collaborate with headquarters staff in Little Rock, AR. "Ideas weren't being shared across the organization," Bloom explains. Although Heifer relies on strong relationships between team members and communities, and networks of local nongovernmental organizations (NGOs), it is now embracing the idea of moving toward a digital workplace—where offline relationships are strengthened with online cooperation. "We need innovation," Bloom says. "We need technologies that can help us achieve our mission better, faster."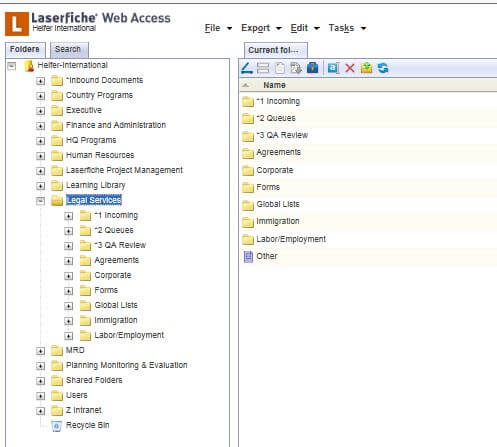 Laserfiche ECM software enables staff to streamline contract management processes using electronic forms and robust workflow automation solutions. Heifer also automated the Network Account Request process to grant, revoke and change access to its core applications using Laserfiche Forms and Workflow. This has helped to facilitate compliance and protect sensitive information. Bloom has outlined key areas in which Laserfiche ECM software could further improve efficiencies at Heifer:
Partner agreements: Continuing to automate processing partner agreements by using Laserfiche Workflow with third party suppliers, vendors and local government agencies
Records management: Improving document management and records management processes, breaking down silos, and increasing accountability and transparency
Personnel change requests: Managing personnel change requests (i.e., job role changes, etc.) quickly to help it scale up internal staff resources
"Our vision for Laserfiche is to allow all of our field workers, regardless of which country they are in, to be able to interact with documents, find records and submit forms—all from their mobile devices," explains Cedric Lambert, IT Director at Heifer. The integration has helped the organization on its path to reaching more families and communities, and elevating existing projects, helping communities to help themselves. "We are fairly new on the journey, but we are very excited about what we can do here," Bloom shares. "Automating our internal business processes using Laserfiche electronic forms and workflow is part of our technology transformation that enables our mission in fighting hunger and poverty." Click here to learn how Laserfiche ECM software can help your organization streamline contract management and leverage information across the entire enterprise.