Scaling Efficiency for Top-Tier White Glove Delivery Services
5 min read
SITUATION
• Dependence on proprietary software was costly to maintain and lacked scalability
• Needed a flexible solution that would streamline multiple logistics management processes
RESULTS
• Automated processes that enable the company to better track inventory, accelerate delivery and capture damage liability documentation
• Enabled processes to scale with the company's growth, from handling 10,000 packages per month to 30,000 per month without adding significant numbers of warehouse employees
• Enhanced customer experience
Sometimes freight doesn't fit neatly into a box or packages need to be placed carefully inside a home or commercial space. Enter white glove delivery services, which require a close partnership with clients to get product to where it needs to go in a safe, efficient and cost-effective manner.
"One of the challenges with white glove delivery service is that it is a lot of big product," said Kent Werner, president director, business development at Kore Logistics, one of Canada's leading specialized providers of final mile fulfillment and home deliveries. "If you get a big box one day for your sofa sectional and two other boxes come on different days, you're not happy — people are back in your home and your living room is being upended again. So we prioritize efficiency, and being able to locate, identify and pick all the pieces for an order in a way that allows us to provide the level of service our clients and the end consumers expect."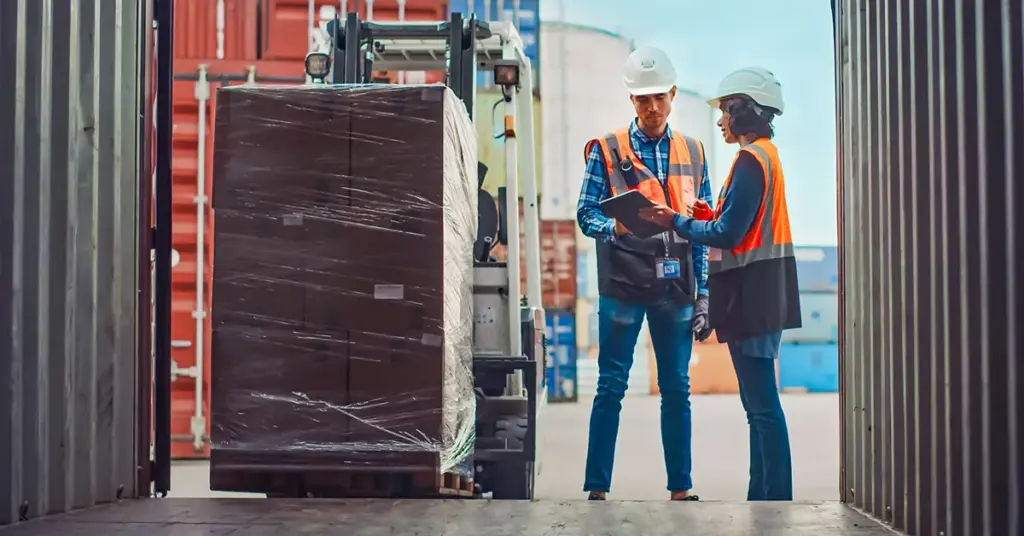 This level of tracking requires a lot of moving pieces, data and centralized documentation — and at Kore Logistics, all of this is now managed through Laserfiche and an integration with the company's dispatching software. Using Laserfiche Forms, automated workflows and a centralized repository, Kore Logistics created processes that supported a threefold increase in capacity; the company grew from handling about 10,000 packages per month to 30,000 packages per month over the course of about a year and was acquired by Canada Cartage in 2021.
The Search for a Multifaceted Solution
Much of the complex journey of non-conveyable freight at Kore Logistics was initially managed by proprietary software that the company had built when it was a much smaller organization.
"We had stretched our proprietary application to its limit," Werner explained.
The team decided to search for off-the-shelf technology rather than follow the traditional path of building a new custom enterprise resource planning (ERP) solution, to prevent another period of stagnation as the organization grew, as well as to avoid ballooning developer costs.
Critical elements that the right technology solution needed to manage included:
Tracking products in warehouses
Creating pick lists
Creating proofs of delivery
Streamlining the sharing of data with the company's dispatching software
"Most off-the-shelf solutions would require us to cobble together two or three different solutions in order to get what we needed," Werner said. "They also required significant investment in specialized hardware. We knew we had to get away from another custom solution because we needed the flexibility to grow, to scale, to add modules — things that are just not possible with an in-house application."
The company worked with Laserfiche solution provider Inspiris to implement a Laserfiche system that would address initial needs. This would quickly grow into a more comprehensive solution as Werner and his team uncovered the power of the Laserfiche product suite.
Building on Efficiencies
"For us, the rapid development enabled by Laserfiche supported a quick deployment," said Jeremy Regehr, owner of Inspiris. "We took a phased direct-to-testing approach and, from there, made continual improvements that continue to this day."
The first project consisted of enabling Kore Logistics to scan packages into and out of bins when they arrived at a warehouse. Shipping manifests are captured in Laserfiche and employees scan barcodes on items using a barcode scanner or cellphones, so everything can be easily tracked with a simple search in Laserfiche.
The new process has been a game changer for the organization, significantly reducing dock searches, a typically disruptive process that occurs when goods are missing, misplaced or incorrectly labeled. Dock searches require warehouse staff to inspect various areas to find the requested item, as well as checking manifests and other documentation to verify the location of the item and confirming that it is ready for further handling.
"Before Laserfiche, in a busy season, it wasn't uncommon to have 60-plus dock searches," said Werner. "Today, during a busy season, the maximum number of dock searches we'd have at any time is probably seven — and that's with three times the volume."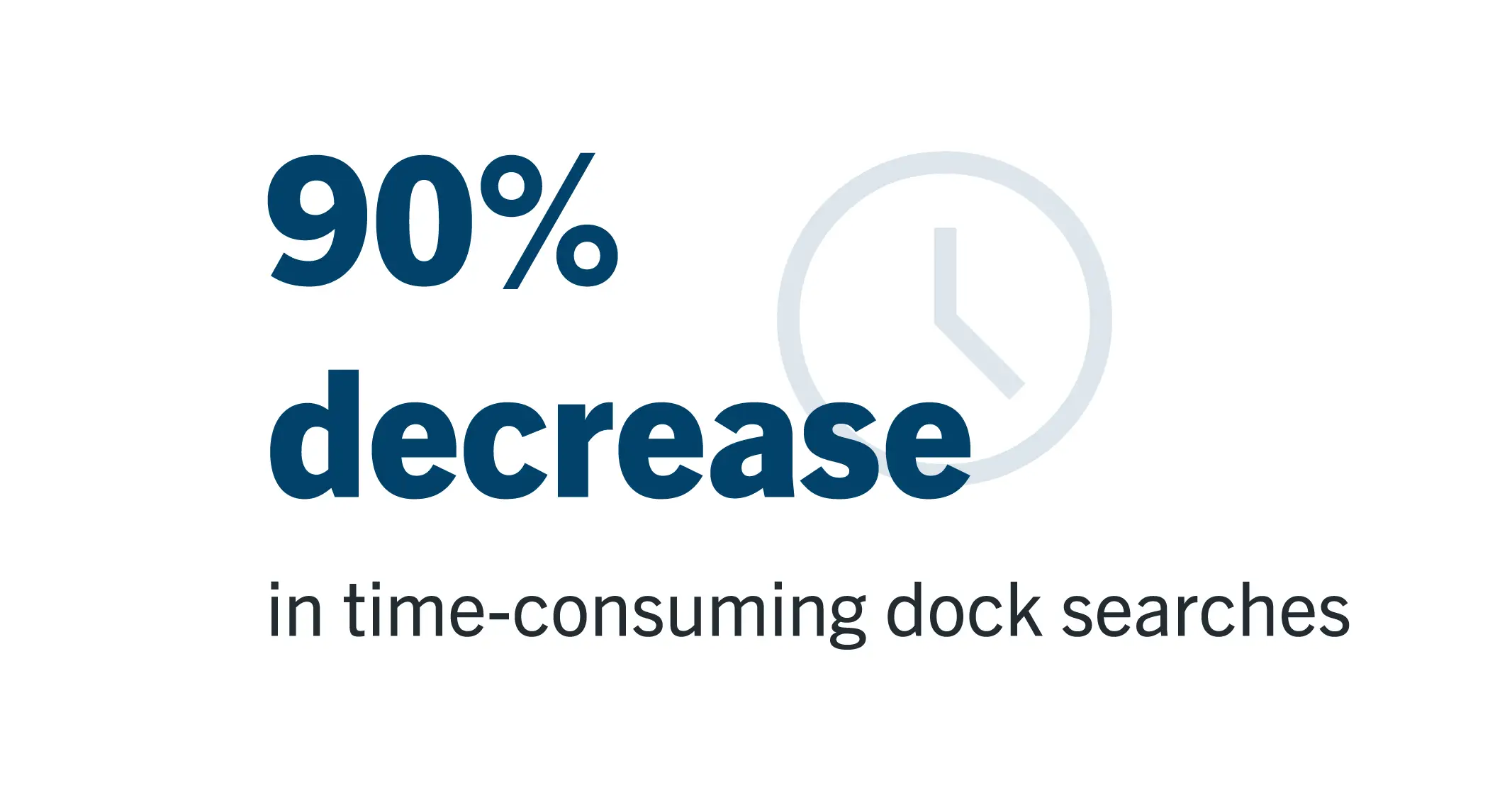 "Before Laserfiche, in a busy season, it wasn't uncommon to have 60-plus dock searches," said Werner. "Today, during a busy season, the maximum number of dock searches we'd have at any time is probably seven — and that's with three times the volume."
Next came the integration between Laserfiche and Kore Logistics' dispatch software, DispatchTrack, to improve the process of generating pick lists, which include data such as order details, item information, quantities and location. Employees select packages within Laserfiche that need to be delivered, and that information is sent to DispatchTrack. DispatchTrack then sends truck routing information to Laserfiche, and warehouse employees are able to generate pick lists through a Laserfiche Form.
Pick lists are more efficient than with the legacy process, since employees can generate pick lists based on where items are located in the warehouse, saving hours of time each day.
More recently, Kore Logistics added the ability to import proof of delivery (POD) documents and generate them alongside pick lists, since PODs need to be made available to delivery drivers and vendors. Additionally, warehouse employees can use Laserfiche to take pictures of packages as they are received, in case they are damaged, for instance. These photos are routed to the same location as all of the other package information so that documentation is easy to find in case there are claims or other issues.
"Damaged freight is a big challenge in white glove delivery work," said Werner. "So us being able to identify it in advance and have it documented helps us to provide better service to our clients."
A Flexible, Scalable Future
These processes have supported Kore Logistics' growth while also positioning the company for continuous improvement as team members uncover more opportunities for efficiency. "Our team is at a point where now they'll ask, 'Can we change this? Can we automate this?'" said Werner. "Everyone appreciates that we have that flexibility now. We can add something or change a process when we need to."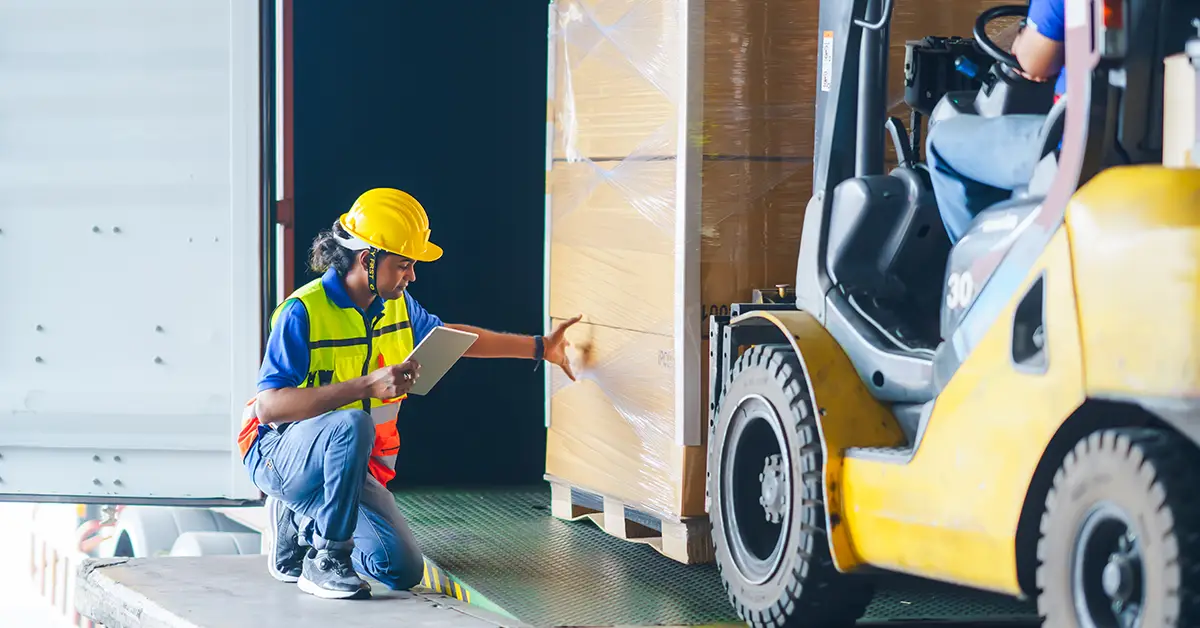 Fostering a culture of innovation will be critical for the company into the future, as inflation and supply chain issues put pressure on the logistics industry. "When we started this project pre-COVID, people's buying habits were very different," Werner said. "COVID changed everything — different value-adds that allowed for profit disappeared. If we didn't have tools like Laserfiche to help with efficiencies, we wouldn't be able to stay competitive. The industry is evolving quickly, and today there's a magnifying glass on things like freight claims. We're able to meet those increased needs. Laserfiche allows us to stay current with our customers, and allows us to look into issues and provide them with the visibility and documentation they need to feel supported."