How Steinhafels Automated 100+ Employment Forms
3 min read
Improving HR Efficiency with Updated Employee Forms
Lost paperwork
Inconsistent filing
A lack of security and confidentiality
Missed review deadlines
A lack of transparency
Lost time (up to 10 hours per week were devoted to physically managing files
Lack of integration between legacy software systemsAs Malmberg jokingly puts it, "We had more issues than Reader's Digest!"
Implementing New Job Requisition and Employee Onboarding Processes
"When I tell people about our culture and technology change, I frequently get the question, 'Where do you begin?'" says Malmberg. "Well, how would you eat an elephant? One bite at a time." Malmberg and her team first sat down to create a list of what frustrated them the most. "We literally put up giant Post-it® notes across my office wall. Then we got out markers, scribbled notes and redrew our process workflows. It was a little tedious, but it saved a lot of time on implementation." With a strong understanding of its ideal processes, Steinhafels' HR department turned to Laserfiche to facilitate the flow of information across different locations, managers and systems. Steinhafels' first order of business was to eliminate all of the non-standardized forms. Using Laserfiche Forms, Malmberg's team turned the paper forms into a smaller set of standardized electronic forms a hiring manager and new employee can complete and submit through an their intranet website.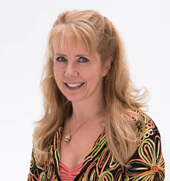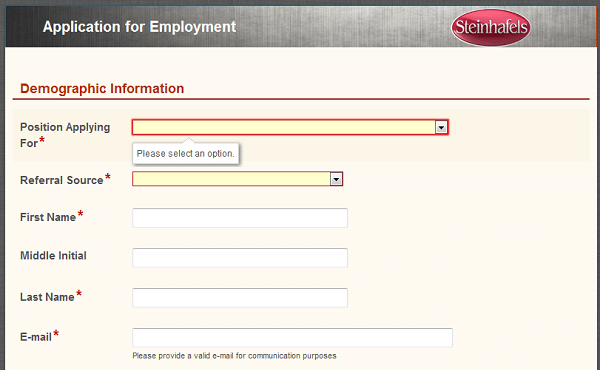 With Laserfiche, users don't need to constantly reenter the same information on each form. For example, when a manager enters an employee ID into the new hire form, the form prepopulates with data mined from the initial job application. This eliminates duplicate entries. Likewise, when employees fill out their new hire paperwork, entry of the employee badge number auto-populates the necessary demographic data. Steinhafels also automated various stages of the process:
A completed job requisition form launches a workflow that notifies a recruiting manager to review and approve the form prior to posting
Approved job requisitions are automatically posted to specific third-party career sites like Monster.com|
Employment applications (along with any uploaded resumes) are stored together with the requisition, and the hiring manager is notified by email that they have a new application to review

The pre-hire process, which includes a background check, is launched via a status change to the metadata on the application
Once the application is changed to "hired," Laserfiche:
1. Generates an employee and digital employee folder
2. Sends an email link to the hiring manager to complete the New Hire form
3. Sends a welcome email to the new employee
4. Automatic processes purge documents that have reached the end of their retention schedules
Want to see Steinhafel's HR process in depth? Check out Steinhafel's Solution Exchange contributed article, which includes screenshots and step-by-step explanation.
Becoming Experts in HR Automation
"This is what our IT department does for Laserfiche: it sets up the server, monitors the server processes and occasionally installs updates. That's it," says Malmberg. "Once we learned how to build workflows, we copied and pasted and changed what we needed to make them work for the new form we developed." However, Steinhafel's IT department still keeps busy. "They have bigger fish to fry and are happy to let us take the lead on HR-related projects," says Malmberg. Left to its own devices, the HR department has achieved major success. By becoming more efficient, HR was able to continue driving Steinhafel's growth without expanding its own department. This has resulted in annual savings of $80,000 that would have gone to more HR staff. Additionally, the HR team has more time to devote to engaging employees and helping them solve issues as they arise. The HR department's results have inspired other departments to try Laserfiche. "We started with 36 HR forms in the repository. Now we're up to 88 forms across all departments—from Sales to Merchandising," says Malmberg. "Laserfiche spread everywhere after people got used to seeing what we built and how easy it was to work with."
So what do you think – is it time for HR automation at your organization?
It is the ultimate content management solution with a centralized, secure repository that's accessible no matter where your work takes you.