HR Automation at Texas A&M's College of Engineering
4 min read
Texas A&M University's College of Engineering is consistently ranked among the nation's best public programs. Amid a constantly changing marketplace, the college remains rooted in its mission to provide the world with top engineering graduates.
Texas A&M University's College of Engineering's "25 by 25" initiative prompted the school to examine many of its processes so that it could handle an influx of students.
The school has more than 15,000 enrolled students and is currently working on an initiative deemed "25 by 25," in which it aims to increase enrollment to 25,000 students by the year 2025.
"Our dean looked at the current economic and employment conditions and determined that we must grow our enrollment numbers to meet the large demand for engineering graduates," explains Ed Pierson, the college's CIO. "The goal is to increase accessibility to engineering education at all levels and deliver that education in a cost-effective manner. Educational institutions' budgets are always tight, so doubling our staff along with the enrollment growth wasn't an option."
This meant that the school needed to hire additional staff to handle the growth, but also needed to ensure efficient business processes such as those surrounding employee onboarding were in place to keep costs down. To do so, the school deployed Laserfiche ECM to reengineer some longstanding HR processes, encourage new ways of thinking and increase efficiency.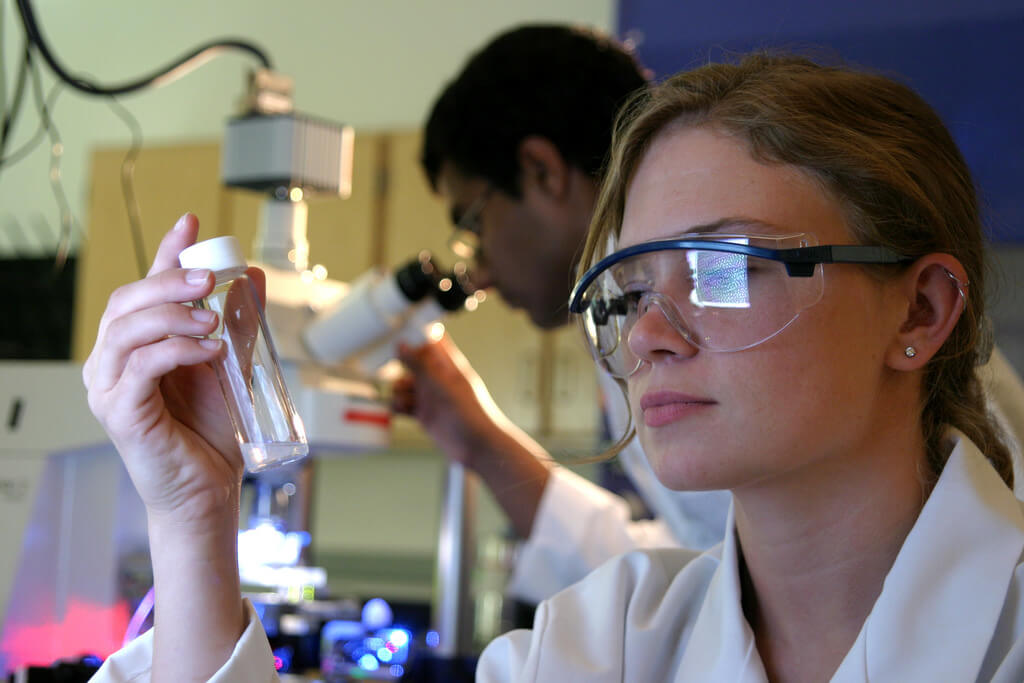 On Board With 25 by 25
Texas A&M University System offers Laserfiche ECM as a shared service through its centralized IT office, so the College of Engineering implemented it to reengineer paper-driven processes such as employee onboarding.
Onboarding new employees used to require an in-person meeting between the potential employee and a business administrator, the completion of paper documents and physical routing of those documents to relevant departments. Christopher Huff, Network Systems Administrator for the college, and the IT team, department representatives, and the HR and payroll offices gathered to reengineer the process with Laserfiche, which pushed everyone involved to acknowledge all the parts of onboarding that they found cumbersome, that were taking too long, or that were unnecessary.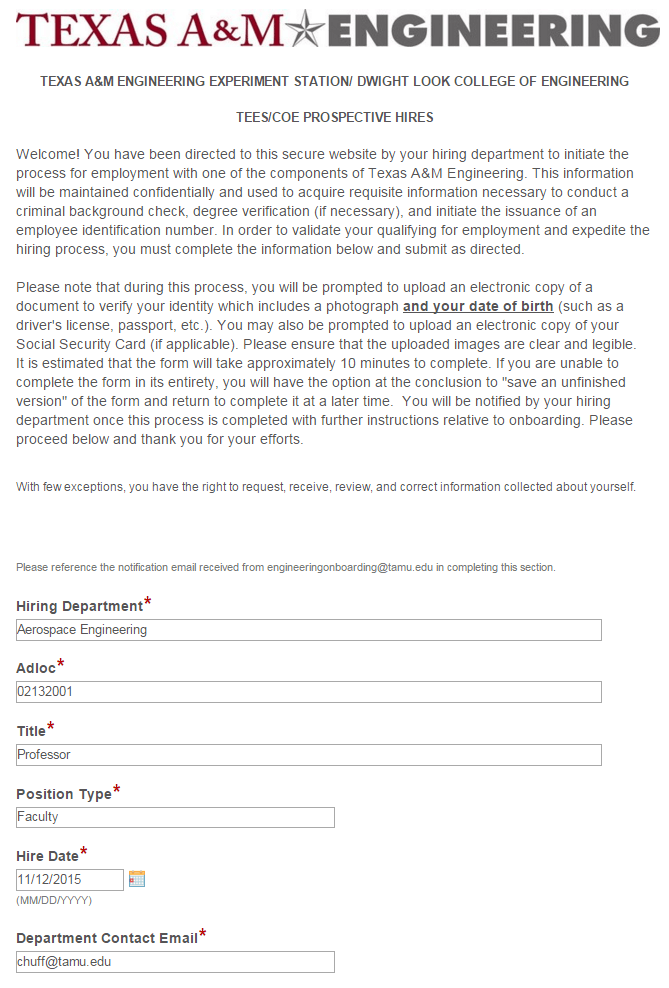 The HR department has automated employee onboarding with Laserfiche Forms and Laserfiche Workflow, eliminating the need for an in-person meeting, paper documents and physical routing. This has shortened the amount of time the process takes by about 45 minutes per employee and enables staff to easily search and retrieve employee records.
HR automation has additional implications beyond onboarding, as the Department of Public Safety (DPS) occasionally audits the college to make sure it keeps proper documentation of criminal background checks.
"We create shortcuts to the requested documents and place them in a special folder that the DPS has access to," Huff says. "We don't want to show the auditors all confidential information about employees, which is why we use folders with shortcuts. After the audit is concluded, we simply delete the shortcuts folder. The original documents are never actually touched."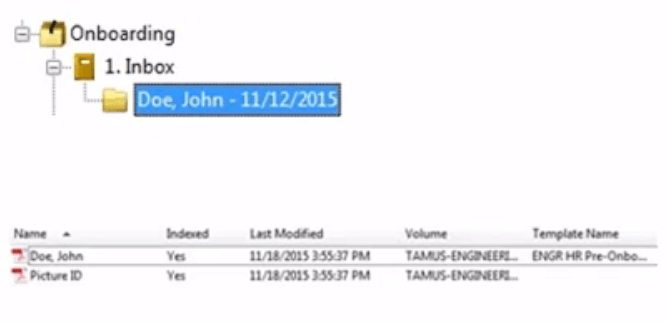 The school also integrated Laserfiche Forms with a database of the college's departments, which enables departments to automate and create forms for a variety of other processes ranging from course approvals to leave requests.
Changing Mindsets and Growing ROI
The Texas A&M University's College of Engineering demonstrates how a longstanding institution can leverage Laserfiche ECM to reengineer processes and create a culture of efficiency. In collaboration with business units, Huff and the IT team help identify inefficiencies and reimagine how a process could work better and an on-campus Laserfiche user group meets frequently to share and showcase solution designs.
IT has worked with select employees, deemed "superstars," to reengineer their own processes with IT guidance and oversight.
Huff has also taken note of significant measurable results. "IT is usually seen as a spender of money, but dollars invested in information technology can have a positive return on investment," Huff says. "The reengineered onboarding process saved about 45 minutes per new employee. Because we've hired over 3,400 employees in a little under a year, we equate this time savings to be about 2,600 working hours, or slightly over $100,000 in soft savings. This allows our employees to invest the time saved into other job duties."