University of Ha'il
4 min read
University of Ha'il (UoH) was established in 2005 and continues to grow rapidly. A distinguished university in northern Saudi Arabia, UoH's enrolment has grown to approximately 40,000 students across six campuses located in Ha'il city. The university strives to use technology and innovation to achieve change and success.
"In 2012, the university had minimal e-services implemented," says Dr. Majed Alhaisoni, the Dean of IT and e-learning, University of Ha'il. "Within a year's time, we had won multiple awards for our university's e-initiatives and paperless campus. A large part of our success is due to Laserfiche."
UoH Chooses ECM over DMS
UoH's IT department had a strong vision of what it wanted to accomplish. It needed more than just a document management system (DMS) that would store digital documents; it needed a full-featured enterprise content management (ECM) solution that would enable complex digitisation via workflow automation.
After extensive research, UoH chose Laserfiche as its ECM solution. "Laserfiche Workflow was what really stood out for us," explains Dr. Alhaisoni. "Laserfiche Workflow is robust, efficient, scalable and resilient. It allows us to easily customise document-driven workflows to meet the needs of our university."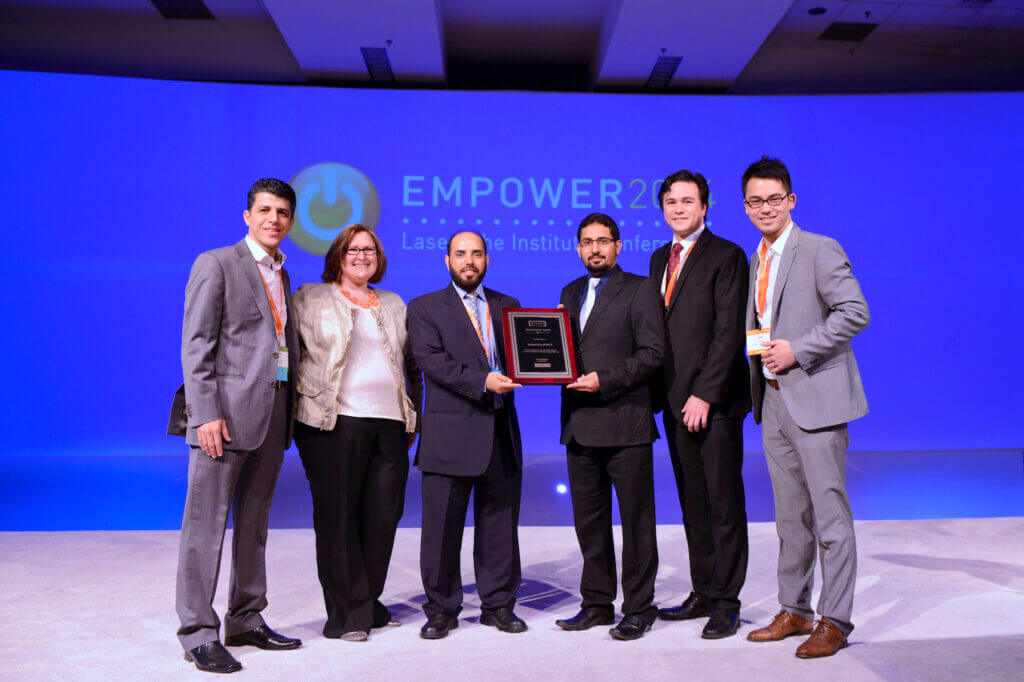 Automating Inter-Departmental Communication
Official communications and the dissemination of information between UoH's multiple campuses and departments must be done through written and signed letters. Automating this paper-intensive letter system was one of the first projects Dr. Alhaisoni and his team tackled. With Laserfiche Workflow, UoH was able to set up a sophisticated workflow system that automated and digitised this process for more than 97 departments on four campuses.
Because letters could be circulated to as many as 20 different departments, Dr. Alhaisoni notes that "there was a high probability of losing documents when everything was paper based. We lacked transparency and efficiency. It was hard to keep track of the status of letters, whether or not they were being reviewed or if they'd been approved."
Before implementing Laserfiche, Dr. Alhaisoni worried that designing a workflow system to meet all of UoH's technical needs would be a long and tedious process. However, he soon discovered that Laserfiche Workflow made the process easy. "Building with Laserfiche Workflow is really as simple as drag and drop!" says Dr. Alhaisoni. "We were able to develop our workflows without any issues or technical errors."
With 700 users and a high circulation rate, scalability is essential for UoH. "Currently, we have found that no matter how many people are working, how many letters are being sent and received, or how big the letters are, it doesn't slow down, freeze or create any errors in our system. Everyone can efficiently work in real-time," explains Dr. Alhaisoni.
Managing Change at the University
Changing the perception of the end-user can be a large obstacle when implementing a new technology. As Dr. Ahaisoni says, "Even with the best system in the world, if you are unable to deploy and implement the system properly, get the users involved and trained during deployment and change the perceptions of the management team itself, the system will collapse and people will go back to doing work in the traditional way."
To ensure successful deployment of Laserfiche, the IT team at UoH spent a lot of time on due diligence and getting the management team's support for transitioning to a paperless environment. Thus, when Dr. Alhaisoni's team presented the ECM project to the president of the university, it gained his full support. "The president announced that his own office would be the first to use the new paperless system—that he would stop receiving any paper letters and his office would only be sending letters electronically," explains Dr. Alhaisoni. "It was the tipping point for getting everyone else on board."
Dr. Alhaisoni and his IT team were then responsible for carrying out a university-wide training plan. "We taught trainers, leaders and deans how to properly use the system," he says. "With these preparations, we were able to expand the training very quickly and efficiently throughout the campus."
Through UoH's successful approach to change management, physical letters do not have to be hand delivered across departments and campuses, since this process is now automated in real-time. Mail clerks that used to deliver letters all day have been redeployed to perform more efficient and meaningful tasks for the university.
"Our users are excited to use Laserfiche, to turn it on and see if there are new items in their inbox every day. They want to be a part of this," explains Dr. Alhaisoni.
Going Mobile
With its Laserfiche reseller, Integrated Solutions for Business, UoH built a web interface to enable mobility and flexibility across the university. End-users access the web-based portal as they would access any website—without the knowledge that Laserfiche is integrated as the back-end control centre. This minimises the burden on end-users and simplifies IT's work in managing users' needs.
"Work is no longer limited to just the office; we can work from anywhere now. Our interface is compatible on any mobile phone. All the actions I can do on a computer at work, I can do from my phone. It's become a lot more convenient and a lot more efficient," says Dr. Alhaisoni.
The Future of a Digital Campus
When asked about the future of UoH, Dr. Alhaisoni says, "We want to continue to optimise mobility with every workflow and form. We are also working with the Ministry of Education to demonstrate our system and hopefully our solution can benefit all universities in the Kingdom of Saudi Arabia."