Smart Capture Understands Invoices
Smart capture uses machine learning technology to capture information from any invoice, in any format.
Automatic Data Capture

Accurately identify, capture and classify invoice information.

Minimal Configuration

Use a pre-trained system to automatically recognize invoices and its data — no machine learning knowledge required.

Less Manual Data Entry

Automatically populate accounting systems or ERPs with captured invoice information.

Handwriting Recognition

Gather information from invoices filled out by hand and save it as searchable metadata.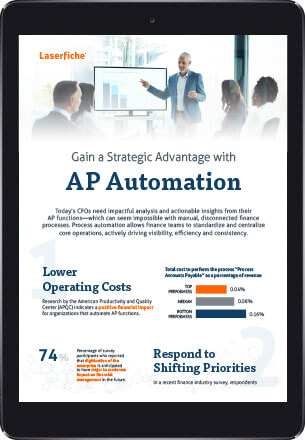 Infographic: Gain a Strategic Advantage with AP Automation
Take a look how process automation can help your organization gain a strategic advantage and tackle the challenges of invoice processing.
See Laserfiche AP Automation in Action
Contact Us for Your ECM Needs
Whether you have product questions, support needs, or want to partner with us, we're here to help you on your digital transformation journey. Fill out the form and a Laserfiche team member will be in touch as soon as possible.