Building a Disruption-Proof Production Pipeline
Disruptions are the way of the world—pandemics, supply chain bottlenecks, inclement weather and wars have taught us that lesson in recent years.
The good news is that manufacturers have access to new tools to build their digital resilience to these challenges and bolster their procurement processes to ensure they get what they need, when they need it, in a cost-effective manner. Supply chain challenges will always exist, but they don't always have to derail your work.
It's often easier to access and implement the tools to overcome these challenges than many believe. It helps, of course, to select the right partners.
Once smart processes are in place—think proper cloud-document management that controls and organizes documents stored on multiple servers and accessed through the internet; hardy production pipelines built to withstand unforeseen obstacles; and process automation solutions that empower remote workers to not just work but actually excel—paths to success are nearly disruption-proof.
Grace Nam, Industry Marketing Manager at Laserfiche, joined Chris McNamara, Editor in Chief at Smart Industry, to discuss the current operational challenges facing the manufacturing industry—and how to overcome them by working smarter with technology.
Chris: Let's clarify what you mean by a "procurement pipeline".
Grace: The procurement pipeline is the lifecycle of contracts to be re-procured as well as new procurement contracts expected to be finalized within a set timeline.
In the manufacturing world, procurement is a crucial part of business operations. The procurement pipeline includes various activities from sourcing raw materials, to processing contracts, to inspecting sourced materials to ensure they meet quality standards and regulations. With current challenges and trends, building efficiency and resilience in the procurement pipeline is key for organizations to remain competitive and increase profitability. There are multiple approaches to creating operational efficiency in procurement, but they usually involve some form of automating the procurement process and better controlling critical documents and data throughout the organization.
Traditional procurement processes include redundant manual work and documentation. Often, it is challenging to eliminate human errors, data silos, and unstructured documentation that cause delays during the procurement process.
Laserfiche ECM helps organizations solve these problems by accelerating the complete, end-to-end procurement process while eliminating redundant work and delays. With Laserfiche, manufacturers can create digital resilience and be more agile, even during disruptions.
Chris: What are the most common supply chain bottlenecks? What are the most common solutions to these problems?
Grace: The main challenges in the industry are scattered technology and complex processes that involve traditional ways of handling data and documentation. Often, siloed information and rising costs of raw materials due to uncertainty of logistics put manufacturers at an elevated risk of disruption.
Manufacturers can strategically implement technology solutions that will improve efficiency and avoid the domino effects of these current challenges. Creating data transparency via optimized workflow processes is crucial to combatting ongoing supply chain disruptions. Regardless of the scale of workflows, or the size of the teams they affect, manufacturers need to reevaluate the continuity of operations and data security. When the next disruption comes, will manufacturers be ready to operate with adaptability and resilience? How will manufacturers immediately deploy and pivot solutions to be disruptions-focused while ensuring they comply with organizational policies and industry regulations?
Vendor management processes such as new supplier onboarding, contract management and material inspection involve multiple complex steps, and their associated documentation includes datasets that often present delays due to and digitally capturing and populating the data not only increases efficiency in procurement, but also creates a consistent, modern workplace for employees to work on proactive tasks, versus redundant, low-value work.
Disruption-Proof Supplier Onboarding Starts with Process Automation
These tools also make it possible to uncover critical operational insights. With content capture and advanced machine learning analytics, stakeholders can visualize real-time data in dashboards and review supplier performance indicators such as on-time delivery, pricing trends, and quality of materials. Improved visibility of this data enhances decision-making and helps manufacturers stay ahead of their competitors.
Stakeholders can also streamline the procurement lifecycle by reviewing, approving and digitally signing contracts to improve transparency and efficiency— all while identifying bottlenecks along the way. Not to mention, these processes can be conveniently managed from any device or location.
Lastly, manufacturers can set up rules to not just automate workflows, but also to structure unstructured documents coming into the system and create a centralized and secure document repository. Each process creates digital audit trails and supports record retention regulations such as ISO 9001.
Chris: What tools are most effective for building digital resilience in the face of these challenges? What solutions to procurement problems do these tools and techniques provide?
Grace: Here are some core Laserfiche functionalities that help manufacturers create digital resilience and solve common industry challenges—all within one solution:
Robotic process automation (RPA) accelerates procurement by synchronizing data across unstructured content and multiple applications in workflow processes. With RPA, manufacturers can process various rule-based tasks, which can be defined by a user and executed by a bot to improve productivity, increase operational efficiency, and reduce errors.
Then, AI and machine learning can quickly capture and extract key data across forms and volumes of files related to processes like request for quote, material acquisitions, pricing, and supplier evaluation—and easily turn them into structured content. With fuzzy search, locating documents with partial metadata also saves time spent on contract management, reviewing orders, and managing product data sheets.
With workflow optimization and analytics, organizations can gain a 360-degree view of production performance, so stakeholders can mitigate any challenges, and capitalize on any opportunities that are uncovered throughout the procurement pipeline.
All of this is built on a secure platform that supports collaboration across vendor onboarding, supplier management and other critical areas. It enables manufacturers to reevaluate risks and revamp workflow processes, and easily manage the records lifecycle to comply with various internal and external industry regulations.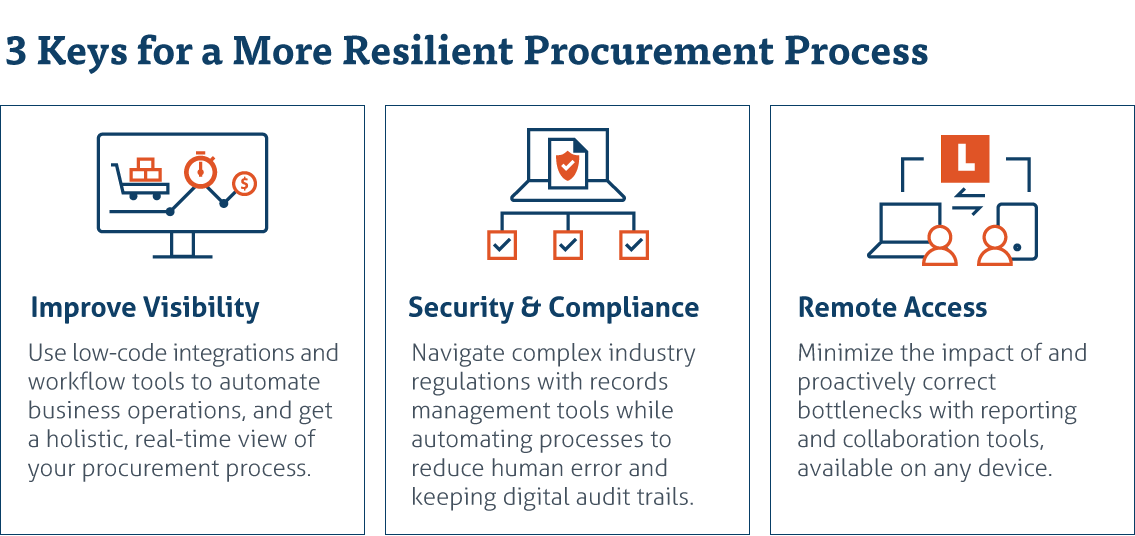 To read the rest of the Q&A, download the full PDF here.