How Collin County Automates the Early Identification of Mental Illness Process
Laserfiche Solution Contributed By: Paul Garrison, Records / ERMS Specialist and Tim Nolan, Senior Applications Manager, Collin County, TX
Collin County, TX is one of the fastest growing counties in Texas and the nation. The county's population is 980,000 and the county is part of the Dallas/Fort Worth Metroplex.
In order to serve an expanding population, the county has been shifting to digitizing and automating many business processes in multiple departments. One recently automated process that has a huge impact is the Early Identification of Mental Illness (EIMI) process in the jail.
Every person who is booked into jail has to go through a mental health screening. Certain inmates who complete the screening end up being placed on a mental health watch list. Each person must go through the entire process in 12 hours for the jail to not incur violations.
The EIMI process used to be entirely paper and email based, resulting in lost documentation and failed audits. The county decided to streamline it with Laserfiche Forms and Workflow.
"The most essential reason for automating and standardizing this process is that we don't want anyone slipping through the cracks," says Tim Nolan, Senior Applications Manager. "The new Laserfiche process has become one of the most critical systems in the county."
Processing has decreased from four hours a day to minutes
Whenever a person is booked into jail, the booking staff fills out an extensive electronic form that contains Yes or No questions about the person's mental health. Any Yes answer is considered a red flag.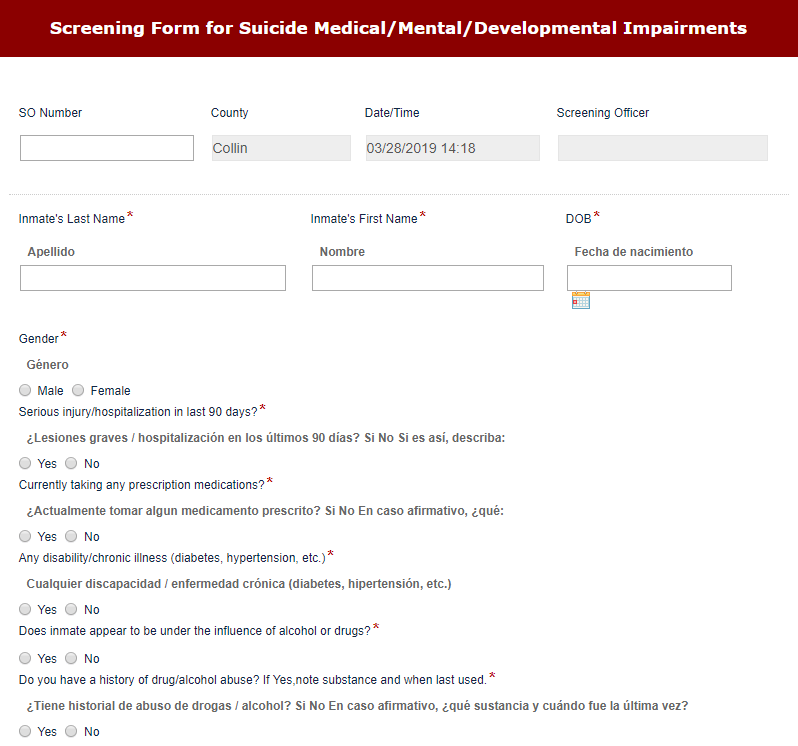 Once the form is submitted, it is added into the queue for the medical team to review. If the medical team doesn't finish review of the form within an hour then the supervisor is notified to sign off on the form instead. In order to simplify medical and supervisor review, any questions with a Yes answer are highlighted in blue.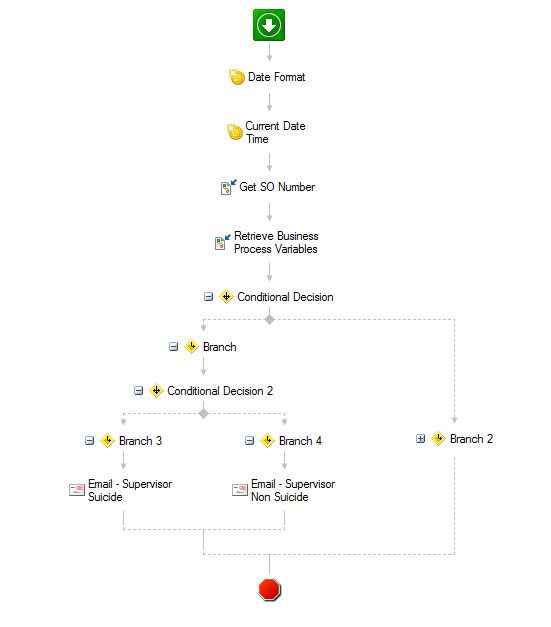 Once the supervisor approves the form, Laserfiche Workflow generates a report from the data and emails it to the magistrate. If no one signs off within eight hours, the magistrate is also notified that the review isn't finished.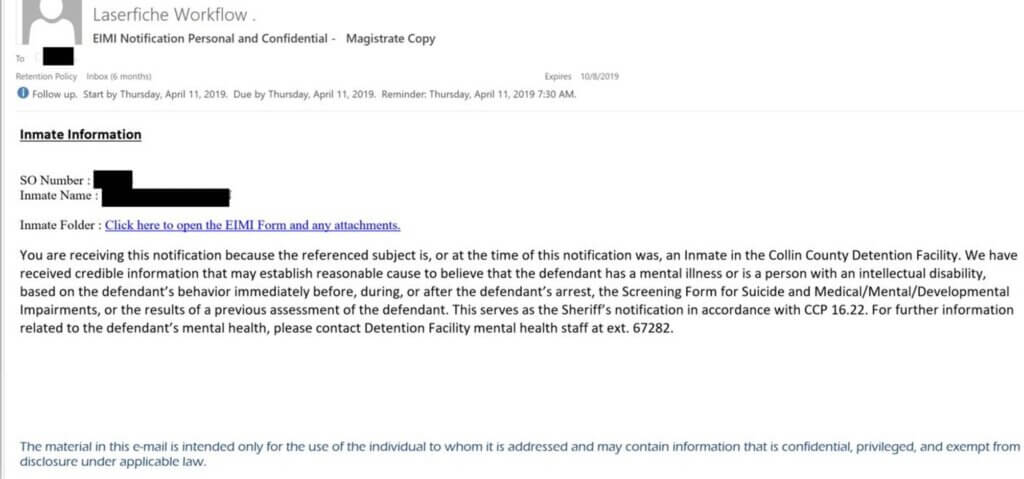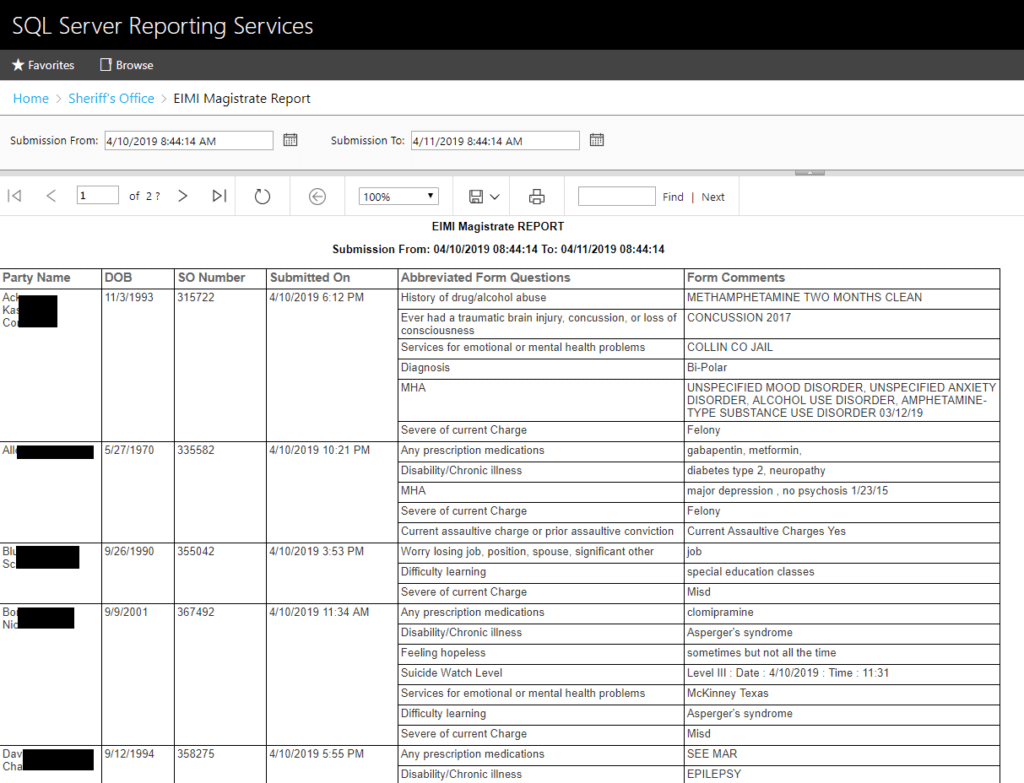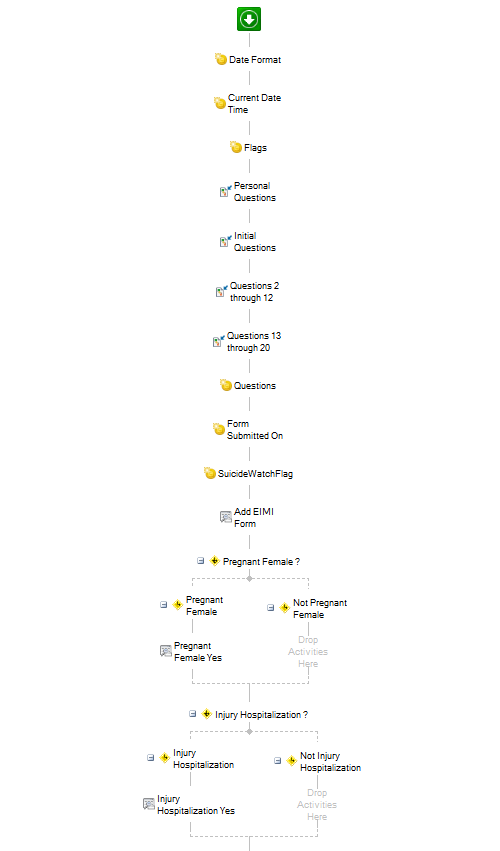 All forms, whether completed or incomplete, are stored in folders in Laserfiche with appropriate records management properties automatically applied.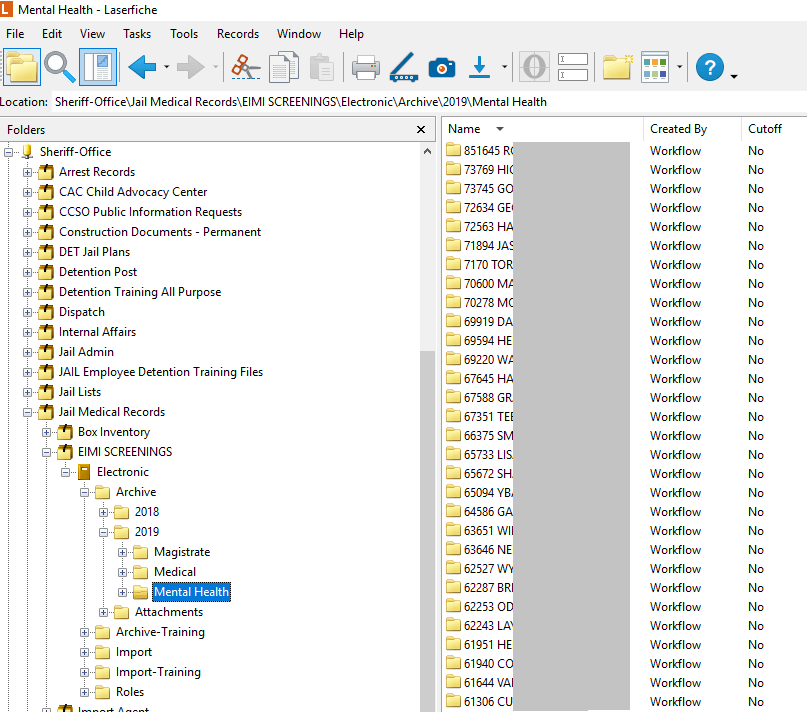 Each form has its review and approval history included on the first page, which simplifies audits.

This is what the entire process looks like in the Laserfiche Forms process model: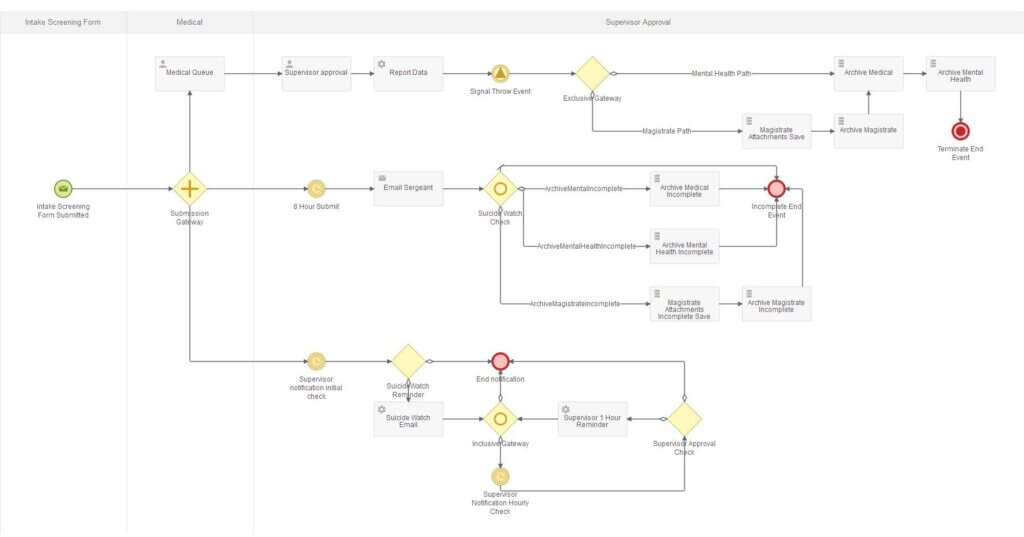 EIMI is one of the most critical processes in the county
The EIMI process is up 24 hours a day, seven days a week. Processing time has decreased from four hours a day to just minutes. Audits are so much more painless since the full history of each screening is recorded and timestamped along with the form. Timers and notifications enable screenings to take no more than 12 hours to complete from start to finish, ensuring that the county is following rules and regulations.