How MultiMed Automated Medical Billing with Laserfiche
Contributed by: Stan Hardter, Director of Technical Operations and Bruce Green, Technical Specialist, MultiMed
MultiMed provides medical billing services to a large number of ambulance companies within the state of New York. Here is how Laserfiche simplified and automated the entire ambulance billing process.
Capture and processing
The most important piece of documentation that MultiMed deals with is the pre-hospital care report (PCR), which outlines every medical procedure that has been performed on the patient before he arrives at the hospital. Whenever an ambulance responds to a 911 call and transports a patient to a hospital, the emergency medical technicians (EMTs) who staff the ambulance must fill out a PCR.
Each ambulance uses a different vendor for its PCRs. There are approximately nine different PCR formats ranging from printed forms that must be filled out by hand to electronic forms filled out on an onboard computer or tablet.
PCRs are sent to MultiMed by mail, fax, or electronically. Reports that arrive by mail are scanned into a network drive with Laserfiche Quick Fields.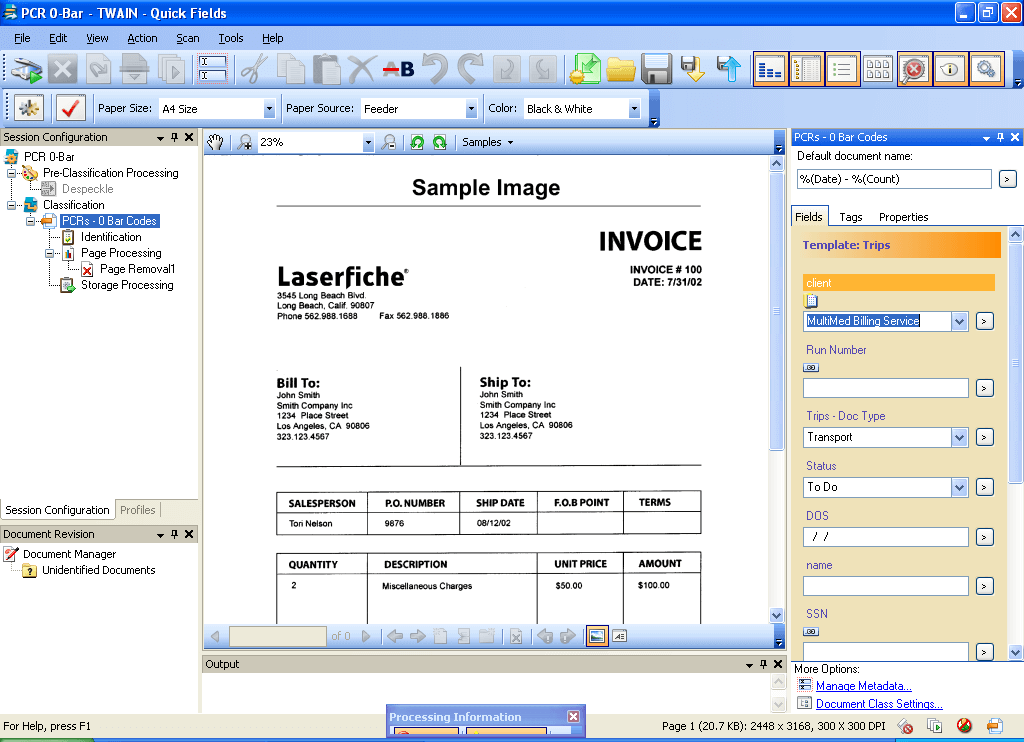 Laserfiche Import Agent monitors this network drive for any new incoming files and imports them into a centralized intake folder in the Laserfiche repository.

From there, Laserfiche Workflow routes the PCR to the appropriate client folder.
Laserfiche Workflow also automatically populates the remaining metadata such as patient name, social security number, date of service, profit center and incident number from the RescueNet patient billing system database.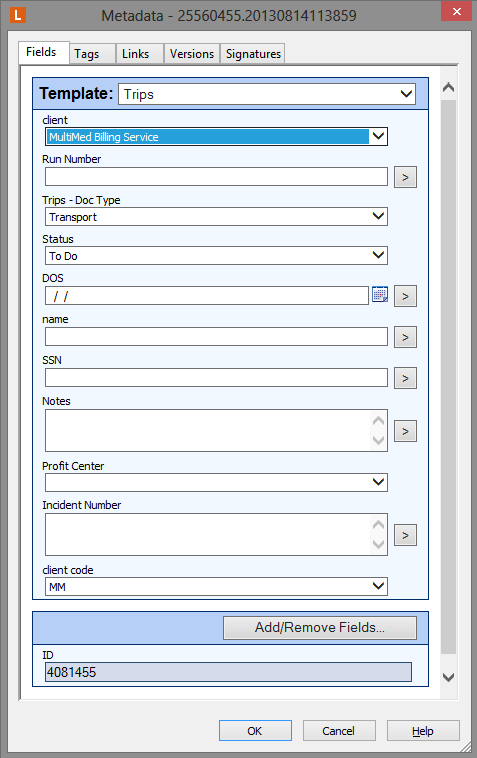 MultiMed employs medical coders. Each coder is responsible for coding PCRs for a certain number of clients. The coder monitors his clients' folders for new PCRs and uses the open PCR to code a specific file in RescueNet. Occasionally, if there is a large volume of claims from a particular client, a coder may be asked to monitor different folders.
Once the coder is finished coding the file in RescueNet, he changes the status of the document in Laserfiche to "Archive." Laserfiche Workflow then moves the claim to an archive folder.
Laserfiche WebLink
MultiMed provides reports to clients such as the number of claims that got paid or denied. Every client has specific requirements as to the content and frequency of these reports. A product similar to Crystal Reports is used to generate these custom reports and makes them available to the clients through a custom Laserfiche WebLink portal. Clients log into the WebLink portal via a VPN connection.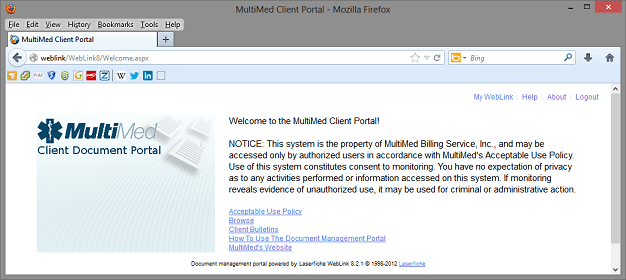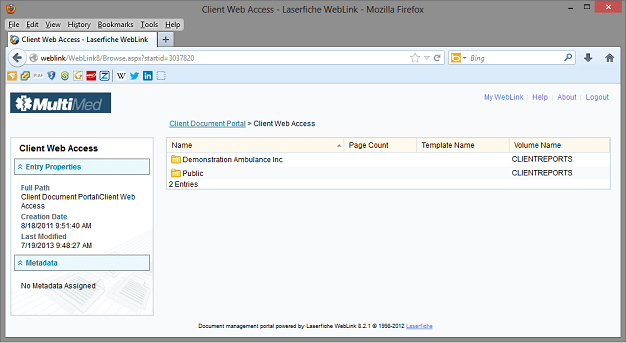 Advantages of Laserfiche
Implementing Laserfiche at MultiMed has resulted in the following benefits:
Data entry errors have been reduced because the majority of metadata can be automatically populated with information from the RescueNet billing system.
Clients can view the reports that they need, whenever they need them directly through the Laserfiche WebLink portal.
Documents can be quickly retrieved with Laserfiche Search.