What is Digital Process Automation?
Digital process automation is a staple of operational success in the modern workplace. Forward-thinking businesses have prioritized automation technology in their digital transformation initiatives for its ability to increase efficiency, transparency and accuracy of information circulated throughout an organization.
Read on to learn what digital process automation is and why it's an important component of the modern business landscape.
What is digital process automation?
Digital process automation (DPA) is a method of digitizing processes by eliminating manual steps and improving user experience for customers, vendors and staff. Like business process automation, DPA as a methodology is meant to accelerate workflows while decreasing human error. DPA is a core component of enterprise content management (ECM) software in that it supports the routing, modifying and storing of important data traveling in and out of an organization.
What is a digital process automation platform?
A digital process automation platform captures information from electronic forms and other sources to launch digital business processes. These platforms also enable users to customize digital business processes to automatically complete a variety of tasks within the scope of regular business processes, such as public records requests, travel and expense requests and job application reviews.
Most digital process automation solutions enable you to design these processes as a diagram using a WYSIWYG (what-you-see-is-what-you-get) interface. More advanced solutions offer extensive business process template libraries that are essentially plug-and-play. One example of this is the Laserfiche Solution Marketplace. You can learn more about the Laserfiche Solution Marketplace here or watch the below video:
Also be sure to check out the below infographic "Laserfiche 4 Steps to Innovation" to see how Laserfiche users can not only deploy solutions quickly, but get involved with a larger community of innovators.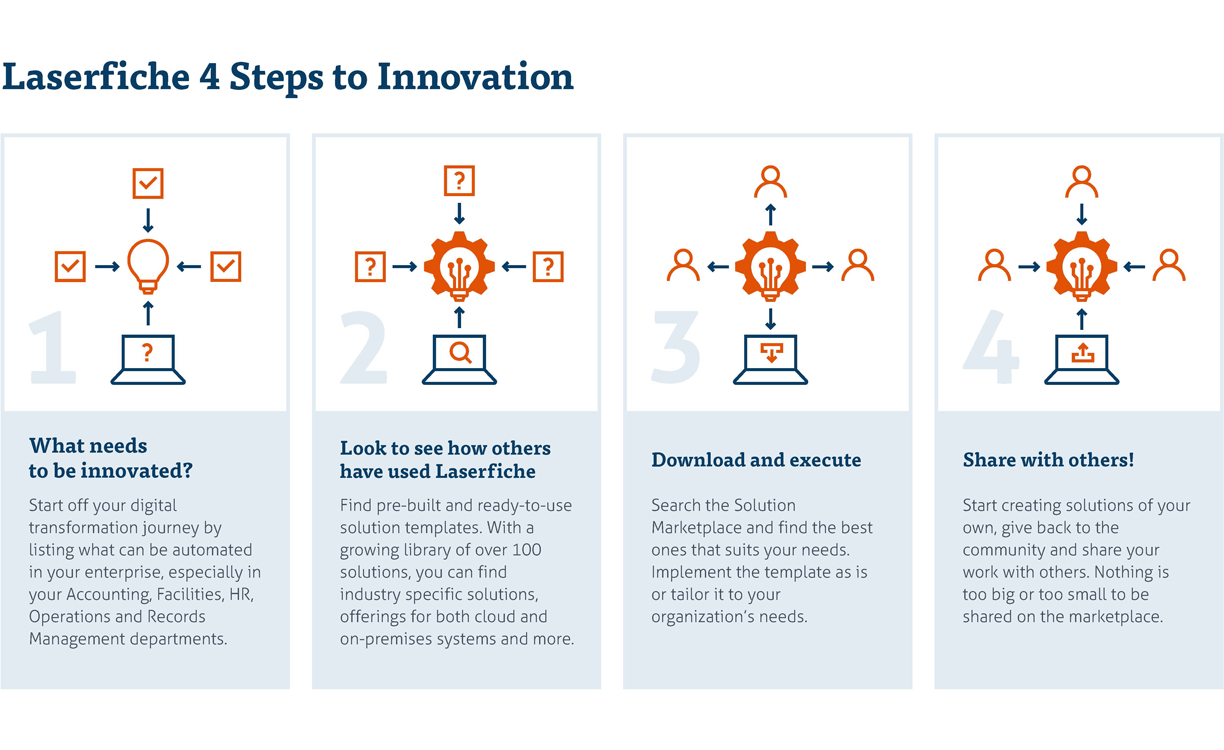 Why is digital process automation important?
DPA software helps eliminate redundant busywork, freeing up time for staff to focus on strategic business priorities. A few immediate benefits of DPA software include:
Accelerate workflows
Users can revise, approve and complete document revisions faster with automated routing and task notifications. Users can also easily reassign tasks if someone is out of office.
Increase transparency
Custom business process reports enable process managers to measure success and eliminate workflow bottlenecks. Administrators can also get a clear picture of employee workloads with process monitoring dashboards.
Improve accessibility
Advanced DPA software solutions enable users to complete tasks from their phones as well as their desktops to keep processes moving, saving time and helping to reduce duplicate data entry by users in different locations.
What is the difference between DPA and RPA?
While both DPA and robotic process automation (RPA) technologies are designed to automate and streamline processes, they are different in one key way: how they integrate with outside applications. While a DPA will generally use a specialized API or native integration for a particular application, an RPA solution usually interacts with applications like a human would, using a user interface (UI). This makes the possibility for integrations almost endless for an RPA solution. Because RPA solutions can also be integrated into a DPA solution, to provide last-mile integrations with applications that lack traditional integration points, this means that RPA opens up the integration possibilities for DPA solutions as well.
Choosing the right DPA software solution
When selecting a DPA software solution for your business, it's important to consider:
Scalability: Your DPA solution should be able to grow with your business.
Ease-of-use: A simple-to-learn system is key to business adoption. Be sure to look for a provider with substantial system support.
Integration capabilities: Your DPA solution should be able to complement existing systems within your digital ecosystem.
Innovative technology: If your DPA software provider isn't prioritizing innovation, your business won't be able to evolve at the rate it should be. Stay competitive with vendors that consistently improves upon its technology.
Further reading
Ready to learn more about DPA technology? Download this free guide to learn how process automation improves workplace efficiency and saves time and resources across the enterprise.
Researching digital process automation platforms? Check out the G2 grid to compare top vendors.