How Streamlining Accounts Payable Helped a School District Keep the Focus on Students
4 min read
Located 10 minutes from Seattle, Mercer Island School District (MISD) has a K-12 student population of approximately 4,500 supported by more than 500 staff members. Committed to putting the student first, the school district prioritizes digital initiatives with the goal of creating the best possible outcomes for students and their families. Most recently, the district implemented Laserfiche Cloud to automate its accounts payable invoice approval processes, streamline records management and build toward long-term digital transformation goals. By doing so, MISD has been able to increase efficiency, reclaiming time to focus on serving students and navigate operational challenges, including those brought about by the COVID-19 pandemic.
Acing Accounts Payable Automation
Established in 1946, MISD consists of four K-5 elementary schools, one 6-8 middle school and one 9-12 high school, with programs combining academics, cultural expression, and athletic achievement.
"The district is regarded for our innovative approach to providing a holistic, well-rounded education to students in the region," said Tyrell Bergstrom, executive director of finance and operations at MISD. "Our mission, values and vision are really centered on putting the child first while recognizing opportunities for improvement and advancement. One of our long-term goals as a district was to invest in programs and technology to benefit the students and to strengthen our digital capabilities for years to come."
Aligning with this vision, MISD embraces digital solutions that increase efficiency, while allowing staff to focus on student needs. Recently, the district identified accounts payable invoice approvals as a time-intensive process that could benefit from digitization and automation. In the legacy process, staff relied on paper documents and email communication to obtain approvals and do follow-up. Matching and assembling the invoices, purchase orders and bills of waiting, and then finalizing payment could take more than a week.
MISD worked with Laserfiche solution provider FreeDoc to implement Smart Invoice Capture, a solution that uses machine learning technology to automatically capture information — from any invoice, in any format — that can be used to automatically populate accounting systems or ERPs.
"The school district wanted to improve invoice AP processing in conjunction with a mature enterprise installation of Laserfiche business process automation. Smart Invoice Capture reduces invoice processing time and improves qualitative processing. This adds up to enterprise savings for the school district," said FreeDoc ECM Consultant Garrett Frix.
"We implemented Smart Invoice Capture and it was night and day," Bergstrom said. "Smart Invoice Capture scans our invoices, we validate the information that's been captured, click send — and it's on its way. We've been seeing turnaround times of within a day."
The new process has eliminated lost and delayed invoices, which previously required a significant amount of time to track down from one of 2,000 profiles in MISD's database. Staff have also benefited from Laserfiche's reporting functions and automatic reminders. Smart Invoice Capture is currently being used in three departments and will soon be rolled out throughout the district this year.
"It's been a huge shift in our ability to be more nimble and spend less time tracking things down," Bergstrom said. "It's improved our level of accountability — we can go into the reporting functions within Laserfiche and see what invoices still need to be approved. It's giving us the gift of time back."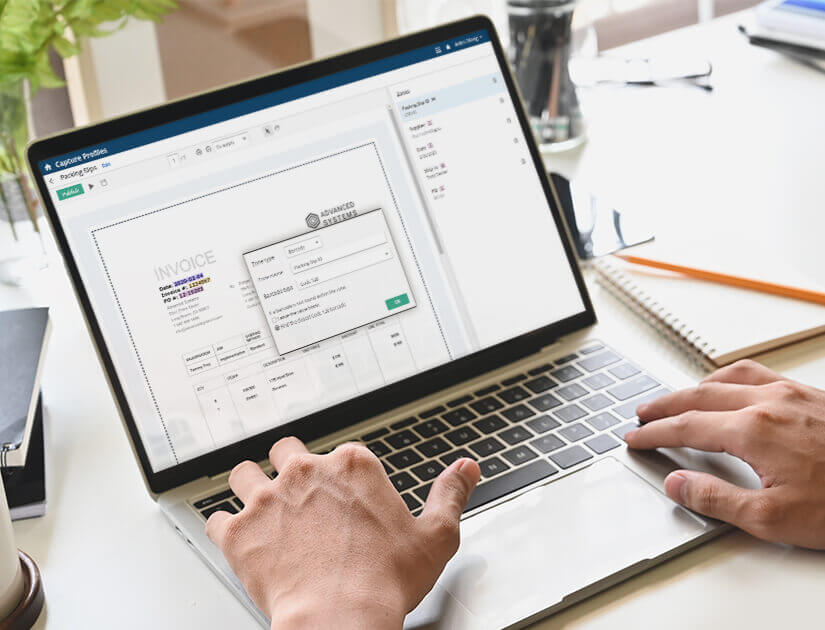 Graduating with the Cloud
The school district as a whole has also benefited from digitization and centralization of records as a result of using Laserfiche Cloud. As a public school district, MISD must comply with recordkeeping requirements and manage public records requests — both of which can be challenging with information stored on paper and disparate systems.
"The centralized repository, the increased accessibility and the benefits of the workflows really highlighted what was missing in our organization," said Bergstrom, adding that the pandemic further accentuated the importance of ensuring remote access to information and processes. "Our ability to store records and quickly search records is going to speed up our response time, and our ability to implement workflows is going to mean that we're more accountable and we're more efficient in what we do."
At the same time, Laserfiche Cloud aligns with the district's forward-thinking technology strategy. "We chose Laserfiche Cloud as part of our long-range vision and how we want to develop our infrastructure going forward," Bergstrom explained. "Cloud-based solutions have replaced a large amount of our on-premises server functions. Our share folders are being transitioned to the Laserfiche Cloud repository as well."
With plans to decommission their existing servers and migrate files to a cloud-based environment, MISD will be able to reinvest server maintenance and infrastructure costs to other programs that provide more benefit to the students.
Building a Digital Future District-Wide
MISD has started to identify additional processes to optimize using Laserfiche, including key HR activities from onboarding of new staff members to retirement and resignation. Other processes include a student accident reporting workflow and budget requests. "We want to take as many pen and paper forms and requests circulating throughout the district and migrate them to Laserfiche in order to increase accountability and efficiency as much as possible," Bergstrom said.
The district's digital transformation is enabling a more strategic approach to operations and time management, considering how solutions can increase operational efficiency for staff members and improve the experience for students and their families.
"Laserfiche provides our staff with transparency, accountability and efficiency," said Bergstrom. "Our district's effort to become more technologically advanced and innovative in our processes is really an effort to help us be more thoughtful about what we're doing and why we're doing it. And the more efficient we can be in our processes means we can spend our time finding ways to improve the educational environment for our students."
Request a demo to learn more about Smart Invoice Capture and other Laserfiche Cloud features designed to accelerate how business gets done.