What Is WORM Storage?
WORM storage is data archiving technology that prevents information from being edited or deleted, while allowing it to be read as many times as needed. An acronym for "write once, read many", WORM enables businesses to lock down records to ensure that no unauthorized changes can been made.
Organizations primarily use WORM storage to comply with recordkeeping regulations, address information security concerns and ensure data integrity. For example, in the event of an SEC audit, companies can use WORM to prove that they have not altered or tampered with the records in question.
WORM storage is especially important to the financial services industry, where this type of technology is required for financial firms to meet strict regulatory requirements issued by the U.S. Securities and Exchange Commission (SEC) and the Financial Industry Regulatory Authority (FINRA).
Stiff Compliance Penalties
The costs associated with poor data management are high, and proper utilization of WORM storage can help mitigate the risk of incurring expensive fines. Today's financial firms risk millions of dollars' worth of fines and lawsuits if they do not meet regulatory requirements.
For example, FINRA fined 12 firms a total of $14.4 million in 2016 for failing to protect financial records in a format that prevents alteration. From a business perspective, unsecure, lost and inaccurate data will lessen credibility with, and increase skepticism from, current and future clients. Additionally, corrupted data can cause businesses to make strategic decisions or even change the direction of the firm based on incorrect or skewed information.
Making Compliance Simple
Firms focused on improving records retention should consider using WORM-compliant technology to add an extra layer of security to their records.
A few industries that can especially benefit from using WORM storage include:
Education: Student records have strict retention rules for how long they're stored. Storing records in a WORM-compliant format can ensure you're not editing or moving a student's records around—so when it's time to dispose of records or present them upon request, you know you're doing so accurately and in good faith.
Healthcare: The Health Insurance Portability and Accountability Act (HIPAA) has its own set of retention rules for the healthcare industry. These rules, combined with the need to ensure patient privacy, makes WORM storage an attractive option, as it can help in efforts to limit access to and support retention of sensitive information.
Financial Services: As mentioned before, SEC Rule 17a-4 requires by law that wealth management firms such as broker-dealers use specific technology for their records, including WORM-format. In addition, as of 2022, audit trails are now an alternative for broker-dealers to preserve records. For this industry, the consequences for non-compliance can be damaging to their reputation and their bottom line due to expensive fines.
How WORM Storage Works
There are two ways to implement WORM storage in your organization. The first way is through hardware, using tape or another type of medium that permanently keeps data, making the only deletion method physical destruction of the WORM storage device.
Still, with many solutions moving to cloud and SaaS services, choosing specific hardware can be problematic. However, many providers of these services now provide software-defined WORM solutions that provide the flexibility of software with the strictness, security and indelibility expected from a hardware-based WORM solution.
Whether you use software or hardware to support your compliance goals, the concept works in much the same way. When someone adds data to a WORM drive, it stays there indefinitely. The idea that you cannot edit a WORM drive's data only applies to data already stored there—the potential to add new data is always there, provided you have enough storage space left on the drive.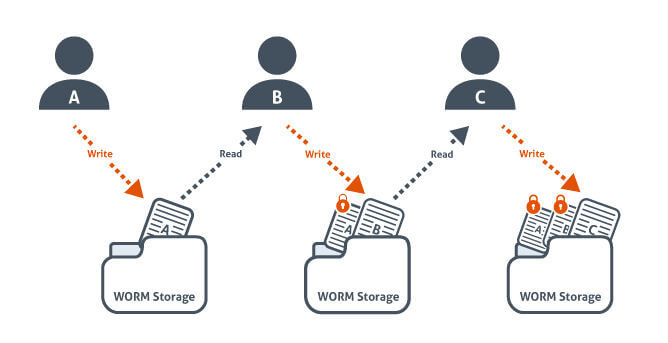 As you can see in the diagram above, it's quite simple—user A adds data to the drive, then user B, then user C. Now, users A, B and C can presumably read all the data on the drive—barring any other security settings or access rights—but none of them can edit what's already there. It's read-only for everyone involved. This way, when auditors or administrative staff want to pull up retained records, they have the peace of mind of knowing the records are in the same condition as they came in when they entered their retention period.
A Worthwhile Solution
WORM storage, along with the right records management system can go far in assisting professionals in the financial, education, healthcare, and government industries meet their toughest compliance challenges.
For those in the financial services industry facing some of the strictest regulations, WORM storage can provide a secure and accurate system of record. Combining WORM storage with records management software can give broker-dealers additional tools to support broker-dealer compliance with SEC Rule 17a-4, such as the requirements for records retention, records quality and accuracy, audit reporting, and a designated third party.
Records management solutions and WORM storage can help broker-dealers and compliance-minded professionals across industries gain confidence and peace of mind in the face of stringent compliance requirements. With this confidence, they can better focus on meeting client needs and growing their businesses.
To learn more about records management software, WORM storage and other solutions that can help you step up to the challenges of today's regulations, visit our Laserfiche Records Management solution page.